1.Introduction of full size horse statue
This is the full size horse statue. It showcases the running posture of a tall steed. The posture of this sculpture is lifelike,
as if one can hear its hissing sound and the rhythm of its hooves stepping on the ground. The horse's body lines are smooth,
and the muscular lines highlight a strong and powerful sense of strength. Its neck is high, revealing confidence and vitality.
The tail and mane are graceful, as if dancing in the wind. The entire sculpture presents a sense of dynamism and vitality,
bringing a sense of shock and motivation to the viewer. Bronze horse sculpture, with its exquisite craftsmanship and exquisite
details, combines the power and elegance of horses, showcasing the tacit understanding and beauty between humans and horses.
Garden Horse Sculpture are suitable for decoration in various places. It can become the focal point of public squares, parks, gardens,
adding a natural and wild atmosphere. In indoor spaces, such as the lobby of luxury hotels, the courtyard of villas, or art exhibition
halls, bronze horse sculptures can highlight elegance and quality. In addition, commercial venues such as shopping centers, office
buildings, or art exhibition venues are also ideal places to showcase bronze horse sculptures. It not only adds an artistic atmosphere,
but also attracts the attention of the audience. Whether as a standalone decoration or as a part of the landscape, bronze horse
sculpture can bring unique charm and artistic value to the environment.
The production advantage of bronze horse sculpture lies in its material characteristics and the application of craftsmanship technology.
Bronze material has durability and corrosion resistance, can withstand the test of time, and maintain its beauty and quality. At the same
time, bronze material can also be processed through processes such as polishing and polishing to give the sculpture surface a smooth and
delicate texture.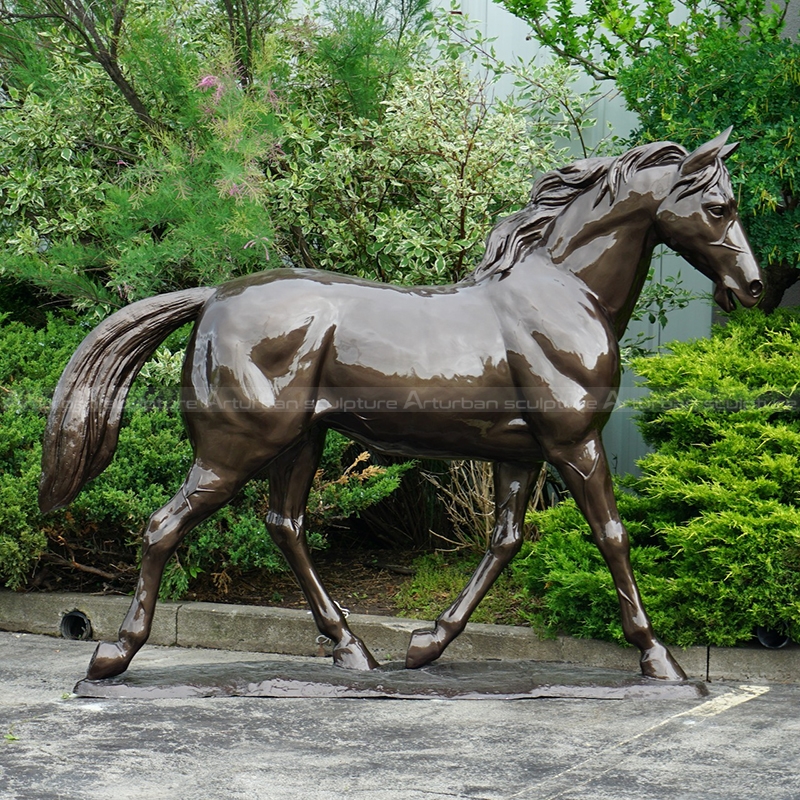 2. Production Process of full size horse statue
My artist will make 1:1 clay mold, when finished clay mold,  we will take photos for your reference, the clay mold can modify
any details till to your satisfaction with it. Then we go ahead to make statue, when finished statue, also we will take photos for
your reference, after your satisfaction, I will arrange packing and shipment. Arturban sculpture can make large horse statue in
bronze, marble, fiberglass, stainless steel. Our team will make a production plan, according to your design, budget, delivery time,
or any other service. Our final aim is to supply high quality and cost-saving sculpture efficiently.
Send us your requirements now, we will reply to your email within 24 hours