1.Introduction of horse and carriage sculpture
This life size horse and carriage sculpture is creative. iT is a unique and stunning artwork. It presents a scene of an elegant white
horse pulling a magnificent pumpkin carriage, giving a fairytale like feeling. The design of sculpture is unique and creative. By
combining pumpkins with carriages, it creates a magical and imaginative atmosphere for people. This combination creates a unique
scene that reminds people of the carriage and magic in fairy tales.
This Horse And Carriage Statue is famous for its exquisite details and magnificent decorations. The patterns and carvings on the pumpkin
carriage demonstrate the exquisite craftsmanship and artistic talent of the sculptor. Its smooth surface and brightly colored details make
the entire sculpture appear very colorful, bringing visual enjoyment to the viewer. The pumpkin carriage image of this sculpture is often
associated with fairy tales and fantasy stories in culture. It represents fantasy and dreams, arousing people's longing for miracles and magic.
This symbolic significance makes sculpture an attractive and charming artwork, attracting people's attention and attention.
The use of fiberglass material endows this sculpture with durable and weather resistant properties. Fiberglass reinforced plastic has the
advantages of lightweight, durability, and corrosion resistance, allowing sculptures to be displayed in outdoor environments for a long time
without being damaged. At the same time, this material also gives the sculpture a smooth surface and delicate texture, increasing the ornamental
value of the artwork. In addition, sculptures can be placed in various places for decoration. It often appears in outdoor spaces such as parks,
gardens, squares, and theme parks, creating a magical and joyful atmosphere for people. At the same time, it can also be used for interior
decoration, such as children's playgrounds, shopping malls, hotel lobbies, and other places, bringing people a fairytale like feeling. Whether
outdoors or indoors, pumpkin carriage sculptures can attract people's attention and add a unique artistic atmosphere to the environment.
Whether in public or private areas, such sculptures can become a highlight in people's eyes, bringing vivid and interesting decorative effects
to the space.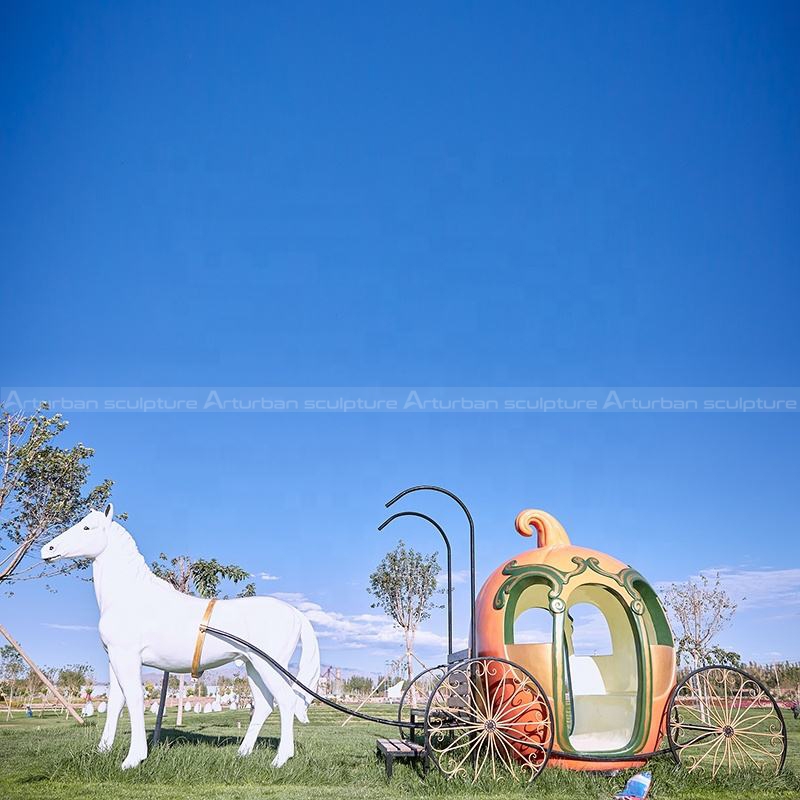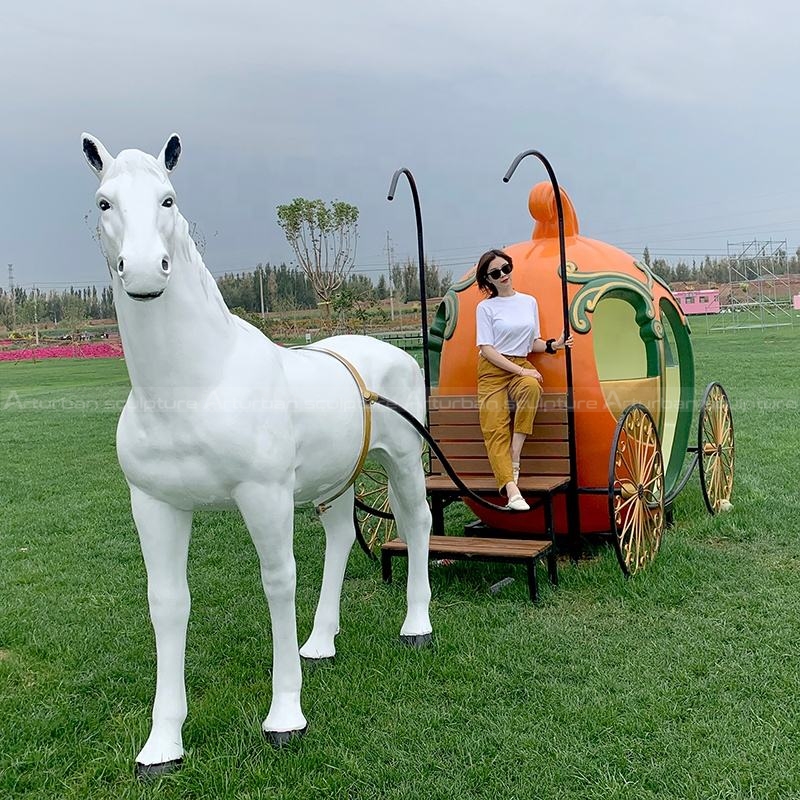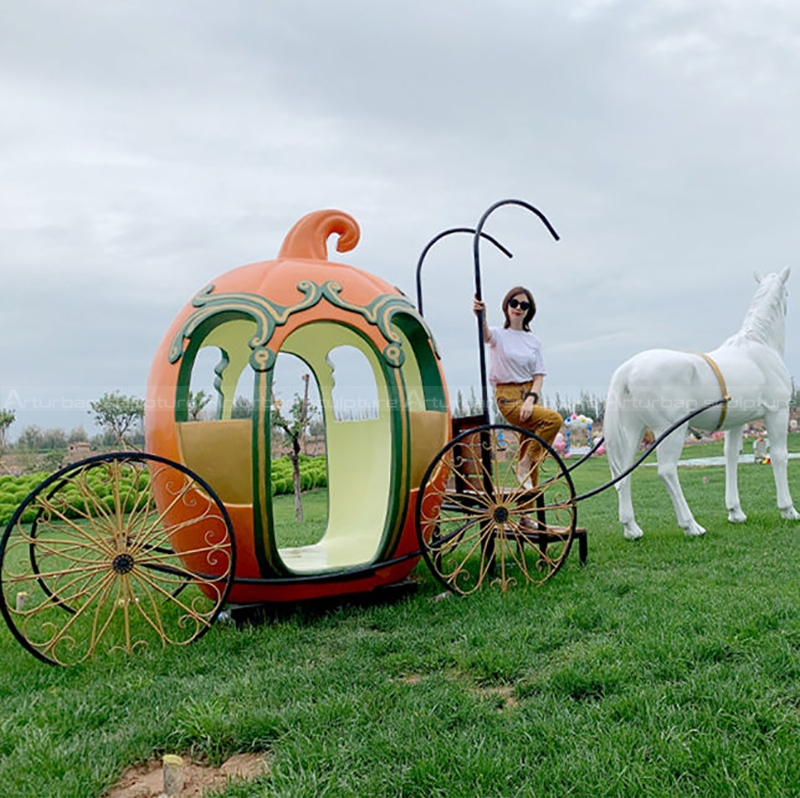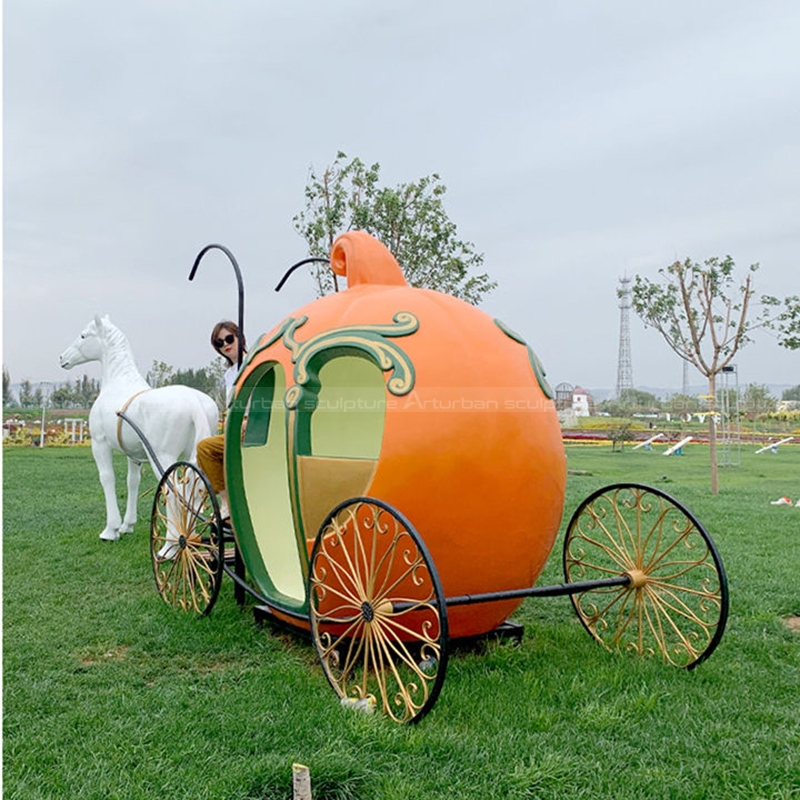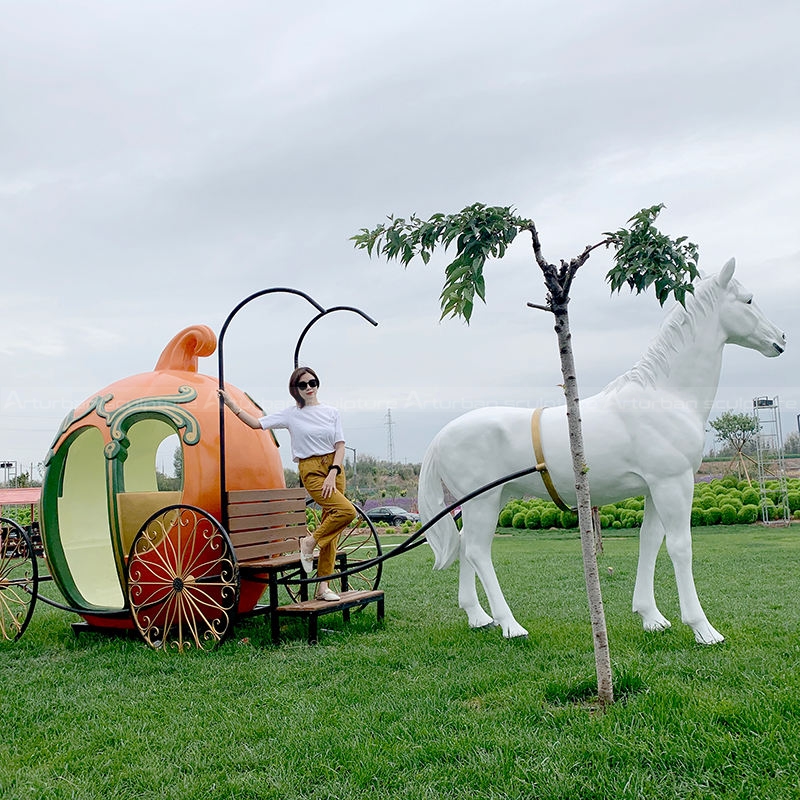 2. Production Process of horse and carriage sculpture
Step1 Design Communication:  You supply us with several photographs with dimensions.
Step 2 Project Consultation: Our team will make a production plan, according to your design, budget,
delivery  time,  or any other service. Our final aim is to supply high quality and cost-saving   sculpture efficiently.
Step 3 Confirm Mold: We will make 1:1 clay or 3D mold,when finished clay mold,i will take photos for your
reference. The clay mold can modify any details till to your satisfaction.
Step 4 Carving and Polish: We will carving with natural marble according to clay mold. Then polished.
Step 5 Package: Strong wooden crate with waterproof and shockproof foam inside.
Send us your requirements now, we will reply to your email within 24 hours