1. Introduction of running man statue
This running man statue has a beautiful form. Abstract sports sculpture, with a theme of running and a concise and dynamic form, is one of the common forms in modern public art. Abstract expression not only presents the speed and strength of running, but also allows people to associate and think.
Abstract character movement sculpture, as a decorative art form, can be placed in public places such as city squares, parks, commercial areas, etc. It can create a good cultural atmosphere and a beautiful urban landscape, providing a place for citizens and tourists to appreciate and take photos. At the same time, it can also serve as a landmark building and become one of the city's landmarks, enhancing the image and status of the city. In addition, outdoor abstract character running sports sculptures can also be used as decorations for sports venues, adding atmosphere to sports events, enhancing viewing and fun. Therefore, the decorative role of outdoor abstract character running sports sculptures is multifaceted.
This type of sculpture often uses durable materials, such as stainless steel and fiberglass, bronze, etc., which are suitable for outdoor display. Its production advantages lie in the following aspects: firstly, abstract character movement sculptures have a simple form that can resonate with the audience and emotional resonance. The colors of sculptures are mainly bright, allowing them to be prominently displayed in outdoor environments. Secondly, the production process is advanced, using CNC machine tools and advanced process technology to make the surface of the sculpture smooth, with fine detail processing, and more able to express the sense of power and speed of movement.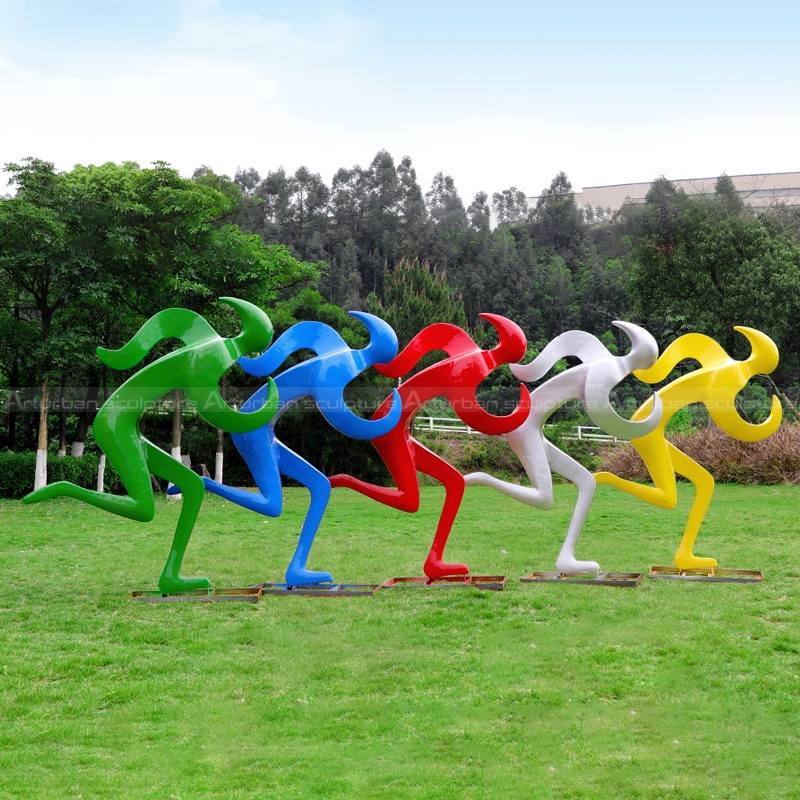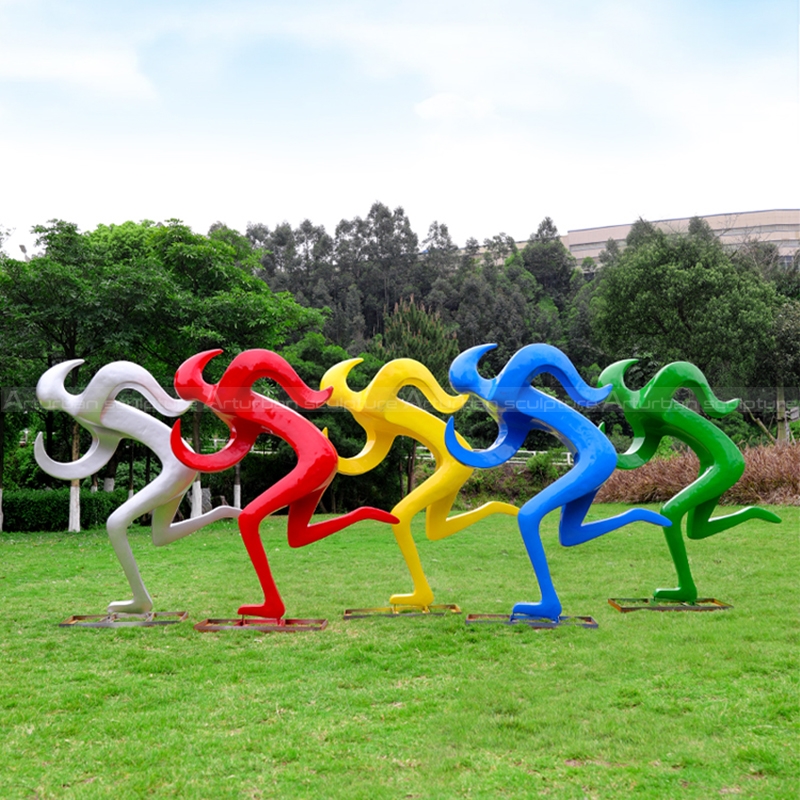 2. Production process
1. Showing the details drawing/ 3D mold for clients confirming.
2. Making clay mold/ foam mold according to drawing/ client's photos/ 3D mold.
3. Making fiberglass/resin sculptures
4. Polishing the surface.
5. Professional painting and take all different views pictures/ videos, show to clients.
6. Packing into wooden cases after clients satisfied with sculptures.
Send us your requirements now, we will reply to your email within 24 hours