1. Introduction of american eagle sculpture
This is a american eagle sculpture. It is an artwork with high artistic value, depicting the strong, free, and brave image of an eagle.
This sculpture depicts the posture of an eagle spreading its wings, showing a soaring posture, with its body tilted forward as if
preparing to pounce on its prey. The eagle's mouth opened, and its sharp claws were full of deterrence and vitality. The whole
sculpture design adopts the principle of bionics, which depicts the eagle's appearance and body characteristics vividly, giving the
artwork a more realistic vitality and sense of strength.
This Bald Eagle Yard Statue is suitable for placement in outdoor, parks, and other places. It can not only enhance the beauty of the
landscape, but also serve as a symbol of people's admiration for nature and freedom. In addition, the bronze eagle sculpture also
has high collection and investment value. Bronze, as a very precious metal, not only has the characteristics of corrosion resistance
and oxidation resistance, but also has high artistic and historical value. Therefore, bronze sculptures can be used as a stable
collectible and investment item.
In the process of making bronze eagle sculptures, professional carving techniques and exquisite metal processing techniques are
required, resulting in long production cycles, high difficulty, and high costs. However, at the same time, the production process
and materials of bronze sculpture determine its durability, aesthetics, and collectible value. Therefore, bronze eagle sculpture has
the advantages of exquisite production, precious materials, and high historical value. These advantages make the bronze eagle
sculpture a collectible and appreciated artwork, and it also represents the high level of modern art production and artistic aesthetic
trends.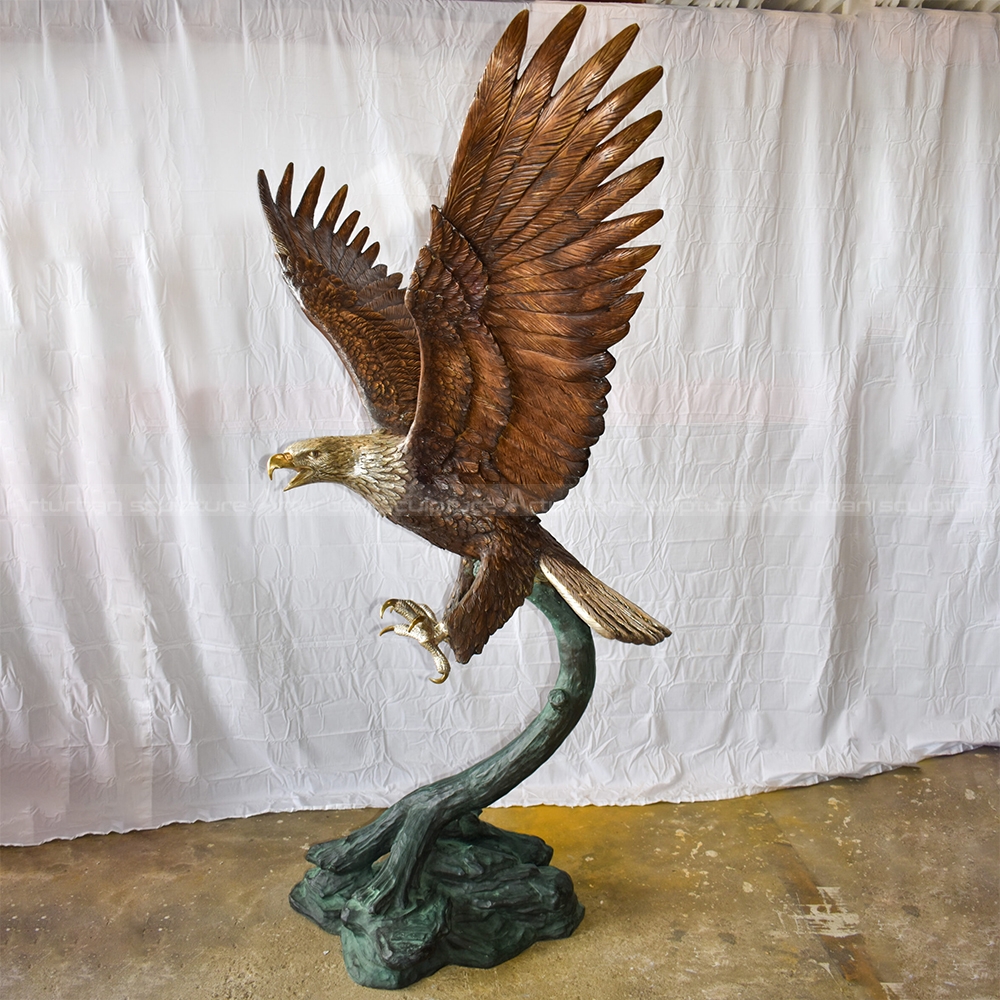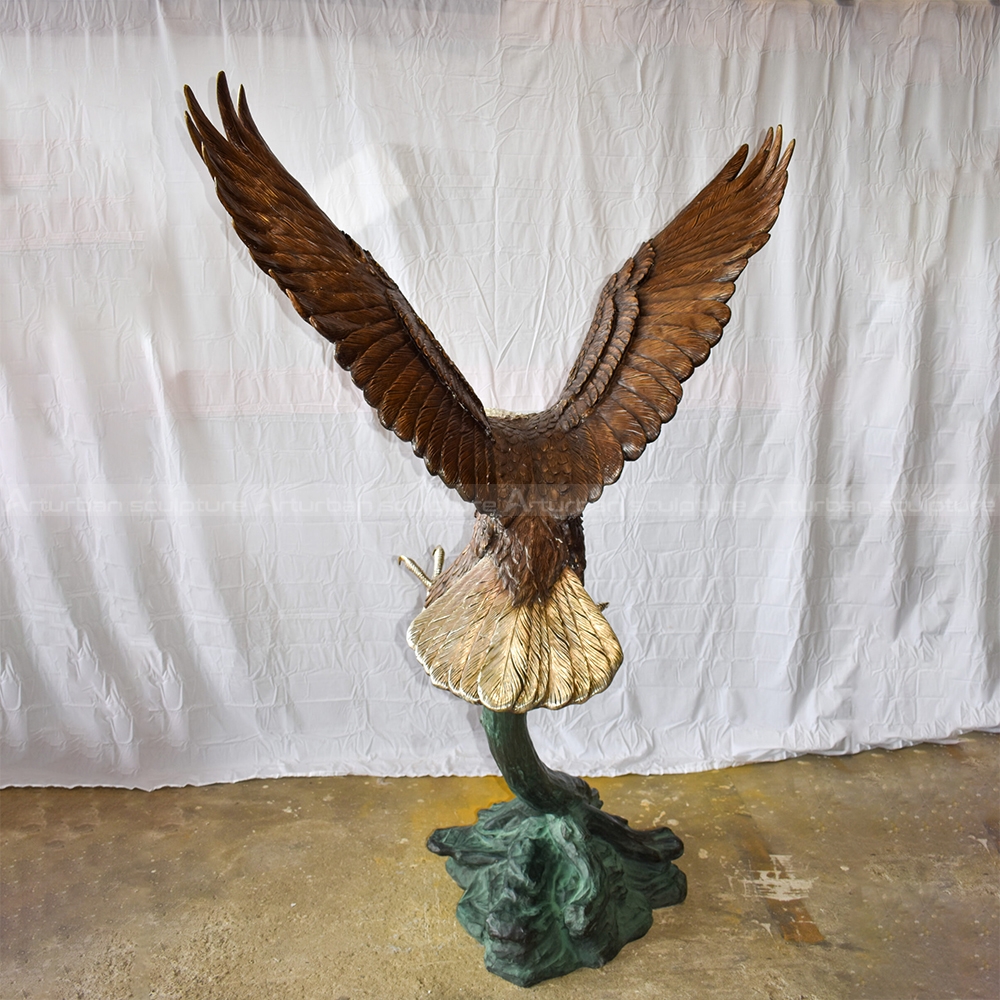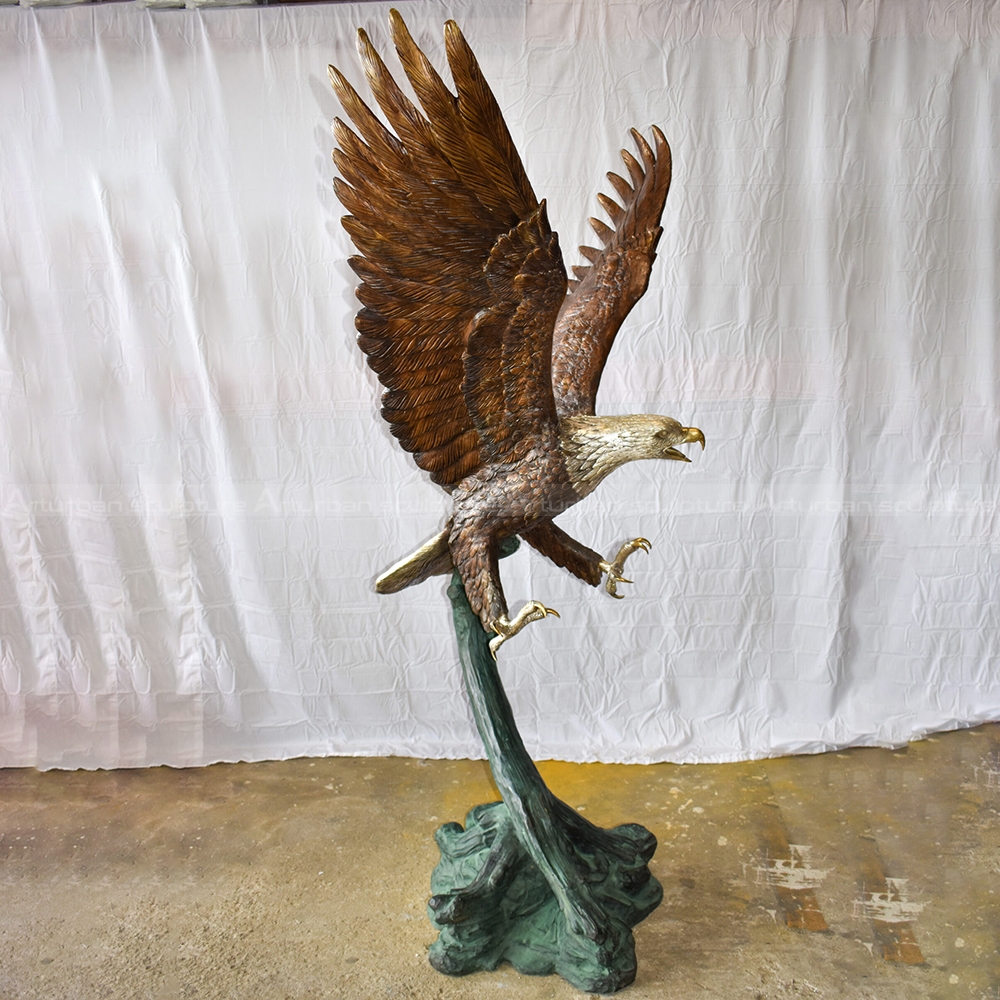 2. Production process
Step1 Design Communication:  You supply us with several photographs with dimensions.
Step 2 Project Consultation: Our team will make a production plan, according to your design, budget, delivery time,
or any other service. Our final aim is to supply high quality and cost-saving   sculpture efficiently.
Step 3 Confirm Mold: We will make 1:1 clay or 3D mold,when finished clay mold,i will take photos for   your reference.
The clay mold can modify any details till to your satisfaction.
Step 4 Carving and Polish: We will carving with natural marble according to clay mold. Then polished.
Step 5 Package: Strong wooden crate with waterproof and shockproof foam inside.
Send us your requirements now, we will reply to your email within 24 hours