1. Introduction of dancing hippo statue
This is a dancing hippo statue. It showcases an interesting and lively scene. The hippopotamus stands on its base with one foot
and raises the other foot high, demonstrating its flexible body. It unfolds its hands as if welcoming the rhythm of the music. The
hippopotamus has a plump and round body, giving people a lovely and warm feeling.
This dancing hippopotamus is wearing a small skirt, adding to its personality charm. The skirt is light and elegant, creating a
sharp contrast with the lively movements of hippopotamus. The details of the shoes also showcase the exquisite craftsmanship
of the sculpture and the meticulous design of the artist.
Such hippopotamus sculptures can be placed in public spaces such as parks, squares, or gardens, bringing a joyful and relaxed
atmosphere to people. It is not only a decoration, but also a medium for artistic expression and emotional exchange. The cheerful
movements and cute images of hippopotamuses can resonate and smile with viewers, bringing joy and joy to people.
The advantage of making bronze Hippo Ballerina Sculpture lies in the characteristics of bronze materials. Bronze has durability
and stability, can withstand the test of time, and maintains its unique texture and luster. The plasticity of bronze materials allows
sculptors to vividly depict delicate expressions and lines. The exquisite craftsmanship and meticulous carving during the production
process make the bronze dance hippo sculpture artistic and ornamental.
Overall, the bronze hippopotamus sculpture brings joy and joy to the viewer through its lively movements, chubby body, and unique
attire. As a piece of art and decoration, it not only adds beauty to the environment, but also awakens people's longing for freedom,
happiness, and childlike charm. Bronze hippopotamus sculptures, with their cute and unique images, have become the focal point
for people to linger and forget to return.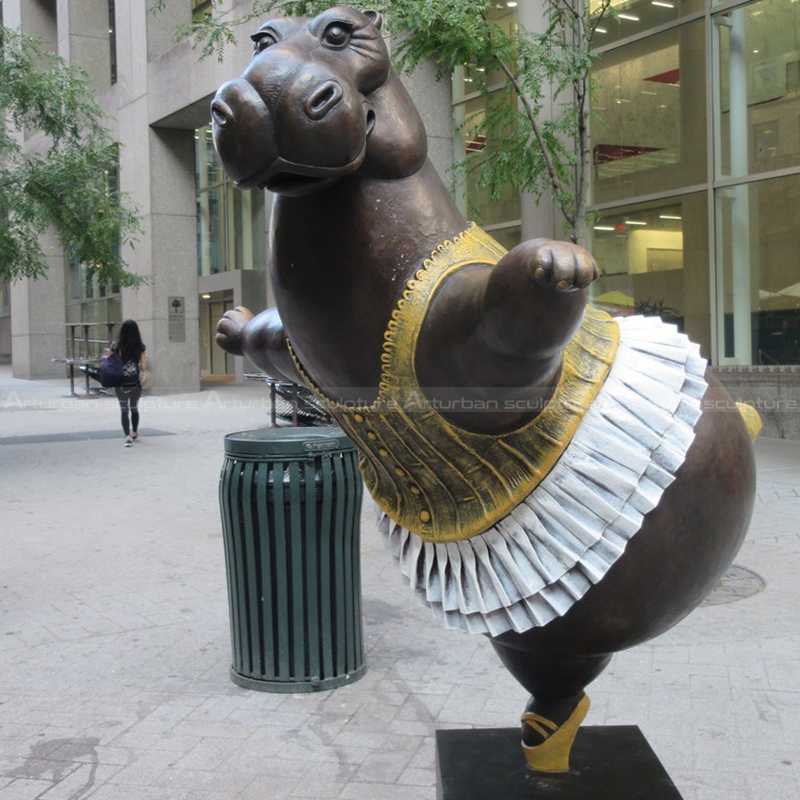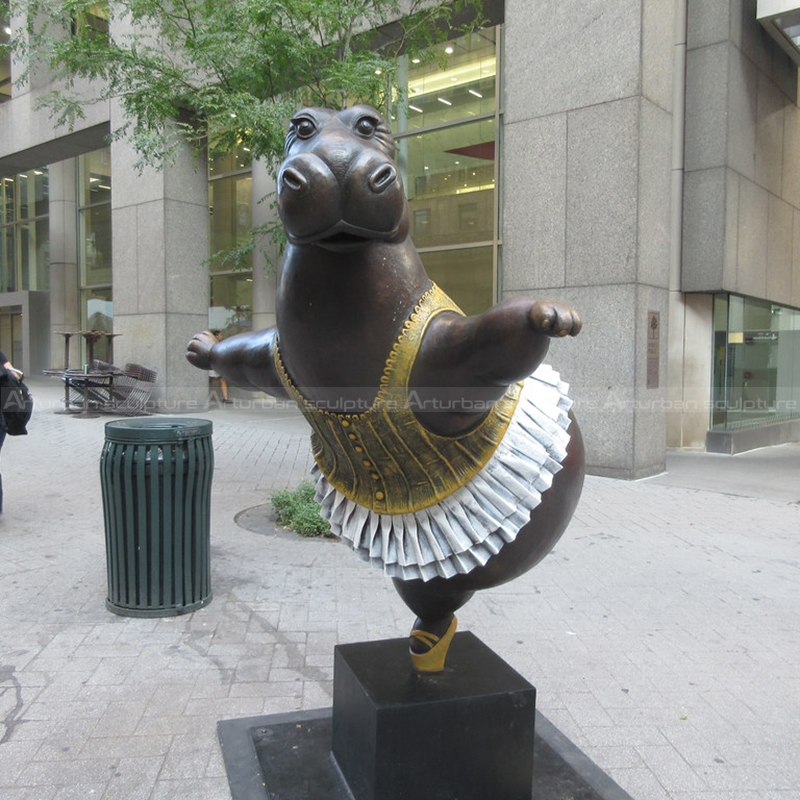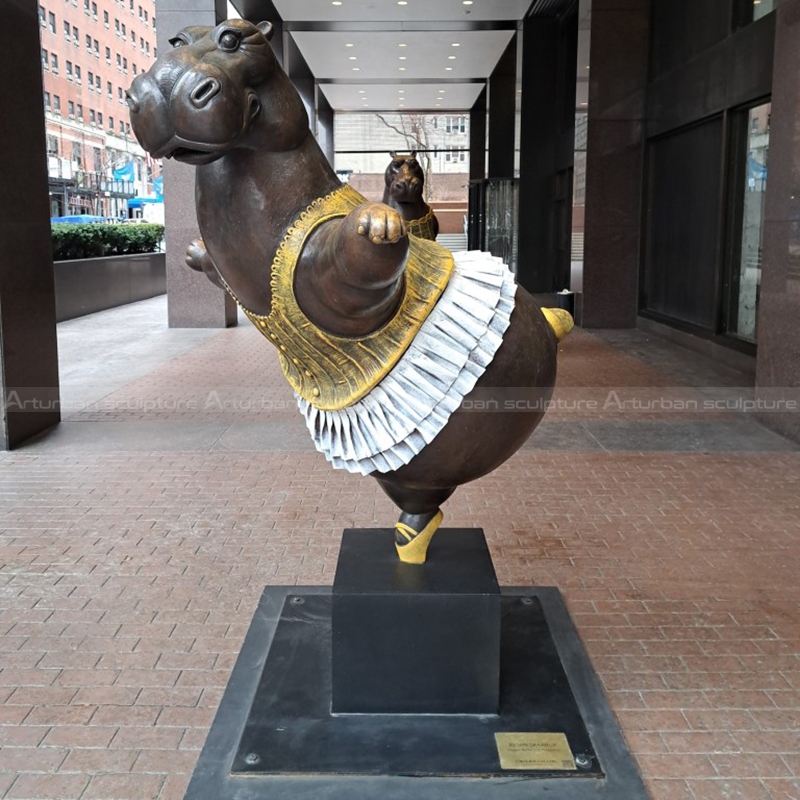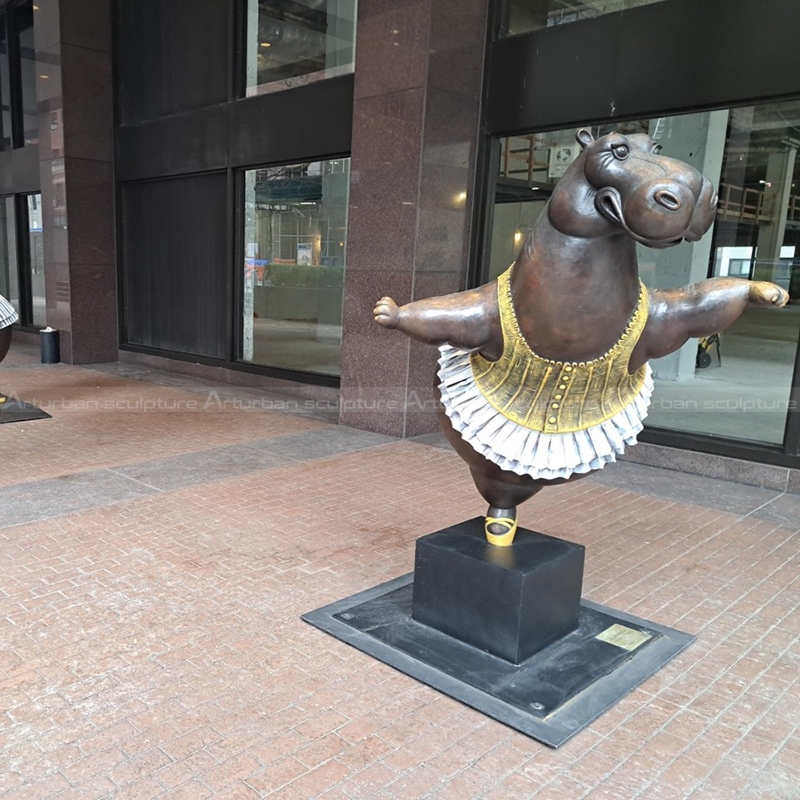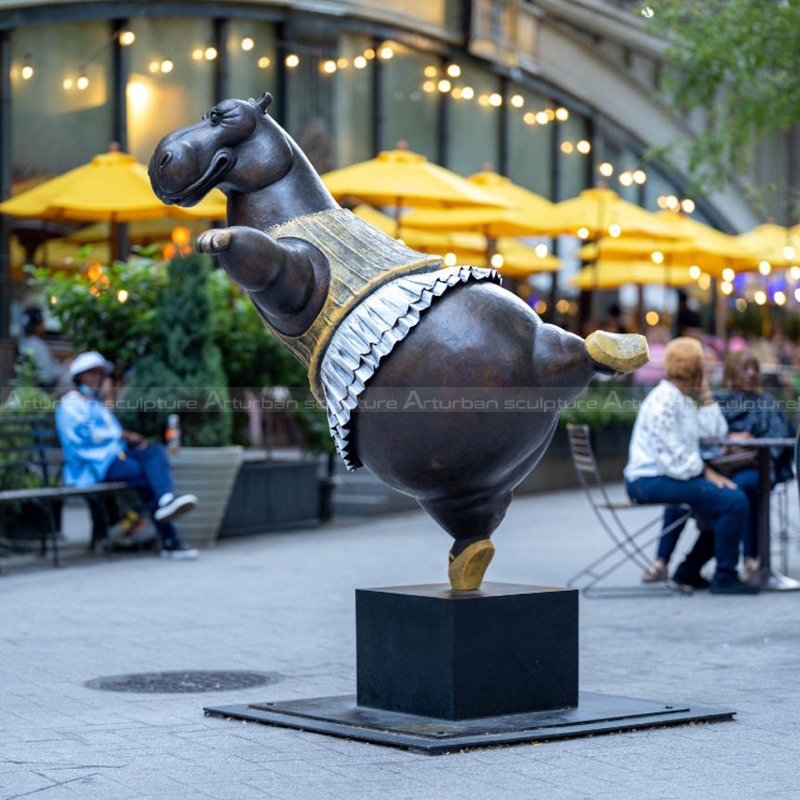 2. Production process of dancing hippo statue
Step1 Design Communication:  You supply us with several photographs with dimensions.
Step 2 Project Consultation: Our team will make a production plan, according to your design, budget, delivery   time,  or any other service. Our final aim is to supply high quality and cost-saving   sculpture efficiently.
Step 3 Confirm Mold: We will make 1:1 clay or 3D mold,when finished clay mold,i will take photos for   your reference. The clay mold can modify any details till to your satisfaction.
Step 4 Carving and Polish: We will carving with natural marble according to clay mold. Then polished.
Step 5 Package: Strong wooden crate with waterproof and shockproof foam inside.
Send us your requirements now, we will reply to your email within 24 hours