1. Introduction of geometric bear statue
This geometric bear statue is very beautiful. A bear is standing with one hand raised high, as if paying tribute to the sky,
reflecting strength and confidence. The sculpture adopts red as the main color, making it appear bright and eye-catching.
Red symbolizes passion and vitality, forming a sharp contrast with the posture of the bear sculpture. The design of geometric
sections fills the appearance of the sculpture with a sense of modernity and abstraction, presenting a simple and artistic
aesthetic. Overall, the fiberglass geometric cut bear sculpture, with its unique appearance and bright red colors, has become
a noticeable focus, bringing viewers a visual enjoyment and artistic praise.
Fiberglass Geometric Bear Sculpture are suitable for decorating both indoor and outdoor public spaces. Internally, it can be
placed in exhibition halls, galleries, conference rooms, and other places as a fusion of art and space. Outdoor, it can be placed
in parks, squares, gardens, and other places, becoming a part of the landscape and attracting people's attention. The unique
geometric cut design and vibrant red color make sculpture a striking focal point in any environment. Whether in modern or
traditional style venues, fiberglass geometric cut bear sculptures can add a sense of modernity and artistic atmosphere to the space.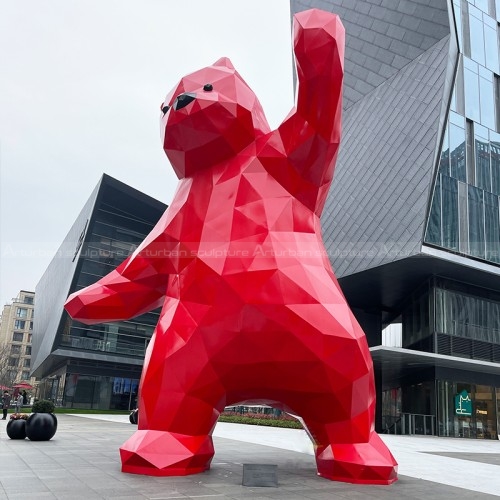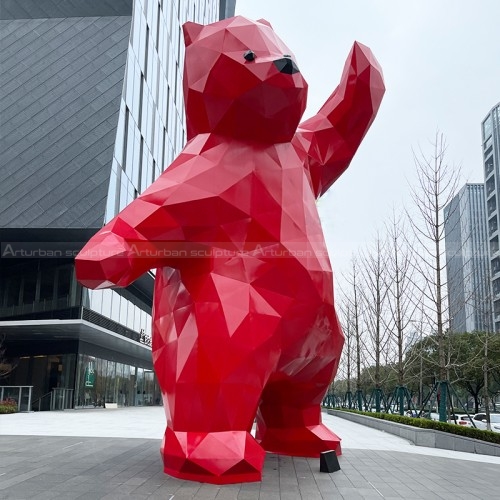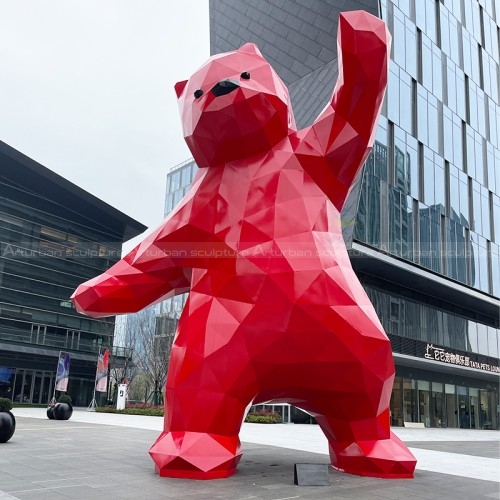 2. Production process of geometric bear statue
Step1 Design Communication:  You supply us with several photographs with dimensions.
Step 2 Project Consultation: Our team will make a production plan, according to your design, budget, delivery
time,  or any other service. Our final aim is to supply high quality and cost-saving   sculpture efficiently.
Step 3 Confirm Mold: We will make 1:1 clay or 3D mold,when finished clay mold,i will take photos for   your reference.
The clay mold can modify any details till to your satisfaction.
Step 4 Carving and Polish: We will carving with natural marble according to clay mold. Then polished.
Step 5 Package: Strong wooden crate with waterproof and shockproof foam inside.
Send us your requirements now, we will reply to your email within 24 hours