1. Introduction of geometric cat sculpture
This is geometric cat sculpture. This stainless steel cat sculpture is a geometrically abstract artwork that presents a
white hue. Each cat has a different posture, some stretching and some waving, with different shapes. The entire
sculpture looks very lively and lively, full of fun. The stainless steel material makes the cat's body lines smoother and
more clearly defined, showcasing a sense of generation and future. These cat postures are not only vivid and interesting,
but also bring a sense of beauty and spirituality to people.
The stainless steel geometric cat sculpture has high decorative value. Its simple and modern design can add a unique
artistic atmosphere and viewing experience to various indoor and outdoor spaces. Cats are very popular animals among
people, so stainless steel geometric cat sculptures can be placed in many places, such as public places, commercial places,
private residences, etc., to attract people's attention and increase the aesthetic and ornamental value of the space. It can
not only be used as a pure decoration, but also to express a certain meaning or meaning, thus allowing people to have a
deeper level of thinking and association with it.
Stainless steel geometric cat sculptures have high production advantages. Firstly, stainless steel is a very sturdy and
durable material that is not prone to rust, corrosion, and deformation, ensuring that sculptures maintain a good appearance
and condition for a long time. Secondly, stainless steel has excellent processing performance, allowing for easy design of
various shapes, curves, and angles, creating more artistic and fashionable sculpture forms. In addition, the high glossiness
of stainless steel material can produce excellent reflective effects, enhancing the visual impact and artistic effect of sculpture.
In short, making stainless steel geometric cat sculptures has advantages such as sturdy and durable materials, excellent
processing performance, and outstanding visual effects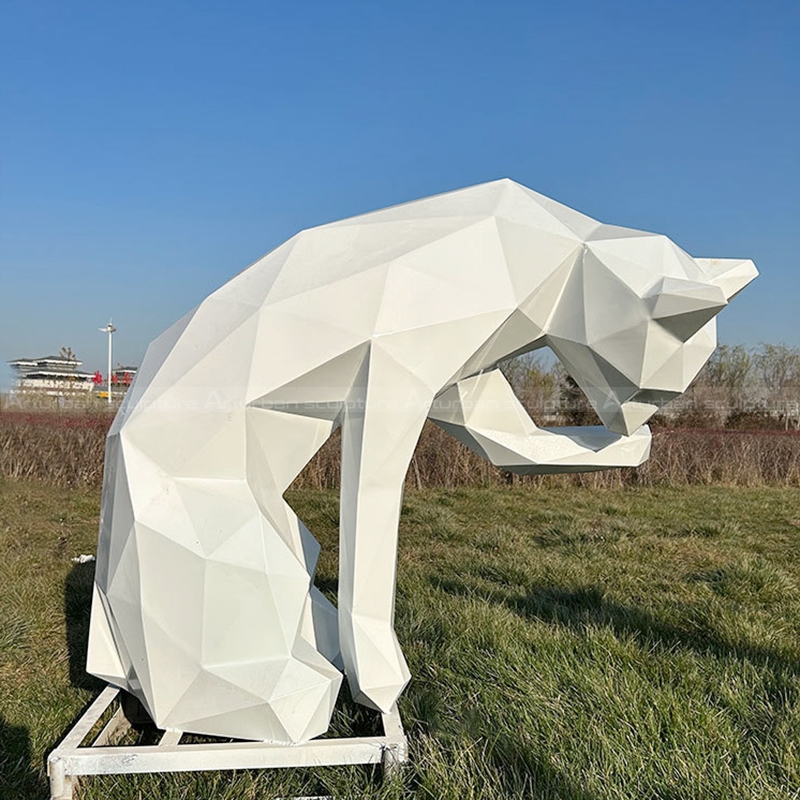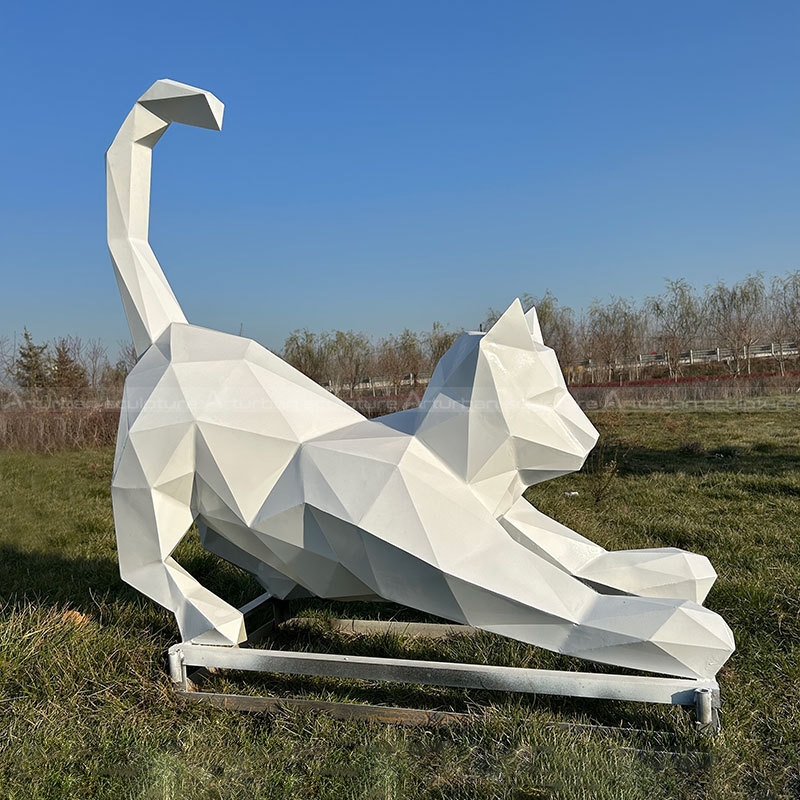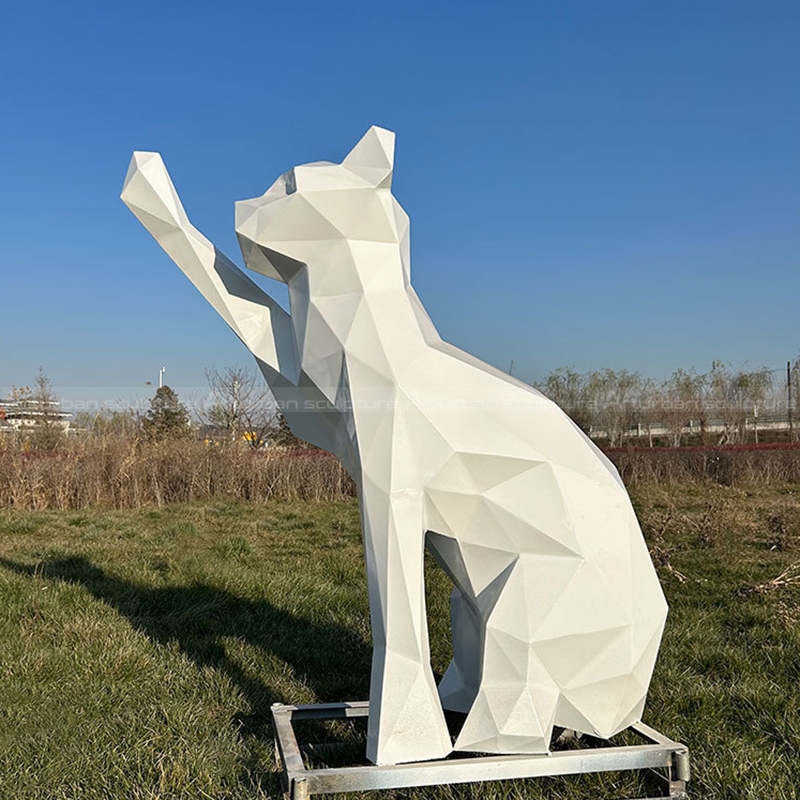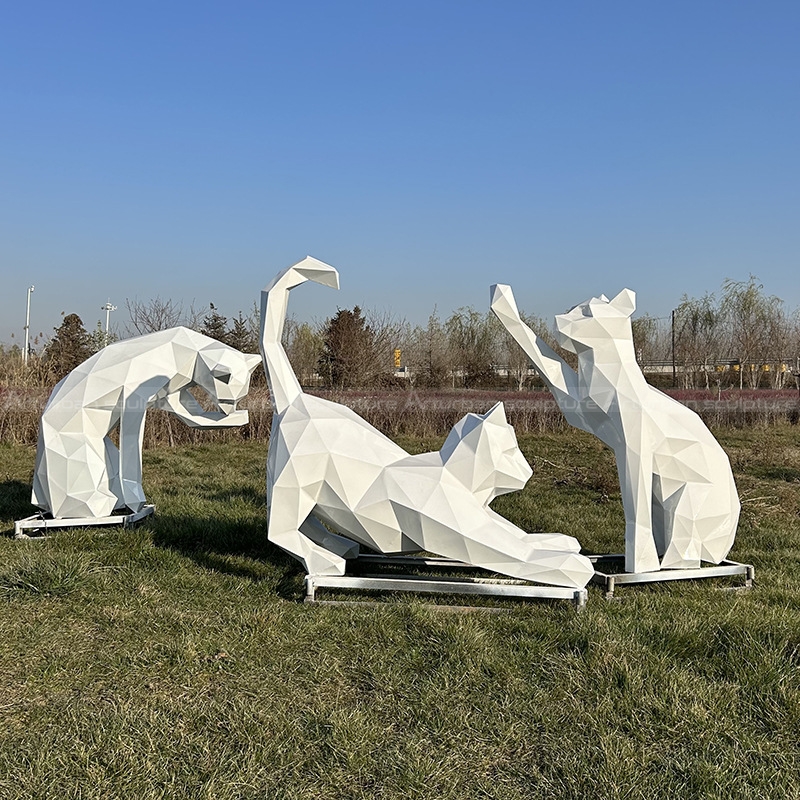 2. Production process
Step1 Design Communication:  You supply us with several photographs with dimensions.
Step 2 Project Consultation: Our team will make a production plan, according to your design, budget, delivery time,
or any other service. Our final aim is to supply high quality and cost-saving   sculpture efficiently.
Step 3 Confirm Mold: We will make 1:1 clay or 3D mold,when finished clay mold,i will take photos for   your reference.
The clay mold can modify any details till to your satisfaction.
Step 4 Carving and Polish: We will carving with natural marble according to clay mold. Then polished.
Step 5 Package: Strong wooden crate with waterproof and shockproof foam inside.
Send us your requirements now, we will reply to your email within 24 hours