1. Introduction of buddha statue outdoor large
The buddha statue outdoor large sat upright on a lotus throne. The Buddha Buddha is located on the top of the mountain
of Kuensel Phodrang Natural Park in Thimphu, the capital of Bhutan. It is a magnificent Buddha statue, up to 51.5 meters
high. The entire Buddha statue is entirely made of copper plated material, shining with golden radiance. It stands solemnly
on the mountaintop, overlooking the southern entrance of Tingbu Valley, giving a sense of solemnity and majesty.
The appearance of the Buddha is lifelike and solemn. He sat upright, his back straight, emitting an aura of compassion and
wisdom. His face and facial contours are clear, and his lips are slightly raised, as if conveying a message of peace and joy to
the world. The body lines of the Buddha are smooth, with fine clothing patterns, giving people a solemn and harmonious
feeling. This Buddha statue is said to have been donated by Singapore and Hong Kong, and then built by a Chinese company.
The base of the Buddha statue can accommodate up to 100000 Buddha statues of various sizes.
The existence of the Great Buddha adds a solemn color to the mountains and rivers of Bhutan, and has also become a symbol
in the hearts of the Bhutanese people. Every year, countless believers and tourists from all over the world come here to experience
the solemnity and peace of the Buddha. It is an important pilgrimage site and one of the symbols of Bhutan's culture and beliefs.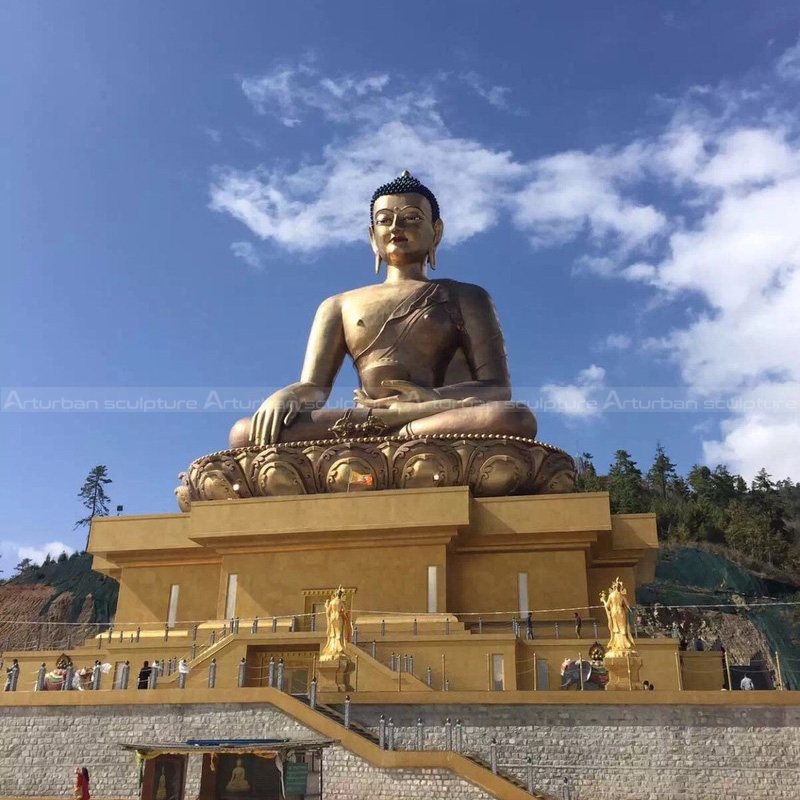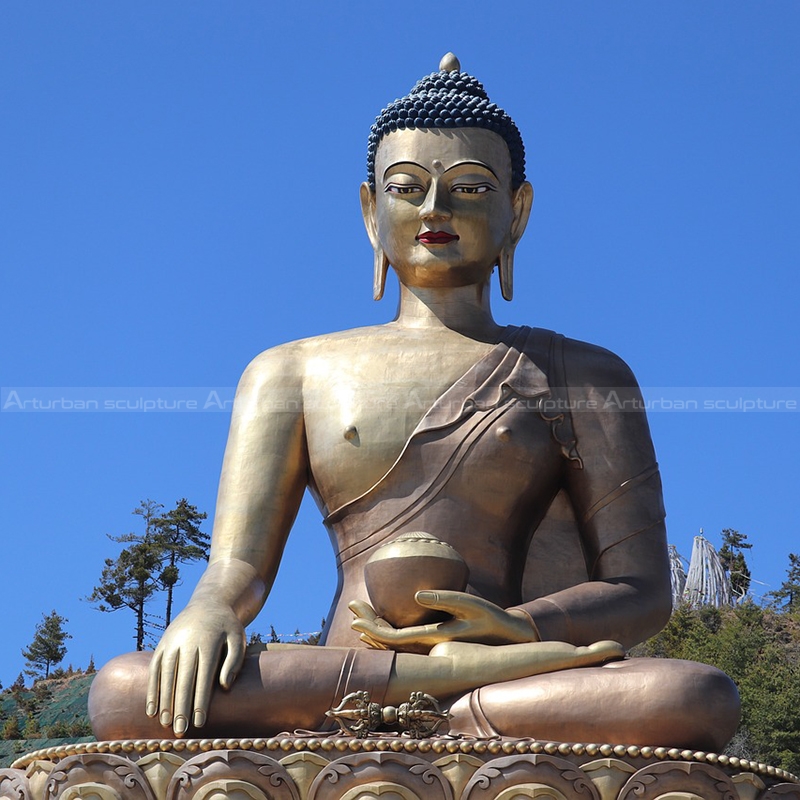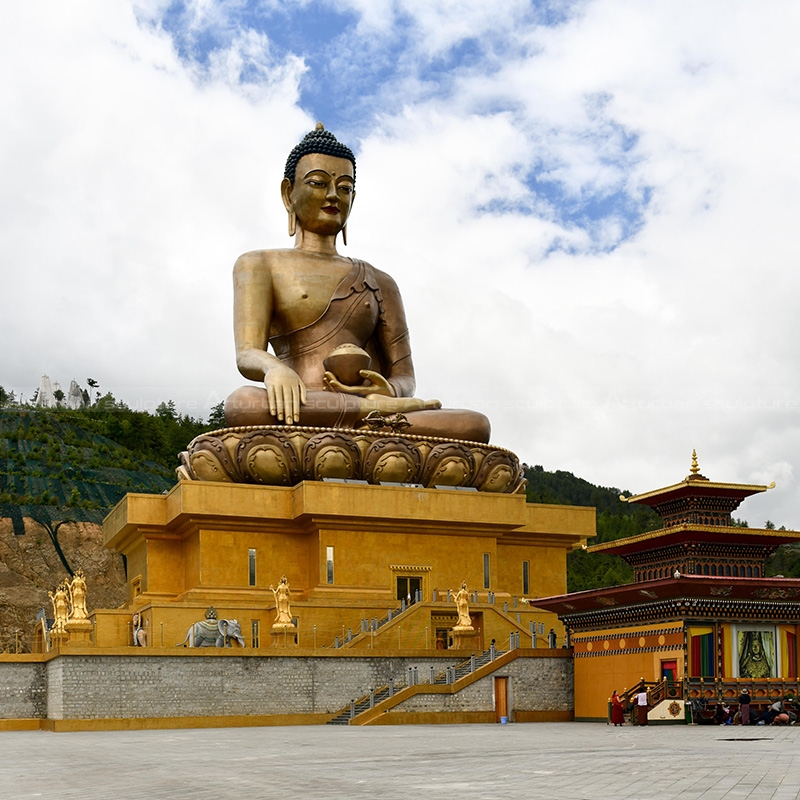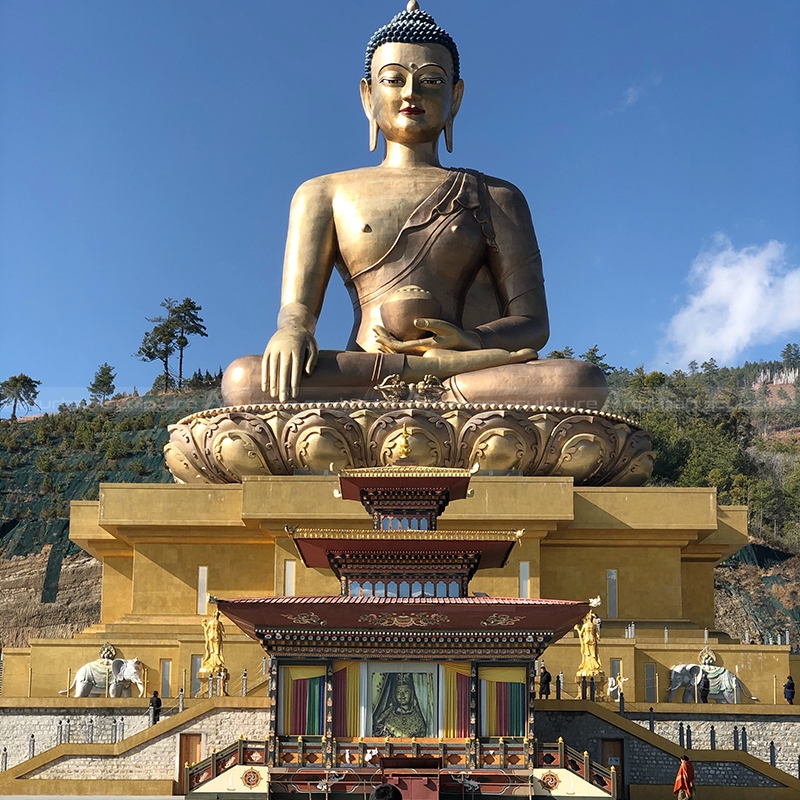 2. Production of process of buddha statue outdoor large
My artist will make 1:1 clay mold, when finished clay mold,  we will take photos for your reference, the clay mold can modify any details till you're satisfied with it. Then we go ahead to make statue, when finished statue, also we will take photos for your reference. After you're satisfied with all, I will arrange packing and shipment. Arturban sculpture can make buddha statue in bronze, marble, fiberglass, stainless steel. Our team will make a production plan, according to your design, budget, delivery time, or any other service. Our final aim is to supply high quality and cost-saving sculpture efficiently.
Send us your requirements now, we will reply to your email within 24 hours