1. Introduction of ganesha brass statue 3 feet
Ganesha brass statue 3 feet is a very exquisite sculpture.  Generally, he is the God of removing obstacles, the God of wealth, the God of fate, the God of knowledge, representing wisdom, auspiciousness and success. He is the most popular God in India. The ganesh is a man with a big belly, one tooth, axe, candy, Rosary and lotus, and the mount is a mouse. The full moon of the Avani month in India every year is the birthday of the Ganesh. Believers will prepare sacrificial supplies such as coconuts, wreaths, incense sticks and fresh fruits early and pray for the protection of theGanesh. Believers invited the Ganesh, implying the introduction of wealth, wisdom. On the last day, believers will hold a grand ceremony to send the Ganesh into the river and sea, and let him go with the wave, which means eliminating the old and replacing the new.
Ganesha has many meanings and many believers. So the statue of Ganasha is also very popular. We have a professional bronze sculpture production team. They have rich experience in sculpture. They not only make the appearance lifelike, but also show the folds and textures of the sculpture incisively. This big ganesh murti online adopts chemical coloring method, which  has mellow and natural color, and the bronze color adds classical historical charm. This statue of Ganesh can be used as a garden sculpture, a sculpture in temples, tourist attractions, courtyards and other places. We support the customization of sculpture size and color. If you like this statue or other Indian God sculptures, you can contact us. We support custom-made.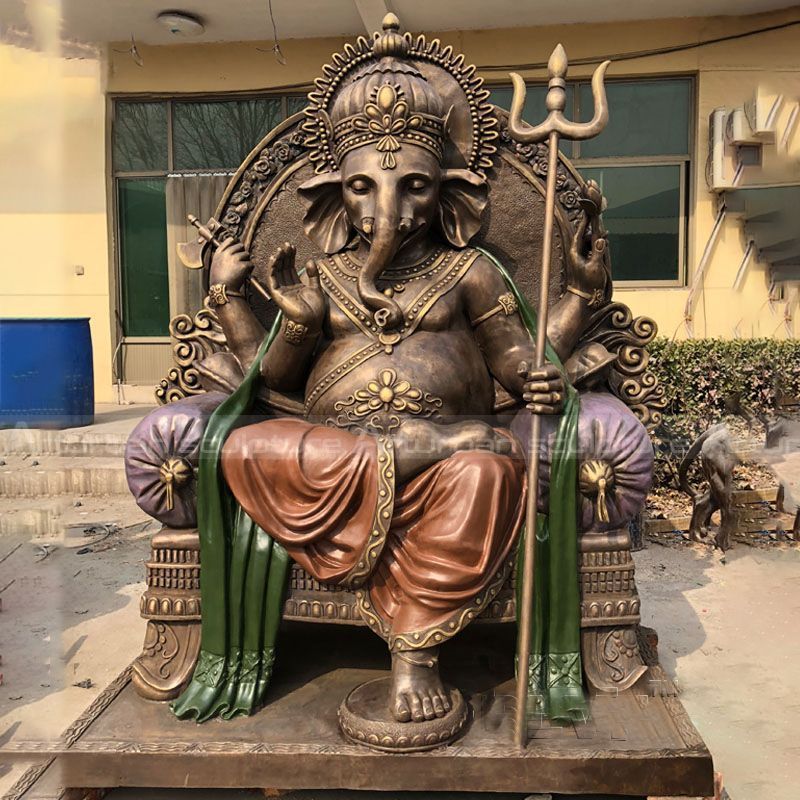 2. Production of process of ganesha brass statue 3 feet
My artist will make 1:1 clay mold, when finished clay mold,  we will take photos for your reference, the clay mold can modify any details till you're satisfied with it, then we go ahead to make statue, when finished statue, also we will take photos for your reference, after you're satisfied with all, I will arrange packing and shipment. Arturban sculpture can make ganesha statue in bronze, marble, fiberglass, stainless steel. Our team will make a production plan, according to your design, budget, delivery time, or any other service. Our final aim is to supply high quality and cost-saving sculpture efficiently.
Send us your requirements now, we will reply to your email within 24 hours