1. Introduction of large bronze buddha statue
This is a large bronze Buddha statue, which looks very magnificent. His tall and majestic image, gentle and kind face, sitting with his knees crossed, his feet up and his eyes closed show the quiet Zen. The whole body gold-plated shape emits golden light under the sunlight, which is very sacred. The shape of this large golden Buddha sculpture is actually very simple, but it gives people the feeling of solemnity and kindness. And also bring peace and prosperity.
This large bronze buddha statue is made by our skilled bronze sculptors. We use high-quality bronze materials to make it by the traditional wax loss method. We use the division production of large-scale sculptures. Finally, in the form of installation, a solid skeleton will place inside, which can be used for decoration on any occasion, which is firm and durable, and can make the sculpture more convenient for transportation. At the same time, it can also make the sculpture protect the details of the sculpture to the greatest extent. This golden Buddha sculpture requires very exquisite sculpture skills, which can accurately divide the sculpture into multiple parts. At the same time, it needs to be closely fitting during re-installation to ensure the perfect installation of the sculpture. We have many large-scale sculpture production experience, which can perfectly fit the sculpture production and show the most beautiful sculpture image.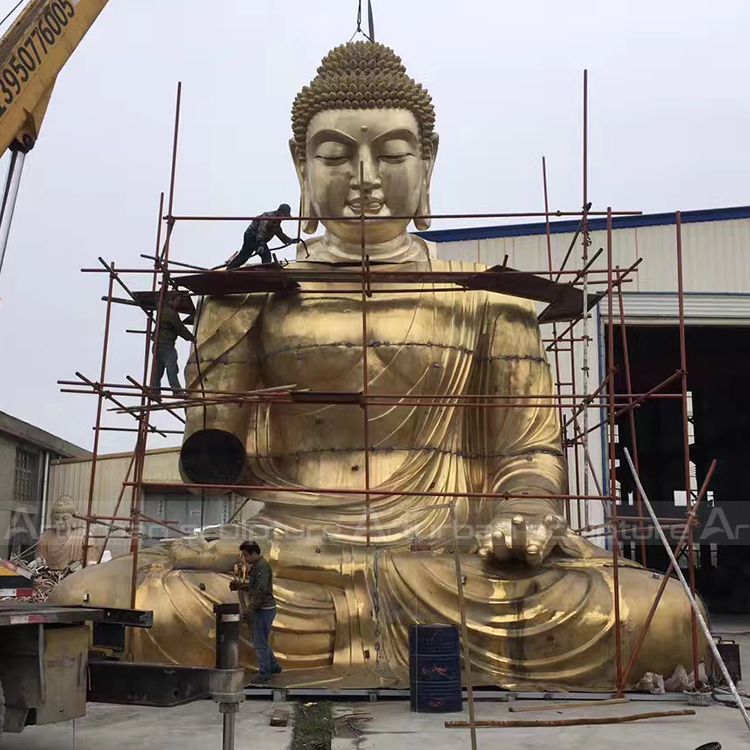 2. Production of process of large bronze buddha statue
My artist will make 1:1 clay mold, when finished clay mold,  we will take photos for your reference, the clay mold can modify any details till you're satisfied with it. Then we go ahead to make statue, when finished statue, also we will take photos for your reference. After you're satisfied with all, I will arrange packing and shipment. Arturban sculpture can make buddha statue in bronze, marble, fiberglass, stainless steel. Our team will make a production plan, according to your design, budget, delivery time, or any other service. Our final aim is to supply high quality and cost-saving sculpture efficiently.
Send us your requirements now, we will reply to your email within 24 hours