1. Introduction of tibetan shakyamuni buddha statue
Tibetan shakyamuni buddha statue is very exquisite and gorgeous. The Buddha statue has a round face , cyan spiral hair, high bun, and looks down. It wears a cassock with one shoulder exposed, and its right hand extends forward to show the earth touch mark. It sit with Vajra Posture, and its left hand is in a Zen on the lotus petal base. This 14th century Shakyamuni Buddha shows the scene of Shakyamuni when he became a Taoist under the Great Bodhi tree of bodhgaya. According to Buddhist biographies, Shakyamuni Buddha settled under the bodhi tree and was not moved by beautiful demons. He defeated the demon army and enlightened Bodhi. He meditated with one hand and touched the ground with the other Zen posture. Therefore, this posture is Taoist image.
This tibetan shakyamuni buddha statue was carefully made by our sculptors. They created it in the form of Shakyamuni in the 14th century. It has beautiful shape and exquisite workmanship. It can be the best work of gold and bronze statues in Tibet in the 14th century. The proportion of Shakyamuni's head, trunk and lotus seat is coordinate, his body is symmetrical, his limbs, shoulders and chest are full and powerful, and emphasizing the beauty of virility, and his fingers are slender and soft. The cassock has simple patterns and smooth lines. The lotus seat is exquisite in shape. We have a variety of sculpture images in the form of Shakyamuni, with exquisite and beautiful shape and high quality, which can be placed on a variety of occasions. If you need Buddhist sculpture works, you can contact us at any time to learn more about sculptures.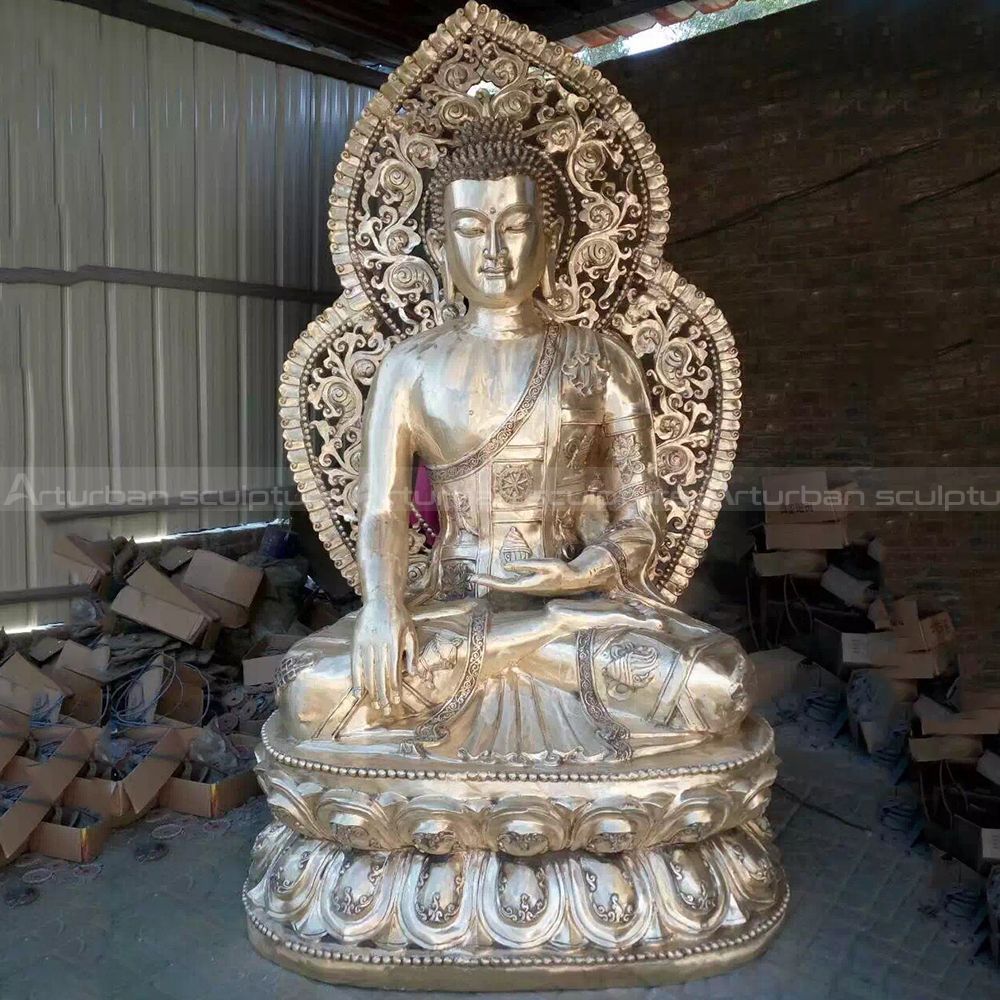 2. Production of process of tibetan shakyamuni buddha statue
My artist will make 1:1 clay mold, when finished clay mold,  we will take photos for your reference, the clay mold can modify any details till you're satisfied with it, then we go ahead to make statue, when finished statue, also we will take photos for your reference, after you're satisfied with all, I will arrange packing and shipment. Arturban sculpture can make large buddha statue in bronze, marble, fiberglass, stainless steel. Our team will make a production plan, according to your design, budget, delivery time, or any other service. Our final aim is to supply high quality and cost-saving sculpture efficiently.
Send us your requirements now, we will reply to your email within 24 hours