1. Introduction of patron saint of animals statue
Patron saint of animals statue is an interesting sculpture of St. Francis and birds, also known as
Saint Francis of Assisi, the founder of the Catholic Franciscans and Friars. He was a patron saint
of animals, merchants, the Catholic church movement and the natural environment. It is said
that, according to the divine will of God, before the 40 day fasting period of the God, the general
leader of St. Michael, God appeared in a different form and printed on him the five wounds
suffered by Jesus during his crucifixion (i.e. hands, feet and left rib) to influence the hard heart
of sinners, so that they can change their past sins and get salvation. The mark of St. Francis is
also the only one officially recognized by the Holy See. In memory of him, San Francisco used
his name (San Francisco) as the city name.
This sculpture shows St. Francis standing on the outdoor lawn. One bird landed at his feet and
the other bird was held in his hands. The bird looked up as if it was talking to St. Francis. St.
Francis listened carefully with his head down. We have rich experience in the production of
religious sculptures. In the production of sculptures, we adopted the traditional wax loss
method, which retained all the exquisite details of the sculptures and made the sculptures more
lifelike. If you are looking for high-quality bronze religious sculptures, you can always contact us
for more details.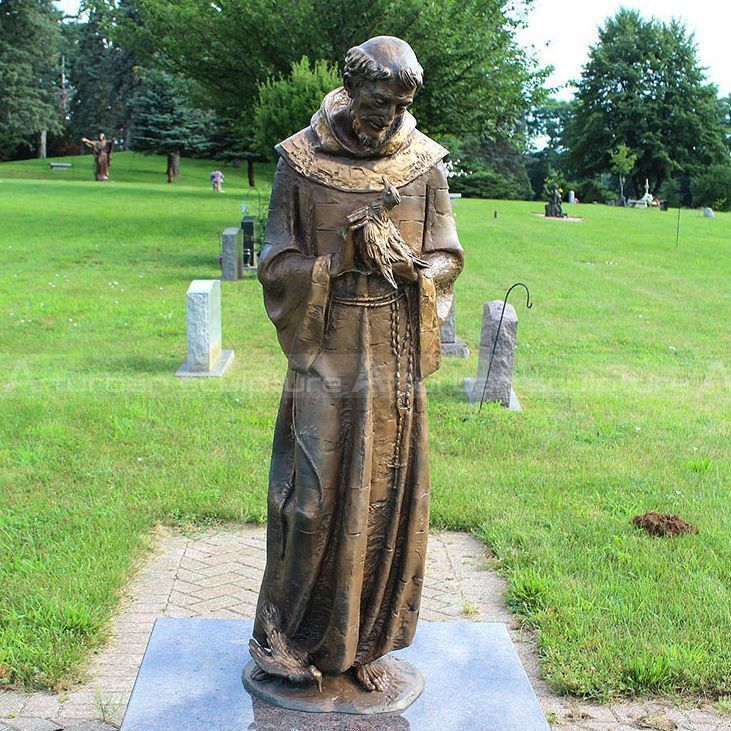 2. Production process of patron saint of animals statue
My artist will make 1:1 clay mold, when finished clay mold,  we will take photos for your reference.
The clay mold can modify any details till you're satisfying with it. Then we go ahead to make statue.
When finished statue, also we will take phots for your reference. After you are satisfying with all,
I will arrange packing and shipment. Arturban sculpture can make large christian statue in bronze,
marble, fiberglass, stainless steel. Our team will make a production plan, according to your design,
budget, delivery time, or any other service. Our final aim is to supply high quality and cost-saving
sculpture efficiently.
Send us your requirements now, we will reply to your email within 24 hours