1. Introduction of st peter bronze statue
This is a very vivid st peter bronze statue. San Pietro, or St. Peter, the head of the twelve
disciples of Jesus and the first Pope of Catholicism, holds the key to heaven given to him by Jesus in
his left hand and points to the sky with his index finger in his right hand, which shows that he is in
charge of the key to heaven under the instruction of the son of God. Before Jesus returned to heaven,
he gave him the golden key. Peter became the leader of the Catholic Church. He came to Rome to
preach. Later, in order to frame Christians, the tyrannical emperor Nero set fire to the city of Rome.
Then he blamed the Christians and killed Peter. Later generations often use the image of holding
two keys as a memorial sculpture of St. Peter.
The sculpture of St. Peter in this sculpture is very vivid and tall. He is calm and smiling. In his left
hand, he holds the golden key Jesus gave him to heaven, and his right hand points to the sky. The
curly hair on his head, the wrinkles on his face, the thick beard on his chin, and the layers of robes
on his body are all carved to be exquisite and lifelike. If the face and hair are painted with real
colors, they will be regarded as real people. We have rich experience in the production of bronze
sculptures, which can depict the images of various characters vividly. If you need to customize
exquisite character sculptures, you can contact us for more details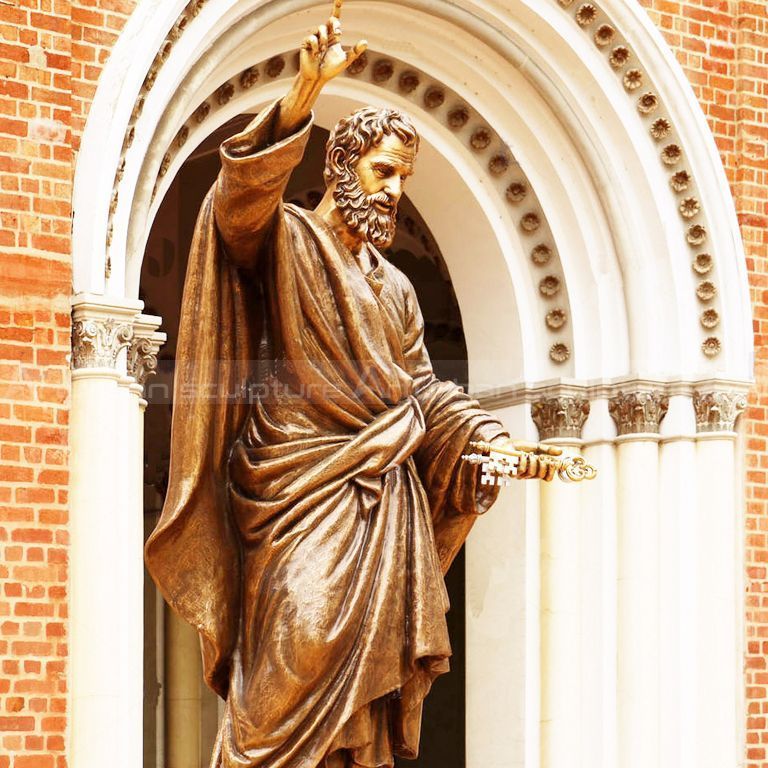 2. Production process of st peter bronze statue
My artist will make 1:1 clay mold, when finished clay mold,  we will take photos for your reference.
The clay mold can modify any details till you're satisfng with it. Then we go ahead to make statue.
When finished statue, also we will take photos for your reference. After you are satisfying with all,
I will arrange packing and shipment. Arturban sculpture can make large christian statue in bronze,
marble, fiberglass, stainless steel. Our team will make a production plan, according to your design,
budget, delivery time, or any other service. Our final aim is to supply high quality and cost-saving
sculpture efficiently.
Send us your requirements now, we will reply to your email within 24 hours