1.Introduction of geometric deer statue
This is a stainless steel geometric deer statue. The deer is with simple and smooth lines that are full of modernity.
The posture of deer varies, and each deer is lifelike, showcasing its natural posture on the grassland. One of the deer
lifted its front legs and raised its head, as if admiring the beautiful scenery in the distance, with an overall elegant
and noble temperament. Deer antlers are exquisitely shaped, and the exquisite carving process makes them more
three-dimensional. The entire statue is exquisitely crafted, showcasing the perfect combination of modern art and
natural ecology, leaving a deep impression on people.
As a decorative artwork, Geometric Deer Sculpture can be used in outdoor places such as parks, squares, gardens,
etc., playing a role in beautifying the environment and enriching the urban landscape. Secondly, it can also be used
for interior decoration, such as homes, offices, shopping malls, etc., to add a sense of beauty and atmosphere to the
space. Stainless steel deer statues can also be used as gifts, rewards, or souvenirs, representing a beautiful and blessing,
expressing emotions and meaning.
The advantages of making stainless steel deer statues are also obvious. Stainless steel has good plasticity and corrosion
resistance, is not easily oxidized, corroded, or rusted, has a long service life, and has low maintenance costs. Moreover,
stainless steel statues can be produced using CNC machining, polishing, sheet metal and other technologies to create
exquisite shapes and details, while also being customized according to customer needs. The stainless steel deer statue
also has advantages such as weather resistance, UV resistance, and high temperature resistance, adapting to different
environments and climatic conditions.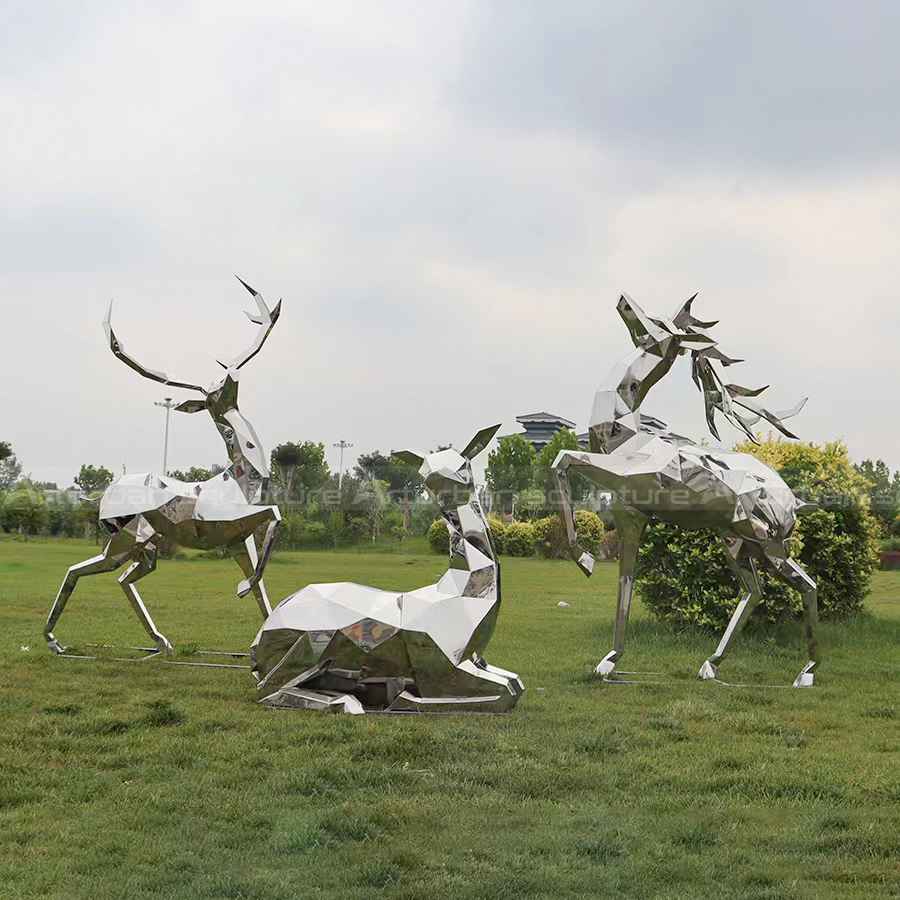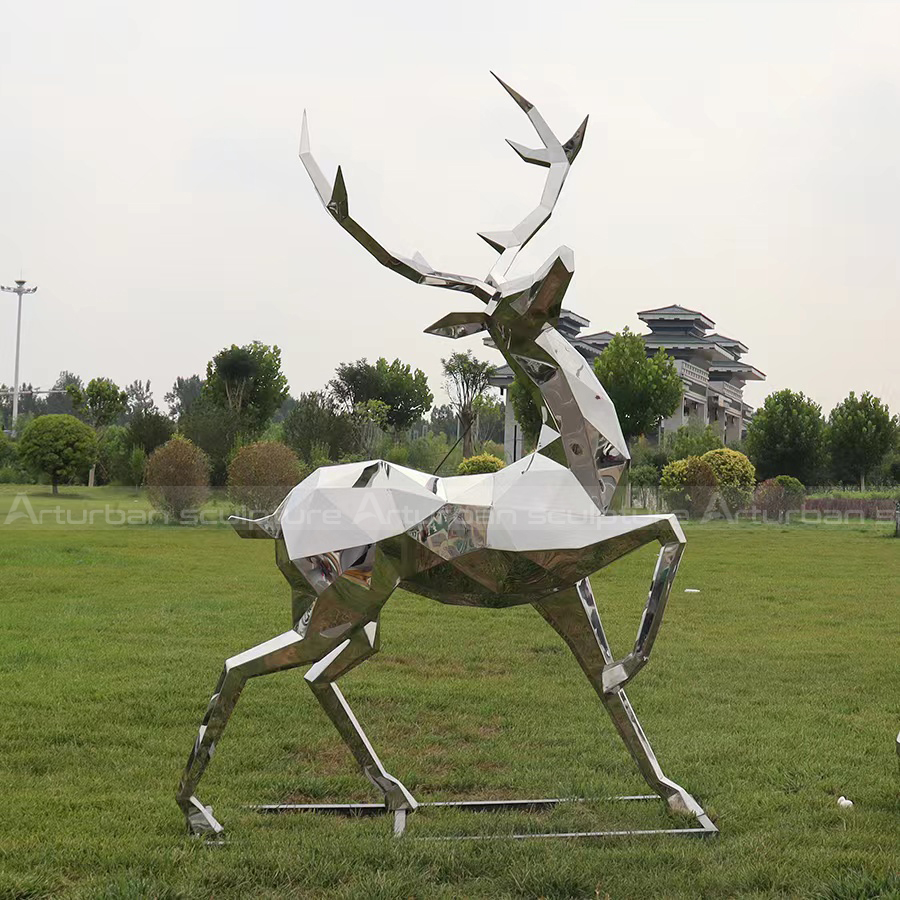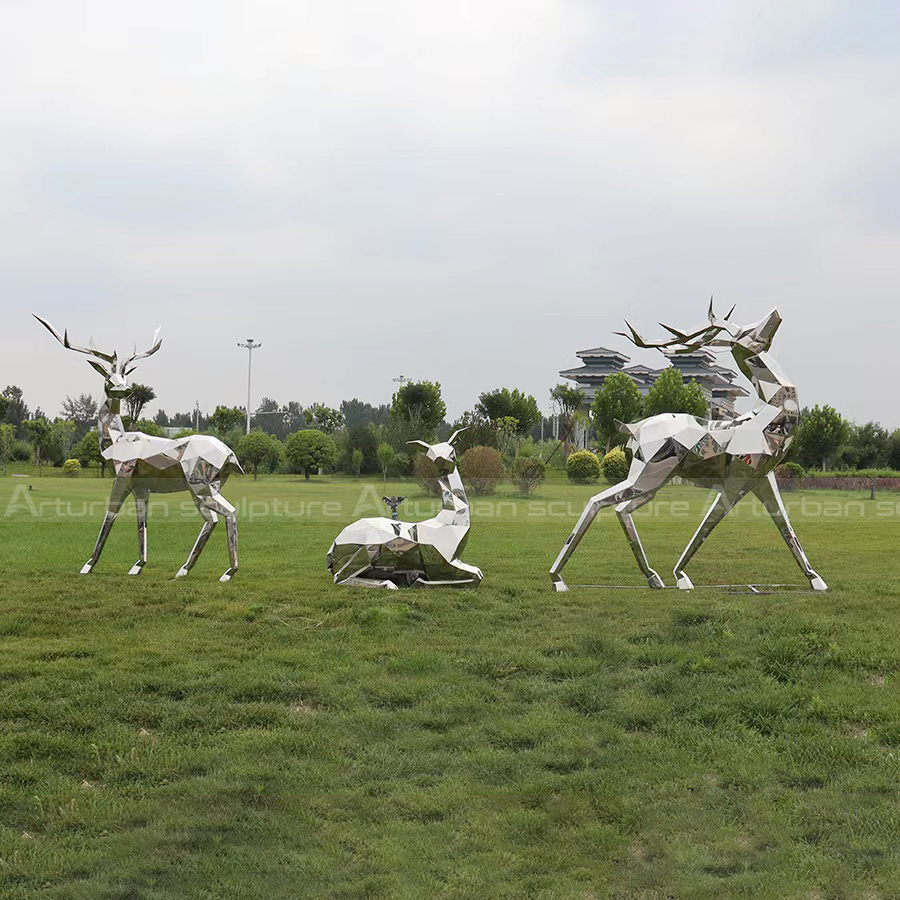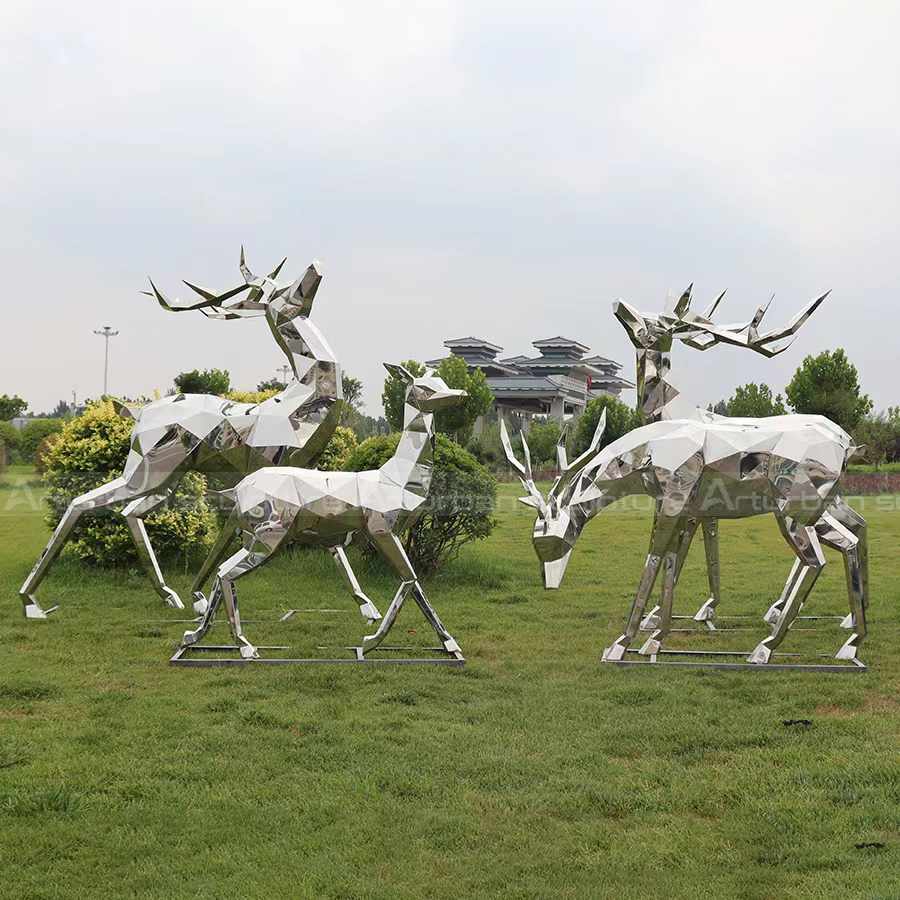 2. Production Process of geometric deer statue
Step1 Design Communication:  You supply us with several photographs with dimensions.
Step 2 Project Consultation: Our team will make a production plan, according to your design, budget, delivery   time,  or any other service. Our final aim is to supply high quality and cost-saving   sculpture efficiently.
Step 3 Confirm Mold: We will make 1:1 clay or 3D mold,when finished clay mold,i will take photos for   your reference. The clay mold can modify any details till to your satisfaction.
Step 4 Carving and Polish: We will carving with natural marble according to clay mold. Then polished.
Step 5 Package: Strong wooden crate with waterproof and shockproof foam inside.
Send us your requirements now, we will reply to your email within 24 hours