1.Introduction of abstract water feature
Abstract water feature has gradually entered people's vision and is more and more loved by people. Stainless steel can be made into various forms of sculptures by artists. Compared with other metal sculptures, stainless steel sculptures have unique corrosion resistance and high temperature resistance. They are more suitable for modern style decoration, such as outdoor gardens, squares, shopping centers, hotels, etc. The stainless steel fountain sculpture perfectly combines its material advantages with the continuous flow of water to form a unique artistic beauty. The beautiful line bends and flexibly hovers and gradually extends upward. The more it extends upward, the thinner it becomes. It is like a pagoda. The water flows downward at the top, and the splashes are very beautiful.
The simple and elegant artistic style of this abstract water feature gives us a bright visual effect. The silver shape brings us a sense of fashion. It can produce a very unique visual effect both during the day and at night. This sculpture is made of high-quality 304 stainless steel.  The high-quality ensure that it can be used in outdoor humid environment for many years. We pay attention to the skeleton design of large statue, so that the statue is not only beautiful in appearance, but also very strong and durable inside. You can enjoy it all the time. We have many stainless steel water fountain that can be placed in any outdoor place.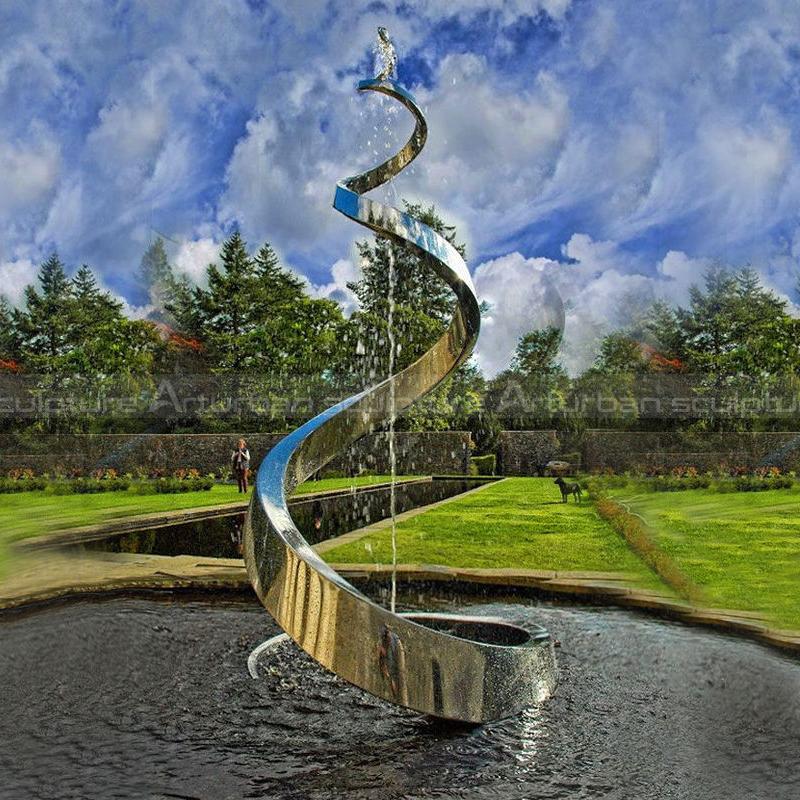 2. Production Process of abstract water fountain
Customers can send us their own designs or advise their detailed requirements.
Our technical team will have a meeting mainly focus on all details.
The engineering team start to do the design after a full discussion and calculation.
During this period, We will send pictures from different views to check with you.
After the final confirmation, we'll fabricate a small mold, then put into production.
Send us your requirements now, we will reply to your email within 24 hours