1.Introduction of pool water feature
Pool water feature is stainless steel silver fountain sculpture with beautiful radian bending. The water flows vertically like a small waterfall from the water spout at the top of statue, which is very beautiful. The pebbles below transparent water are clean and mellow under the washing of the waterfall, which adds a quiet atmosphere to the surrounding environment and can make us relax. The pool is square, but the sprinkler is in one corner of the pool, which makes the sculpture show its flexibility. This fountain sculpture can be placed in any position to add fashionable to your space and become the focus of attention. Its trickling water sound is like a relaxed and melodious music to soothe your mood.
Pool water feature is made of high-quality stainless steel by our professional stainless steel sculpture craftsmen. The shape has been welded and highly polished. That makes our sculpture smooth and shiny, giving people a fashionable modern sense. We have many stainless steel fountain sculptures, which are very beautiful, and we can support the customization of size, so that you can put them in your arbitrary environment, make the surrounding environment not monotonous. You can contact us for more details at any time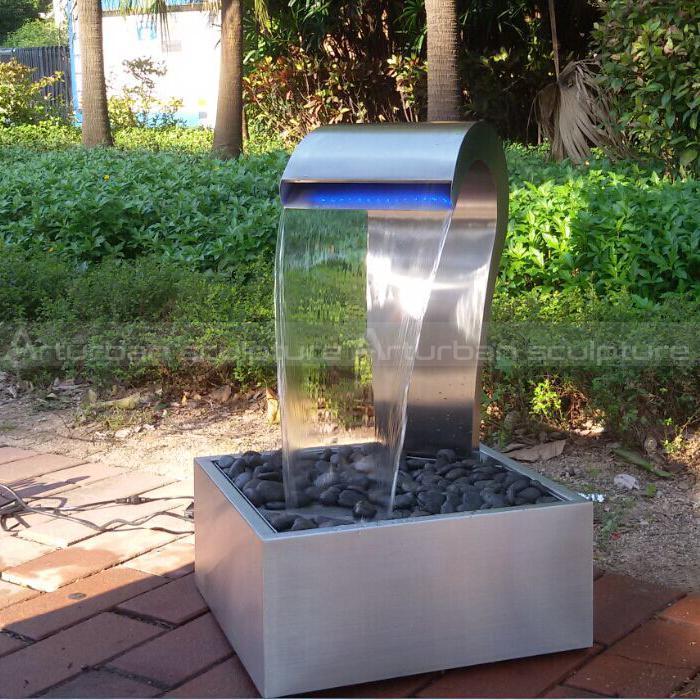 2. Production Process of pool water feature
Customers can send us their own designs or advise their detailed requirements.
Our technical team will have a meeting mainly focus on all details.
The engineering team start to do the design after a full discussion and calculation.
During this period, We will send pictures from different views to check with you.
After the final confirmation, we'll fabricate a small mold, then put into production.
Send us your requirements now, we will reply to your email within 24 hours