1.Introduction of boy with fish fountain
The is a bronze boy with fish fountain.  The bronze fountain adopts the traditional European style, which is vivid and
profound in meaning. The posture of a boy holding a fish is highly artistic and vibrant, and it also presents the
relationship between water and life, symbolizing human reverence and gratitude for nature. The boy's face has a natural
expression, smooth and powerful muscle lines, and the shape of the fish is also very vivid. The entire sculpture gives
a natural and fresh feeling.
This European style Boy Fountain not only has artistic value, but also practical value. This bronze European style fountain
sculpture is usually suitable for parks, squares, gardens, and other places, becoming a beautiful scenic line in the place.
At the same time, fountain sculptures can also increase the humidity of the place, improve the environment, and let people
feel the fresh air and comfortable atmosphere. Sculpture is not only a decorative artwork, but also a practical landscape facility.
Through its own beauty and practicality, it makes the environment more beautiful and people more comfortable.
Bronze European style fountain sculpture is a popular art form with many production advantages. Firstly, bronze material is
very sturdy and has high durability, which can maintain good condition for a long time in outdoor environments. Secondly,
bronze materials have excellent toughness and plasticity, which can be carved into various details and shapes, thus realizing
the creativity and imagination of artists. In addition, bronze European style fountain sculptures can also be endowed with
unique colors and textures through processes such as oxidation and polishing, enhancing their ornamental and artistic value.
Overall, bronze European style fountain sculptures have many advantages in production and have become a beloved artwork
for many people.

2.Production process of boy with fish fountain
My artist will make 1:1 clay mold, when finished clay mold,  we will take photos for your reference. The clay mold can modify any
details till your satisfaction with it. Then we go ahead to make statue, when finished statue, also we will take photos for your
reference. After getting your confirmation, we will arrange packing and shipment. Arturban sculpture can make large mermaid
statue in bronze, marble, fiberglass, stainless steel. Our team will make a production plan, according to your design, budget,
delivery time, or any other service. Our final aim is to supply high quality and cost-saving sculpture efficiently.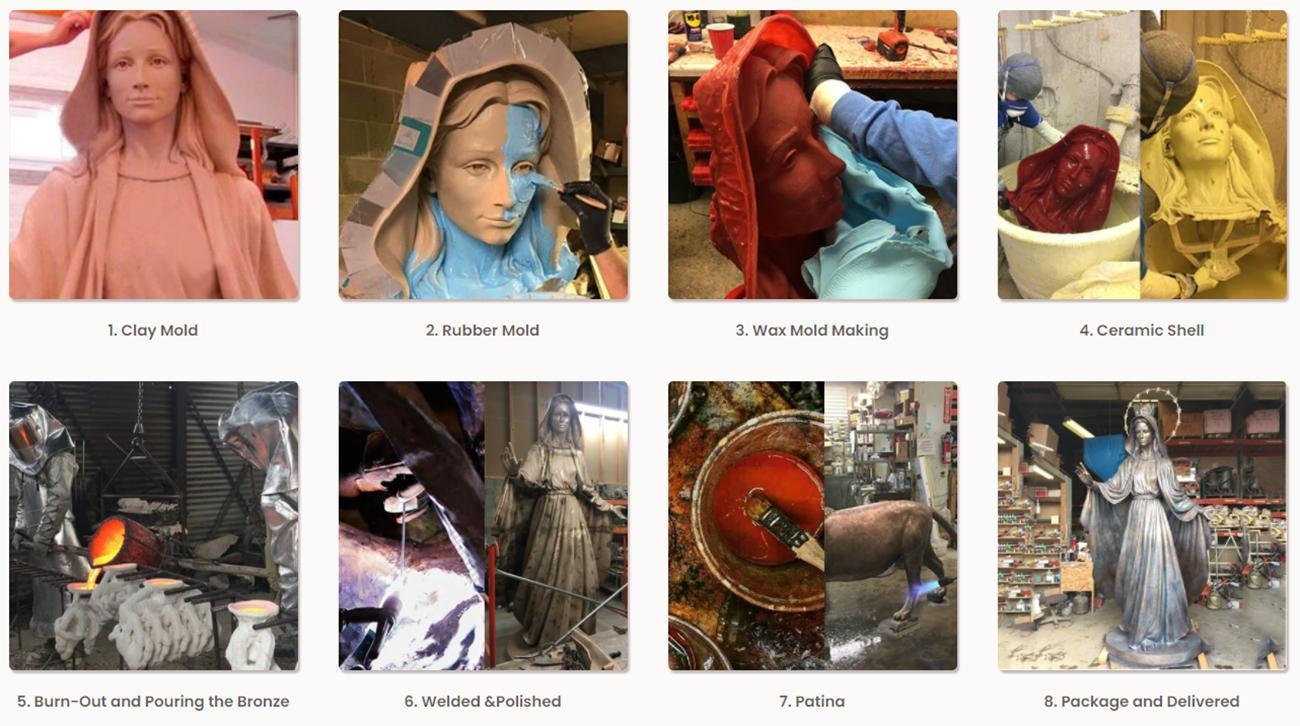 Send us your requirements now, we will reply to your email within 24 hours