1.Introduction of dolphin outdoor fountain
Dolphin outdoor fountain is stainless steel fountain and very popular. A group of dolphins form a curved arc when jumping, looks very beautiful. They seem to become "smiling angels" when open their sharp mouth. In this sculpture, we use abstract carving methods to show the beautiful shape of dolphins. The smooth metal touch and the metal luster shpws fashionable and generous modern elements. As sculptures in outdoor gardens, courtyards and other public places, passers-by will be infected by the beautiful posture of dolphins. Its happy image can make us feel relaxed and release our troubles.
Dolphin outdoor fountain is carefully made by our animal sculptors. We use high-quality stainless steel for forging. After welding, grinding and polishing by professional sculptors, our dolphin garden fountain has smooth lines smooth surface. Our built-in solid skeleton can make our sculpture very strong. Our sculptures can not only be used as decoration in humid environment for a long time, but also easy to clean, not easy to corrode and stable. We support the production of various beautiful stainless steel fountain sculptures, which can not only decorate the garden and courtyard, integrate with the surrounding, make the surrounding air humid. But also an excellent place for people to rest and relax.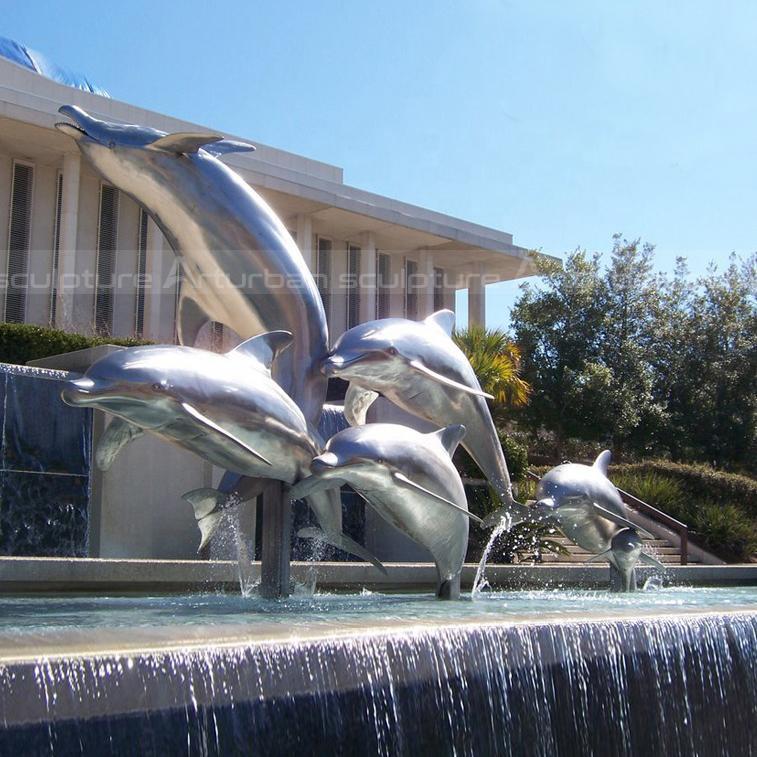 2. Production Process of dolphin outdoor fountain
Customers can send us their own designs or advise their detailed requirements.
Our technical team will have a meeting mainly focus on all details.
The engineering team start to do the design after a full discussion and calculation.
During this period, We will send pictures from different views to check with you.
After the final confirmation, we'll fabricate a small mold, then put into production.
Send us your requirements now, we will reply to your email within 24 hours