1.Introduction of ball water fountain outdoor
Ball water fountain outdoor is a hollow ball. When water flows on the stainless steel ball. It will undoubtedly add a sense of freshness and modernity to any garden. It is very elegant and simple, improves the atmosphere of the surrounding, and brings tranquility and relaxation to you and your family. Due to the polishing process, this sculpture has a unique luster, shining day and night. This stainless steel sculpture can be placed anywhere, such as outdoor gardens, theme parks, city streets, business center squares, hotels, and even your home.
Ball water fountain outdoor is made of high-quality 304 stainless steel. We will customize the size for you according to your environment. We have a professional sculpture team and have detailed production plans when making sculpture. Our sculptors have more than 20 years of sculpture experience. The whole sculpture curve is forged and polished by our sculptors to ensure the smoothness of sculpture lines and radians. We also have many stainless steel sculptures with different artistic styles, which are very beautiful. You can contact us to make fountain for you.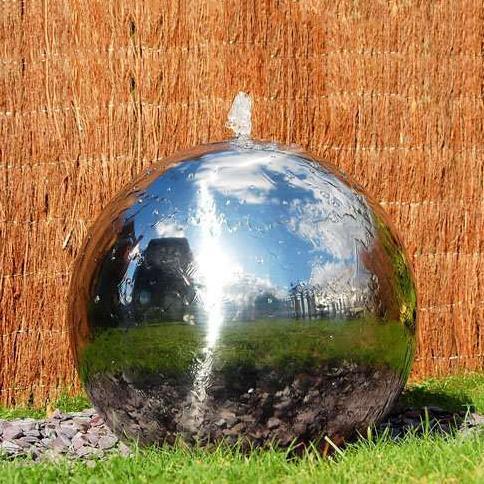 2. Production Process of ball water fountain outdoor
Customers can send us their own designs or advise their detailed requirements.
Our technical team will have a meeting mainly focus on all details.
The engineering team start to do the design after a full discussion and calculation.
During this period, We will send pictures from different views to check with you.
After the final confirmation, we'll fabricate a small mold, then put into production.
Send us your requirements now, we will reply to your email within 24 hours