1. Introduction of abstract cyclist sculpture
This abstract cyclist sculpture has a beautiful and lifelike form. Abstract bicycle sports sculptures are usually large-scale installation works of art, based on the dynamic image of characters riding bicycles, using modern artistic techniques for abstract expression. This type of sculpture has the characteristics of strong modernity and unique creativity, using abstract techniques to deconstruct and reassemble the dynamic image of characters riding bicycles, leaving a deep impression on people.
Outdoor abstract figures riding bicycles and sports sculptures can be used as decorations in outdoor public places, adding cultural atmosphere and artistic sense to the city. This sculpture has a novel and vibrant shape, giving people a visual impact, which can attract people's attention and enhance the visual effect of public places. At the same time, it also has educational significance, encouraging people to actively exercise, advocating for environmentally friendly and low-carbon travel, and playing a positive role in improving the physical fitness of urban residents and promoting sustainable urban development.
The outdoor abstract figure cycling sports sculpture made of fiberglass material has many production advantages. Firstly, fiberglass material has the characteristics of lightweight, durability, resistance to weathering, and corrosion, allowing sculptures to maintain their beauty for a long time in outdoor environments. Secondly, fiberglass material is easy to shape and can create various abstract shapes according to the designer's imagination, creating sculptures in various forms, while also increasing the color and glossiness of the sculptures. In addition, the production cost of fiberglass material is relatively low, making it more economical and practical. In summary, the production advantage of fiberglass material has made outdoor abstract figure cycling sports sculptures a popular artwork.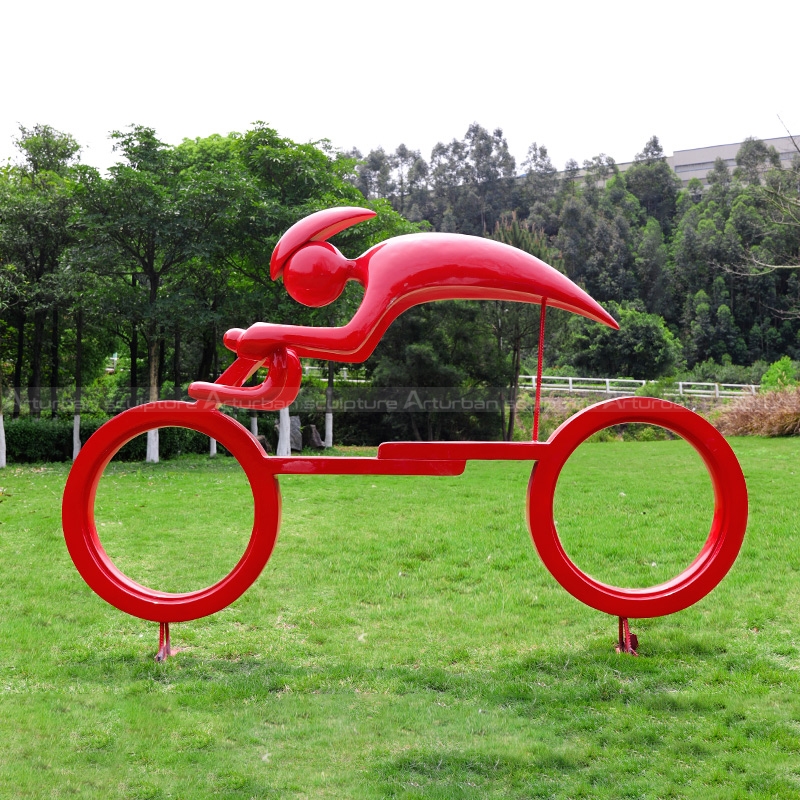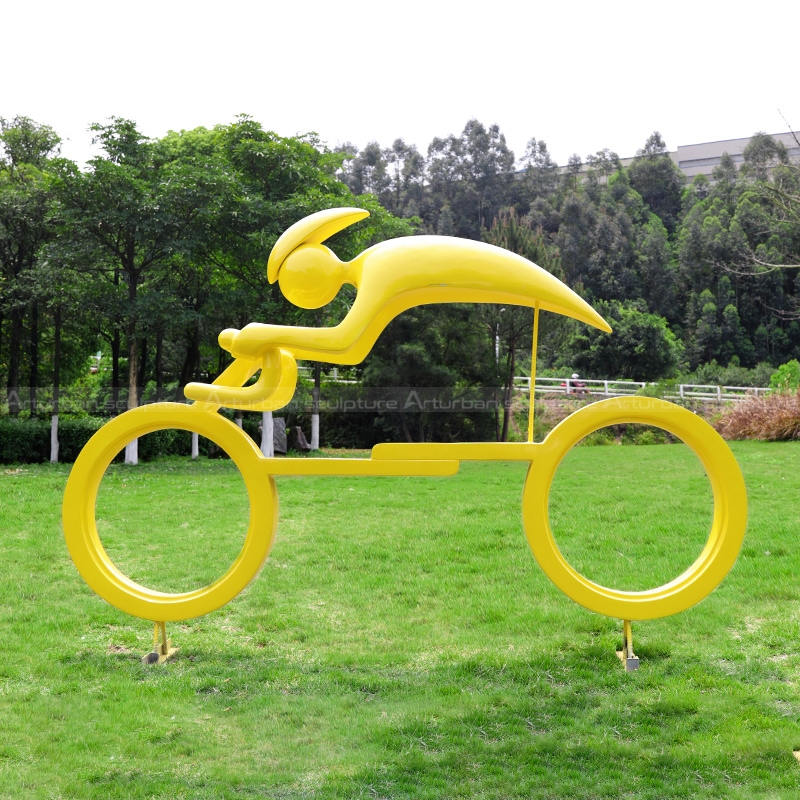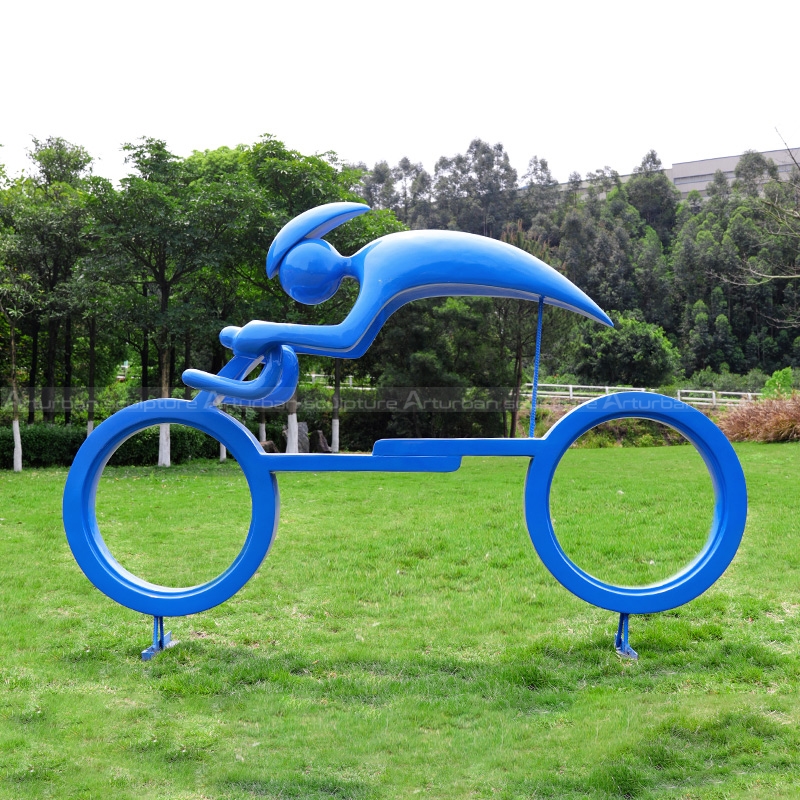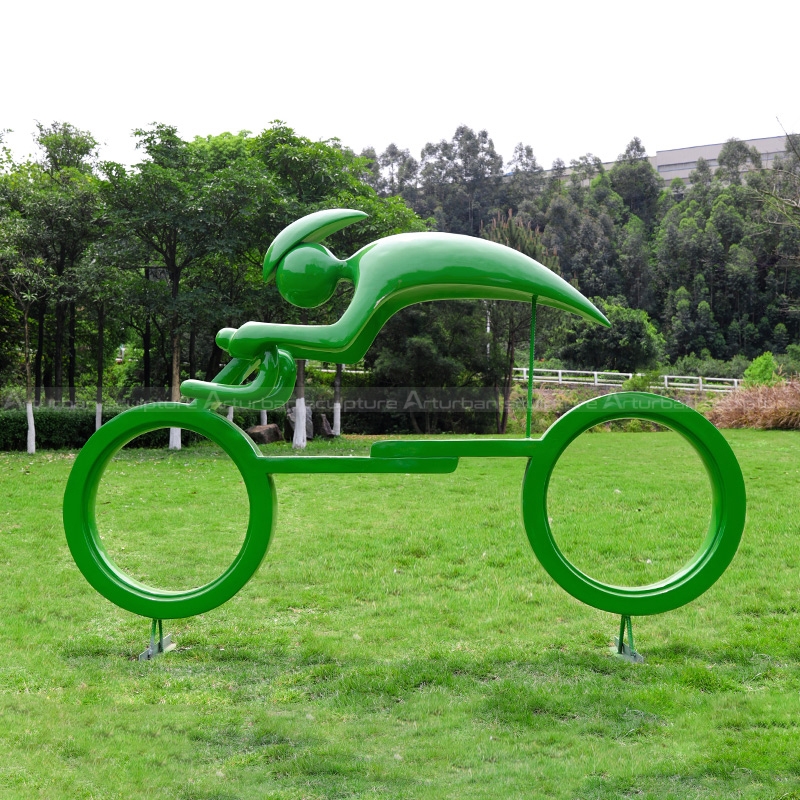 2. Production process
1. Showing the details drawing/ 3D mold for clients confirming.
2. Making clay mold/ foam mold according to drawing/ client's photos/ 3D mold.
3. Making fiberglass/resin sculptures
4. Polishing the surface.
5. Professional painting and take all different views pictures/ videos, show to clients.
6. Packing into wooden cases after clients satisfied with sculptures.
Send us your requirements now, we will reply to your email within 24 hours