1.Introduction of mermaid sitting on a rock statue
The mermaid sitting on a rock statue is a unique decorative art. Bronze mermaid sculpture is a beautiful artwork,
made of bronze material, with very meticulous craftsmanship and exquisite techniques to present the beautiful
lines and gorgeous details of mermaids. The mermaid's face in the sculpture presents a soft expression, emitting
a mysterious and charming atmosphere. The entire sculpture gives a gentle and dreamy feeling.
Bronze Outdoor Mermaid Water Fountain usually appear as half human and half fish, sitting on rocks or floating
in the water. The sitting posture of this sculpture is beautiful, full of charm and temptation. The body of a bronze
mermaid is usually smooth, and the details are exquisitely crafted, including scales and tail.
Bronze mermaid sculpture is a highly decorative art form. They are suitable for placement in various indoor and
outdoor environments, and can be used as garden sculptures, pool sculptures, park sculptures, building sculptures,
etc. The unique charm and beautiful lines of the bronze mermaid make it an ideal decoration for many families,
businesses, and public places. These sculptures can add an artistic atmosphere and romantic atmosphere to the
venue.
The advantage of making bronze mermaid sculptures lies in the characteristics of bronze. Bronze is a hard, durable,
corrosion-resistant, and beautiful metal. In the process of sculpture production, artists can create high-quality and
detailed sculpture works based on the characteristics of bronze. Bronze also has high-temperature toughness and
plasticity, allowing artists to create complex and detailed sculpture images. Due to the durability and beauty of
bronze, these sculptures can be preserved for a long time in both indoor and outdoor environments, while
maintaining their original appearance and quality.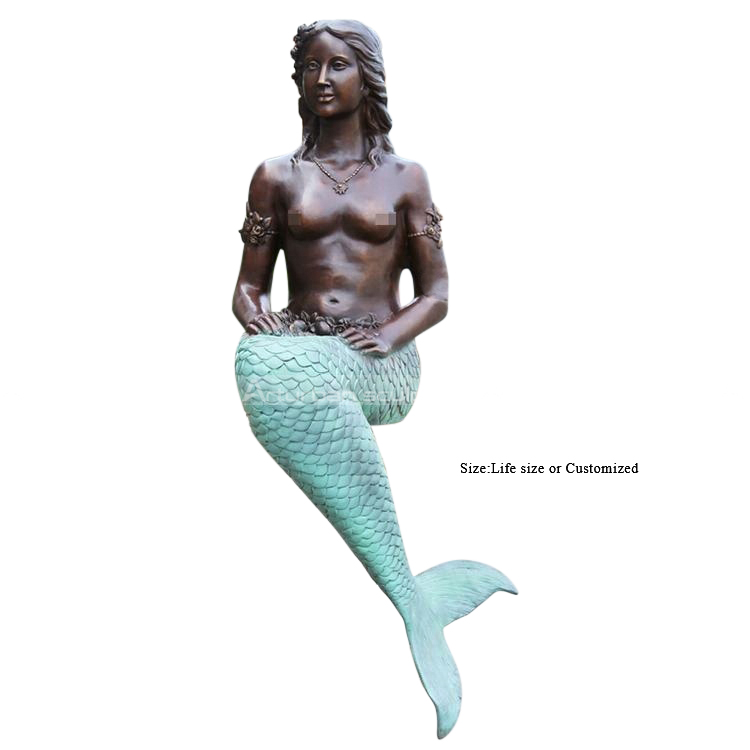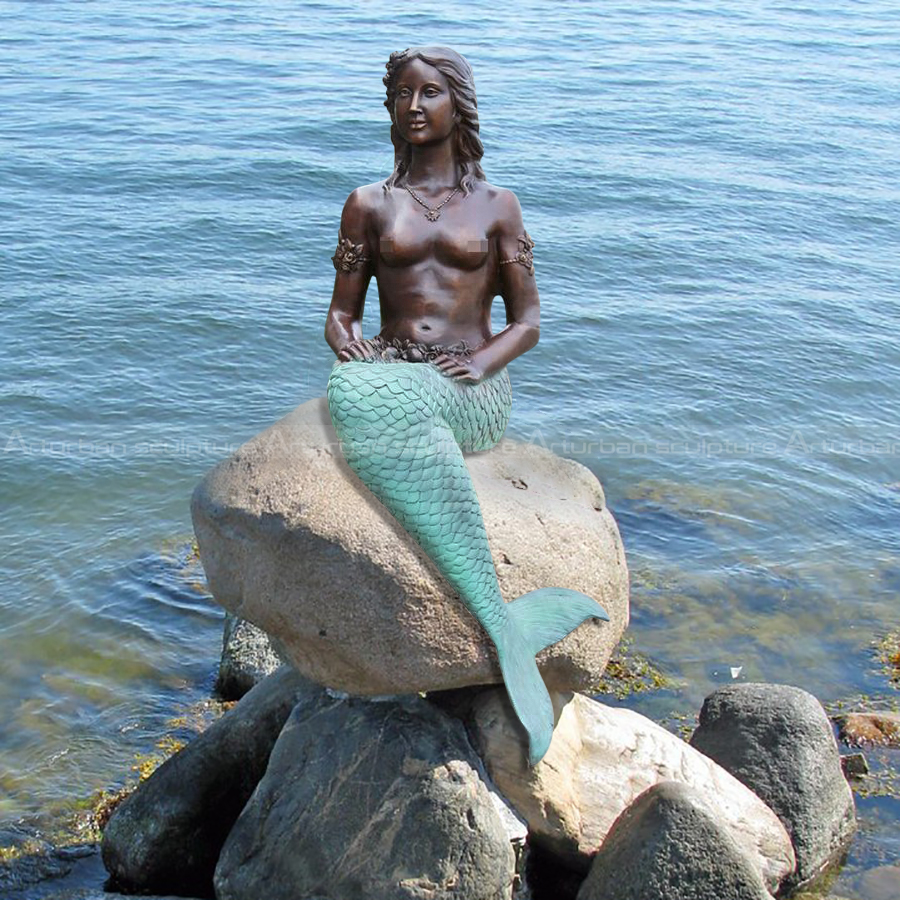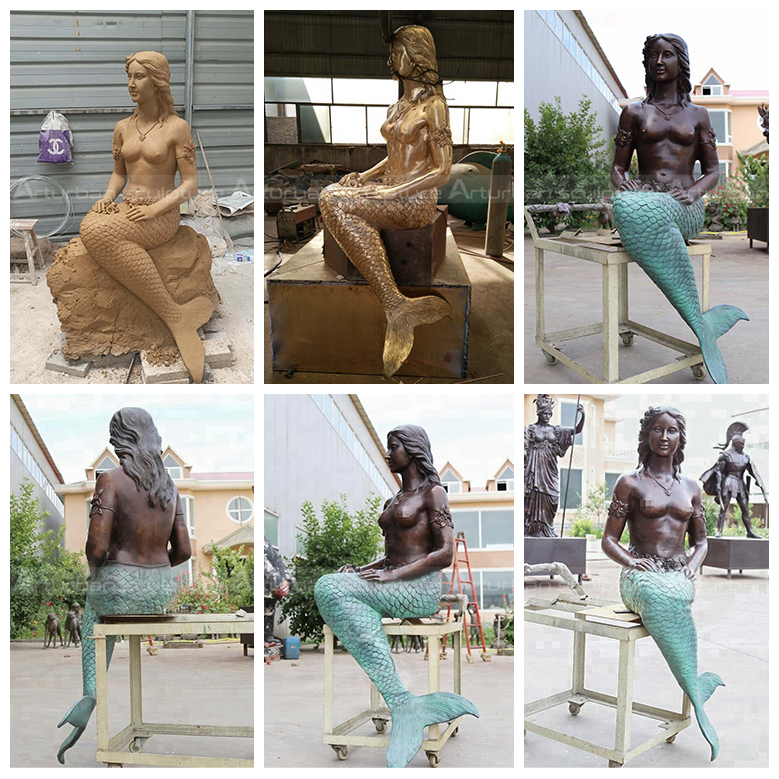 2.Production process of mermaid statue
My artist will make 1:1 clay mold, when finished clay mold,  we will take photos for your reference. The clay mold can modify any
details till your satisfaction with it. Then we go ahead to make statue, when finished statue, also we will take photos for your
reference. After getting your confirmation, we will arrange packing and shipment. Arturban sculpture can make large mermaid
statue in bronze, marble, fiberglass, stainless steel. Our team will make a production plan, according to your design, budget,
delivery time, or any other service. Our final aim is to supply high quality and cost-saving sculpture efficiently.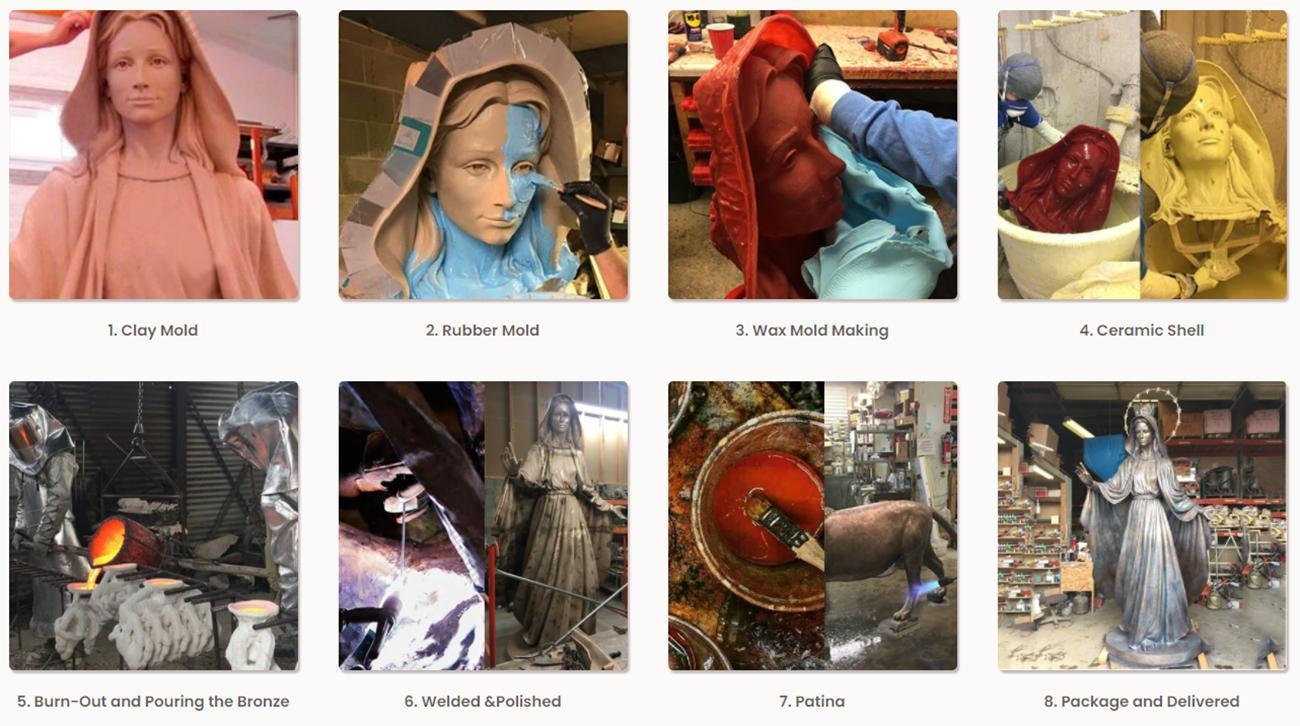 Send us your requirements now, we will reply to your email within 24 hours