1. Introduction of stainless steel outdoor fountain
This is a stainless steel outdoor fountain. It is a common modern public art work. This sculpture is based on the shape of the number "8"
and is made of stainless steel material. The shape of this sculpture is simple and clear, like a mathematical notation, implying the
possibility of infinite continuity. Stainless steel material has advantages such as corrosion resistance, rust prevention, and high temperature
resistance, making it suitable for outdoor display and easy to maintain.
The water flow design of fountain sculptures is also an important feature of this type of sculpture. The water flow design sprays water from
the top of the sculpture, creating a beautiful flow that flows outward. This water flow pattern not only brings people a beautiful visual
experience, but also brings a sense of coolness and vitality to the city. In addition, the water flow design of this fountain sculpture can also
achieve effects such as purifying air and increasing humidity, bringing a better ecological environment to the city.
Abstract Water Feature, as a public art work, not only has aesthetic value, but also has a strong decorative effect. It can become a landmark
building in public places, attract tourists' attention, and enhance the cultural taste and image of the city. At the same time, fountain sculptures
can also add a fresh touch of color to the city and increase the interactive experience between citizens and tourists. In the scorching summer
season, the cool water flow of the fountain sculpture can also provide a place for citizens to rest, alleviate the hot atmosphere of the city, and
bring comfort to urban residents. Therefore, stainless steel fountain sculpture is not only a work of art, but also an important decorative element
of urban landscape and public space, which has positive significance for the beautification and enhancement of the city.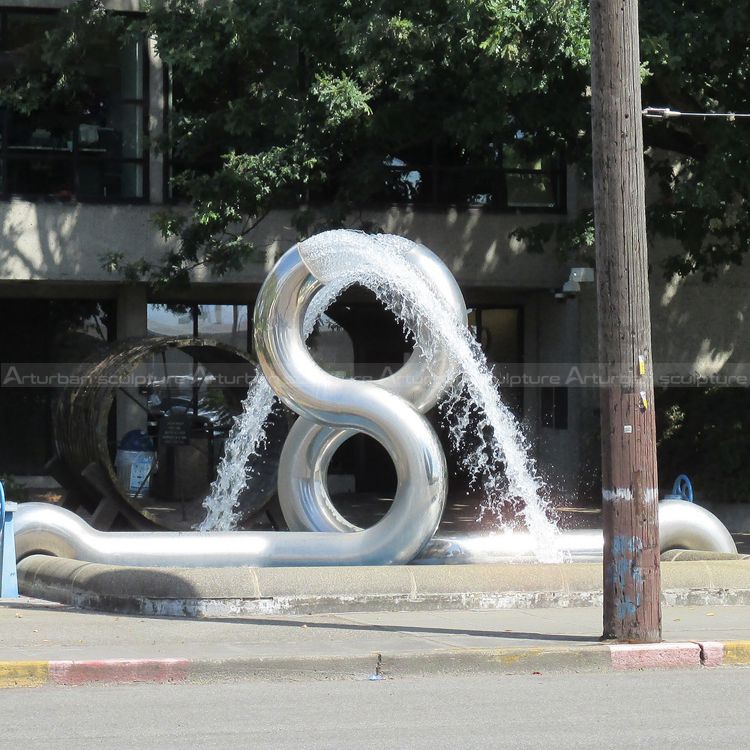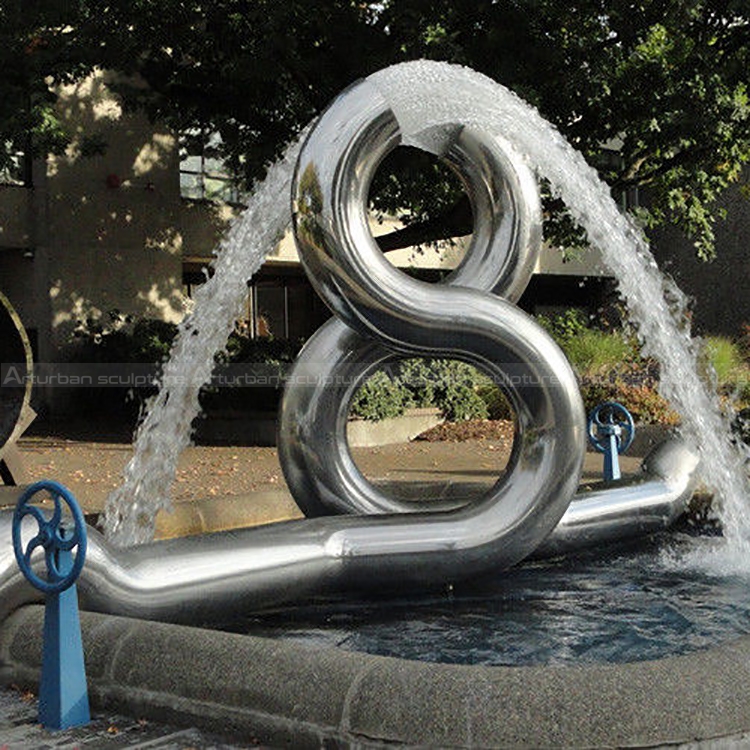 2. Production process of stainless steel outdoor fountain
Step1 Design Communication:  You supply us with several photographs with dimensions.
Step 2 Project Consultation: Our team will make a production plan, according to your design, budget, delivery   time,  or any other service.
Our final aim is to supply high quality and cost-saving   sculpture efficiently.
Step 3 Confirm Mold: We will make 1:1 clay or 3D mold,when finished clay mold,i will take photos for   your reference. The clay mold can
modify any details till to your satisfaction.
Step 4 Carving and Polish: We will carving with natural marble according to clay mold. Then polished.
Step 5 Package: Strong wooden crate with waterproof and shockproof foam inside.
Send us your requirements now, we will reply to your email within 24 hours