1. Introduction of stainless steel water fountain outdoor
This is a stainless steel water fountain outdoor. It consists of a large circle and a small circle, with the small circle located at the center
of the large circle. The water gushes out of the small circle, forming a small stream that flows down the curve of the small circle and
eventually falls into the pool in the center of the large circle. The lines of the entire sculpture are smooth and concise, forming a beautiful
circular arc shape. Under the sunlight, the stainless steel surface reflects bright light, making the entire landscape sculpture more vivid
and exquisite.
Stainless steel Abstract Water Feature, as a modern urban public art installation, is often used as decoration in parks, squares, commercial
centers, and other places. They can add vitality and beauty to the city, attract tourists and citizens to stop and watch, and create a pleasant
atmosphere and interactive experience. The water feature effect of fountain landscape sculpture can also bring people a cool and comfortable
feeling, especially during high summer temperatures, which is more practical. In addition, stainless steel material has advantages such as
corrosion resistance, easy cleaning, and low deformation. The decorative effect of stainless steel fountain landscape sculpture can maintain
good condition for a long time, becoming an important landmark building in the city.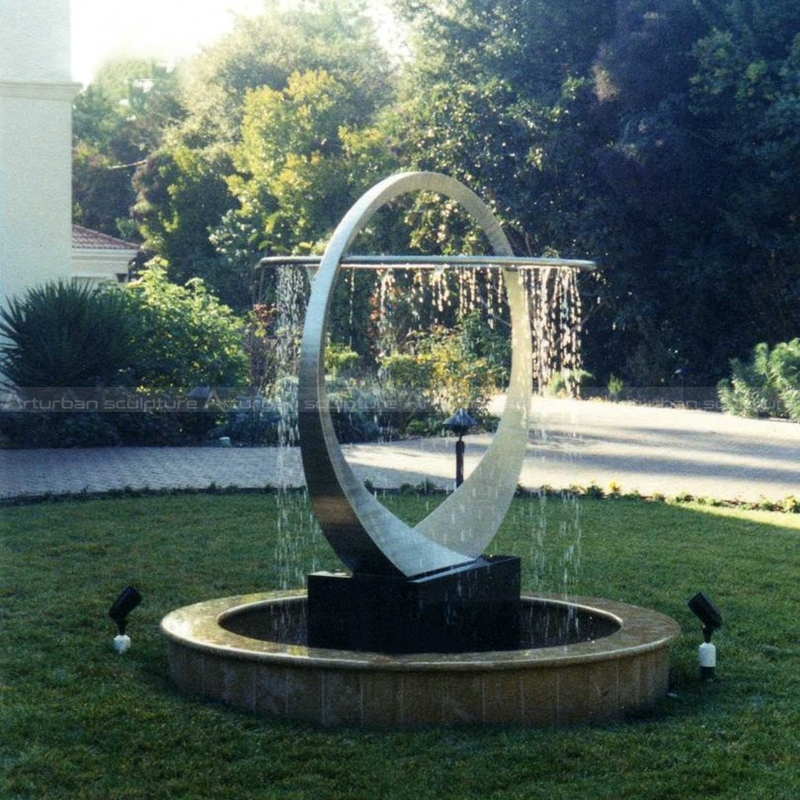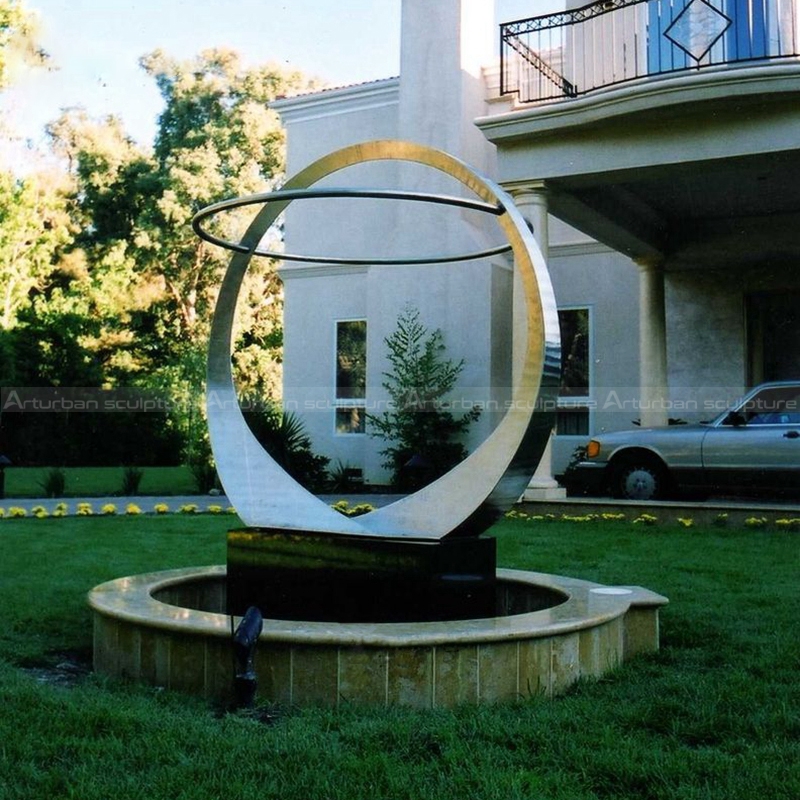 2. Production process of stainless steel water fountain outdoor
Step1 Design Communication:  You supply us with several photographs with dimensions.
Step 2 Project Consultation: Our team will make a production plan, according to your design, budget, delivery   time,  or any other service.
Our final aim is to supply high quality and cost-saving   sculpture efficiently.
Step 3 Confirm Mold: We will make 1:1 clay or 3D mold,when finished clay mold,i will take photos for   your reference. The clay mold can
modify any details till to your satisfaction.
Step 4 Carving and Polish: We will carving with natural marble according to clay mold. Then polished.
Step 5 Package: Strong wooden crate with waterproof and shockproof foam inside.
Send us your requirements now, we will reply to your email within 24 hours