1. Introduction of bronze sphinx statue
This is the ancient Greek mythological bronze sphinx statue. It is a statue located next to the pyramid of Kafra. Its appearance is the body of a lion and the head of a man. The Sphinx is one of the most famous statues in the world. It is said that the head of the Sphinx is Pharaoh, and the evidence is sufficient. The head figure is wearing a turban, which is a typical pharaoh's turban. The head is decorated with sacred snakes, and there are long whiskers under the jaw (all of which have fallen off). These are the iconic images of the pharaoh. In ancient Egypt, the lion was a symbol of strength and power, and the lion bone was buried in the Pharaoh's tomb. And human is a symbol of wisdom. The combination of the two is the image of the king
This is a replica of the sphinx sculpture, which vividly portrays the image of the sphinx. In this sculpture, it wears a "Nams" crown on its head, a fan-shaped pendulous "Nams" headband on its two ears, and a relief of "Cobra" sacred snake on its forehead. The lion's strong limbs and muscles show the lion's details. The bronze metal color shows the classical beauty and mythological color of the sculpture. We support customizing various bronze sculptures. If you are looking for high-quality sculptures, please feel free to contact us for more details.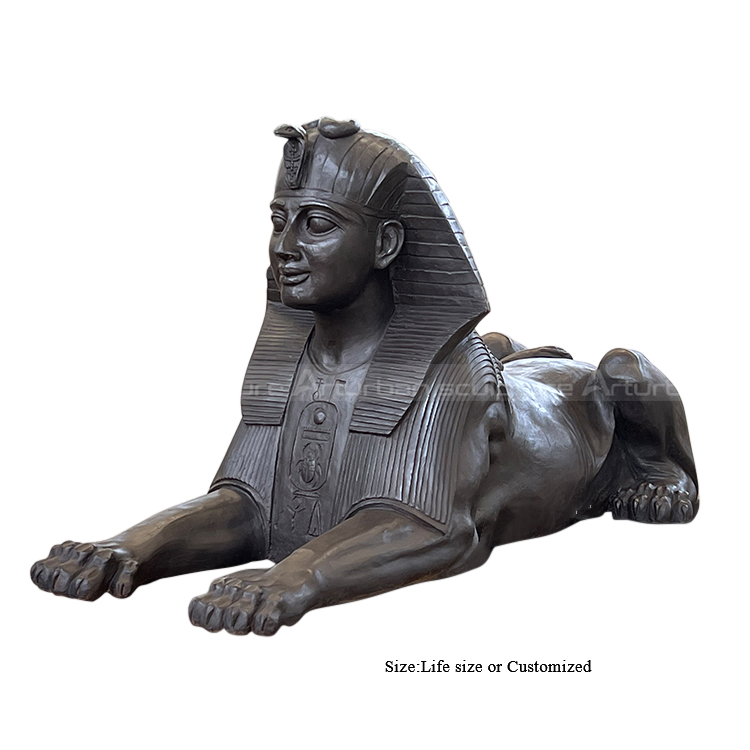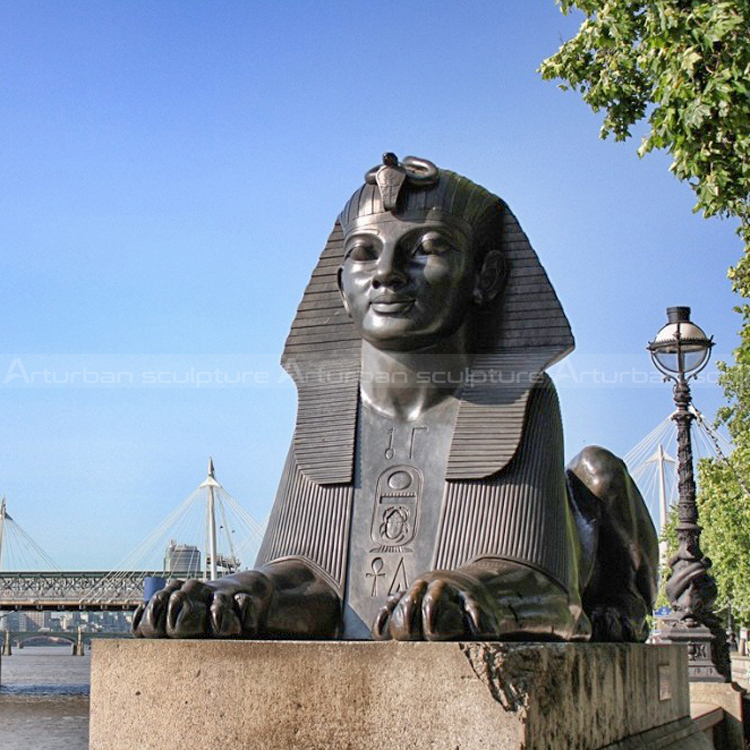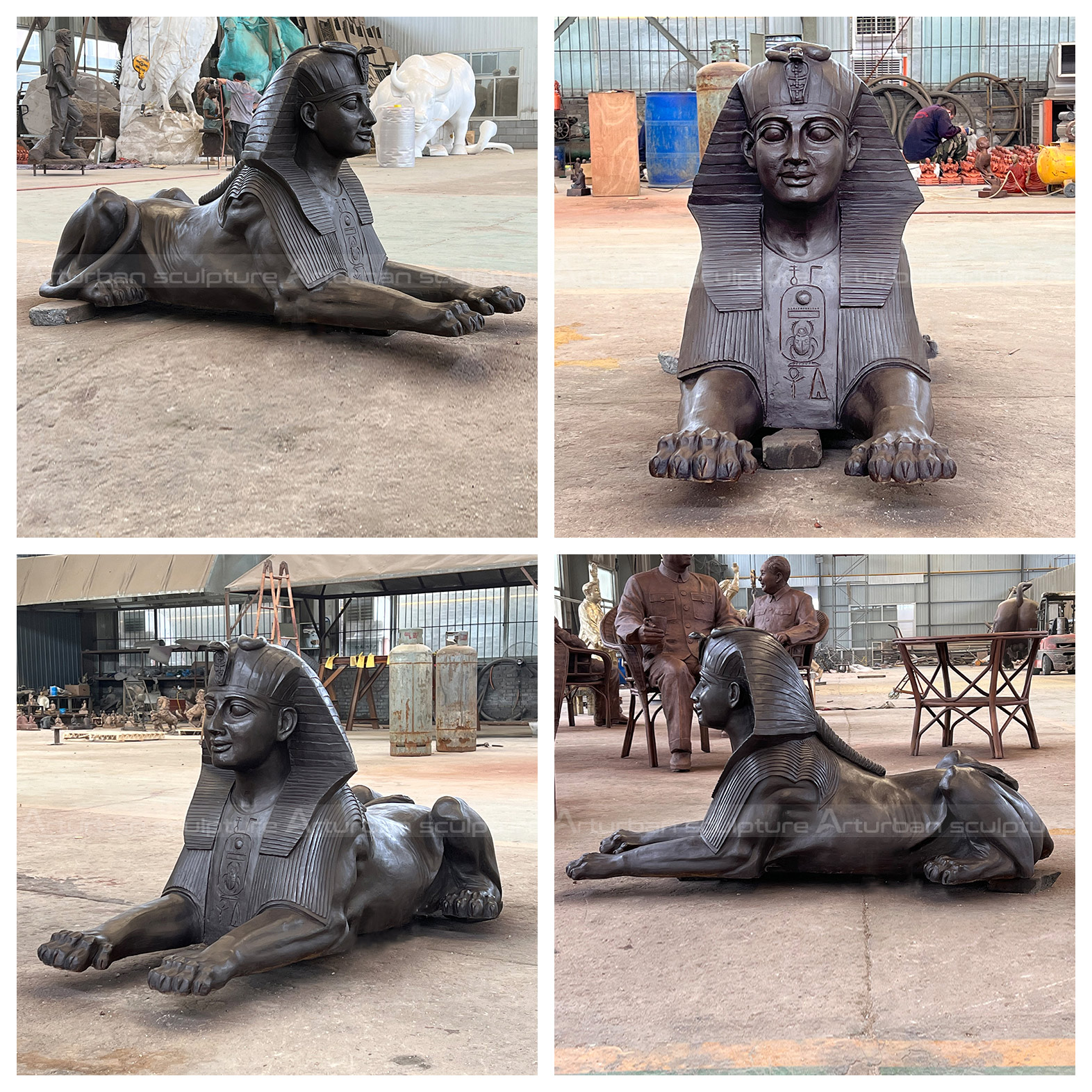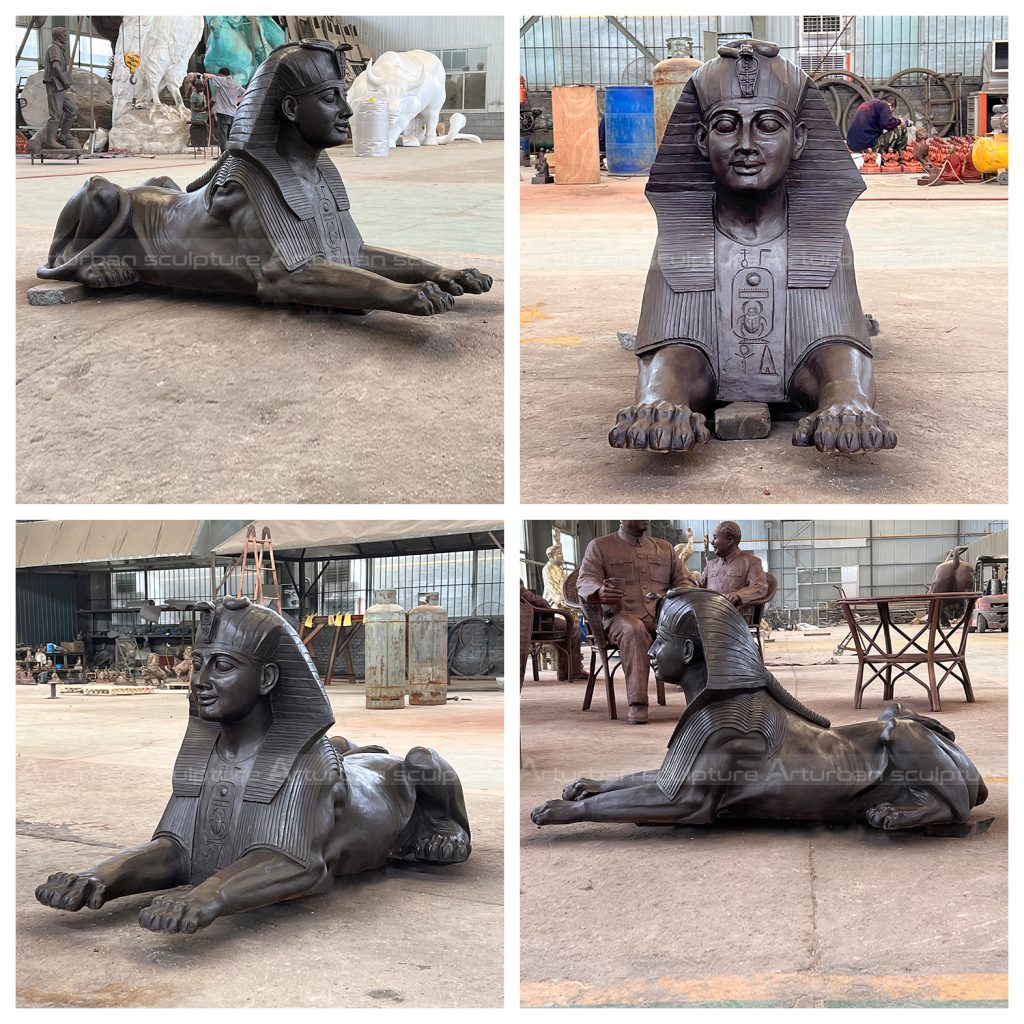 2. Production process of bronze sphinx statue
Step1 Design Communication:  You supply us with several photographs with dimensions.
Step 2 Project Consultation: Our team will make a production plan, according to your design, budget, delivery   time,  or any other service. Our final aim is to supply high quality and cost-saving   sculpture efficiently.
Step 3 Confirm Mold: We will make 1:1 clay or 3D mold,when finished clay mold,i will take photos for   your reference. The clay mold can modify any details till to your satisfaction.
Step 4 Carving and Polish: We will carving with natural marble according to clay mold. Then polished.
Step 5 Package: Strong wooden crate with waterproof and shockproof foam inside.
Send us your requirements now, we will reply to your email within 24 hours