1. The myth of Apollo and Daphne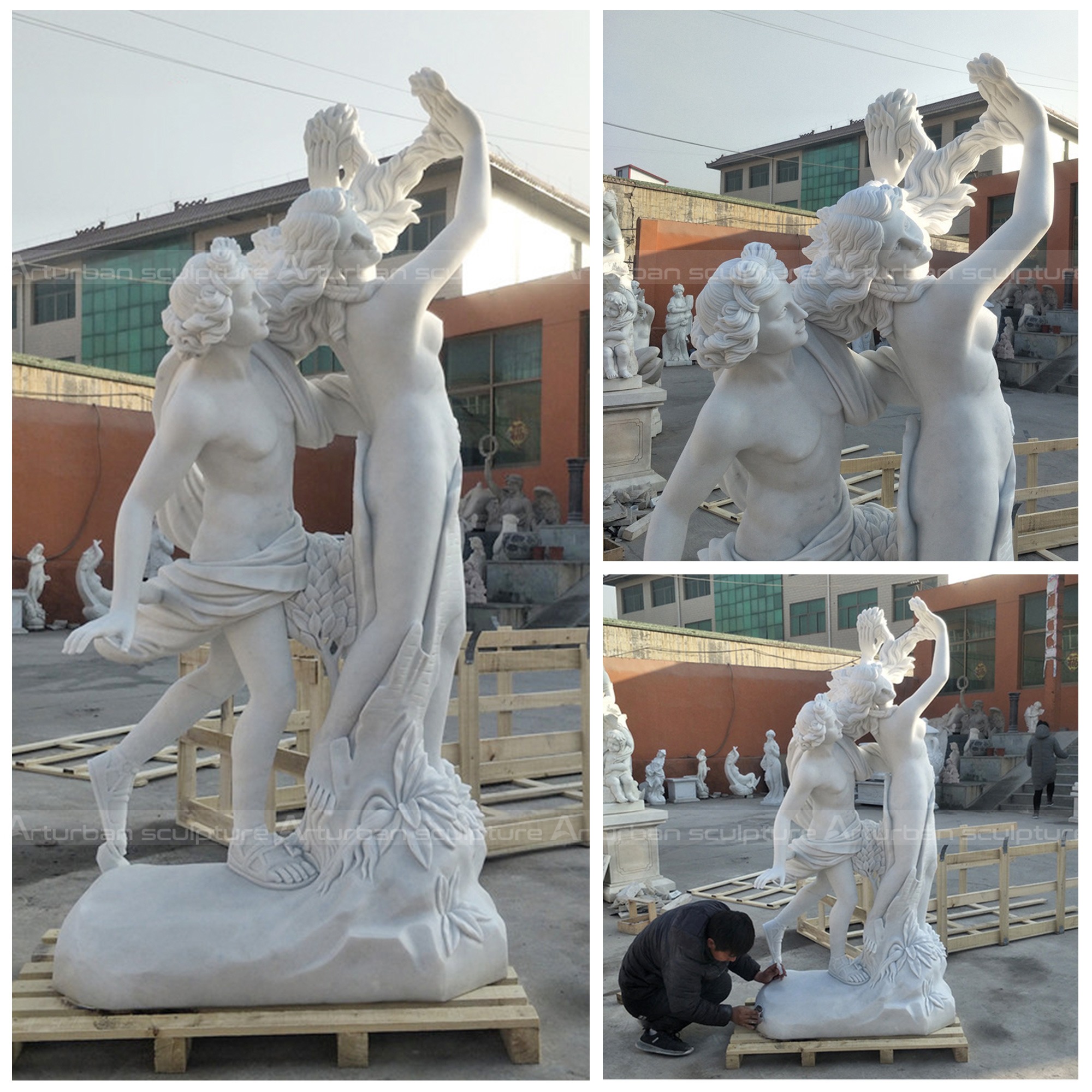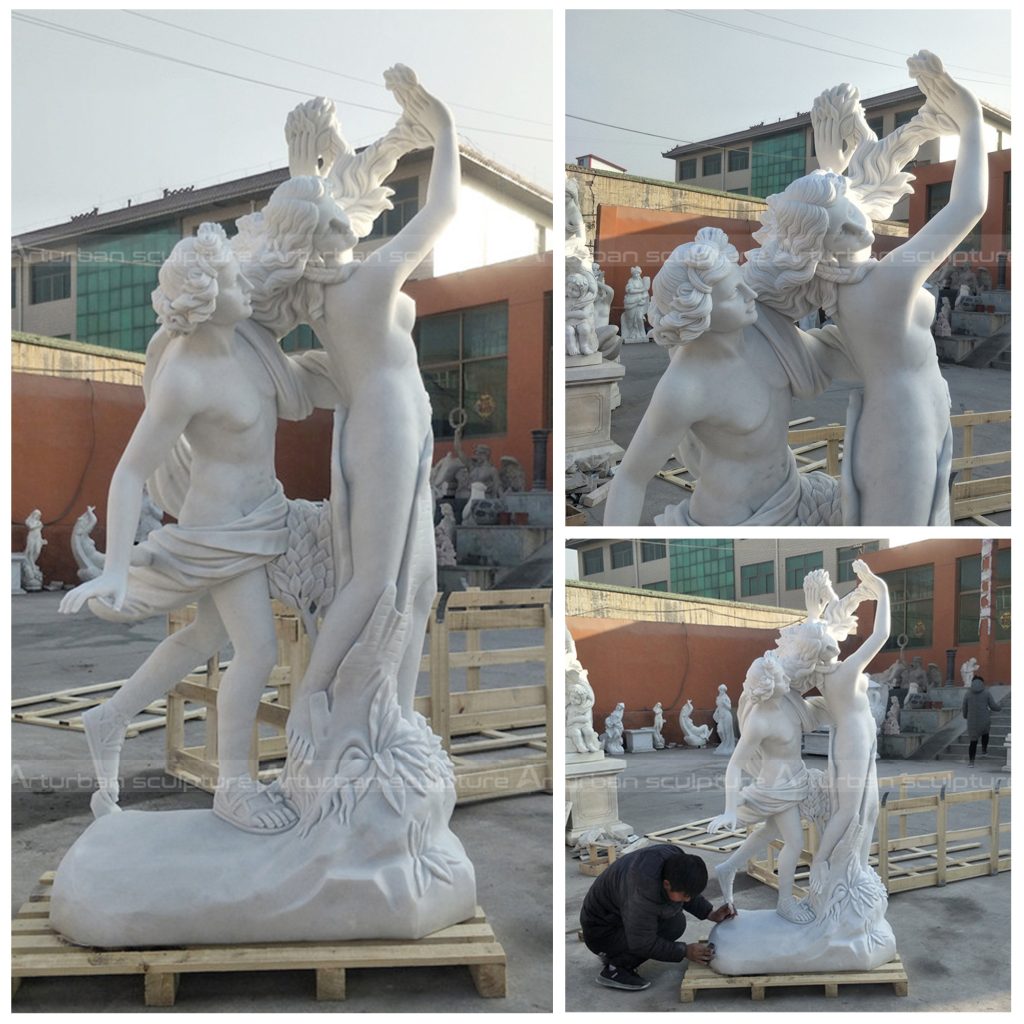 Bernini Daphne And Apollo Sculpture is the first love story of Apollo, the sun god in Roman mythology. His first love object is Daphne, the daughter of the river god Pinius.
Daphne is the daughter of the river god. She doesn't want to fall in love. And just wants to chase deer and hunt birds in the mountains. She is most afraid of touching marriage and love. Apollo, the sun god, came down to earth and Cupid shot him with the golden arrow of love because of a dispute, the God of love. So when he met Daphne, he suddenly fell in love and became crazy. Daphne panicked and ran away. Apollo was full of love desire and caught up with her. At this time, Daphne called to her father, preferring to destroy her beauty rather than to love some one. The river God promised, and her body slowly turned into a laurel tree.
This marble apollo and daphne statue shows the magnificent scene of the end of the story. Apollo rushed to Daphne and was about to touch her.
2. Apollo and Daphne sculpture by Gian Lorenzo Bernini
Gian Lorenzo Bernini's "Apollo and Daphne" is a Baroque work of art, a life-size marble sculpture now in the Borghese Gallery in Rome, Italy. It is inspired by the first love story of the sun god Apollo in Roman mythology.
The author of this sculpture Bernini is an Italian sculptor who once designed churches in Rome. He is one of the most famous artists of the Baroque period in 17th century Europe. This sculpture, one of his masterpieces, was made between 1622 and 1625 and completed in Rome, Italy. As Baroque art, the content of this work is more dramatic, a moment in the plot of a mythological story, describing the most dynamic and dramatic moments.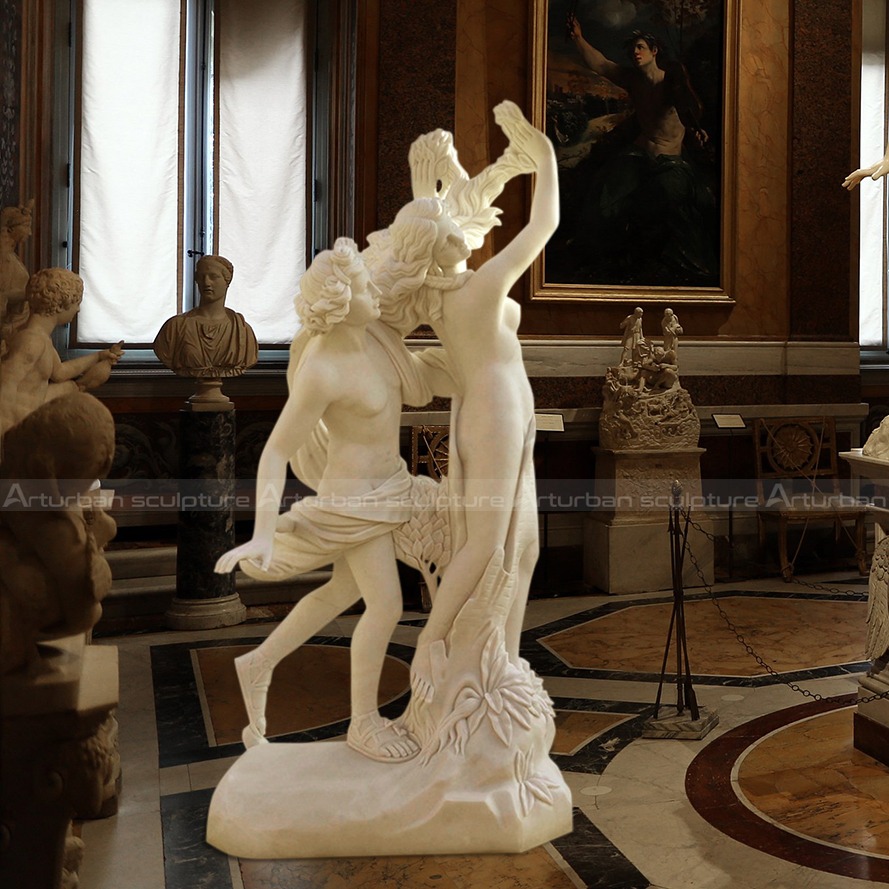 Detail of the Apollo and Daphne sculpture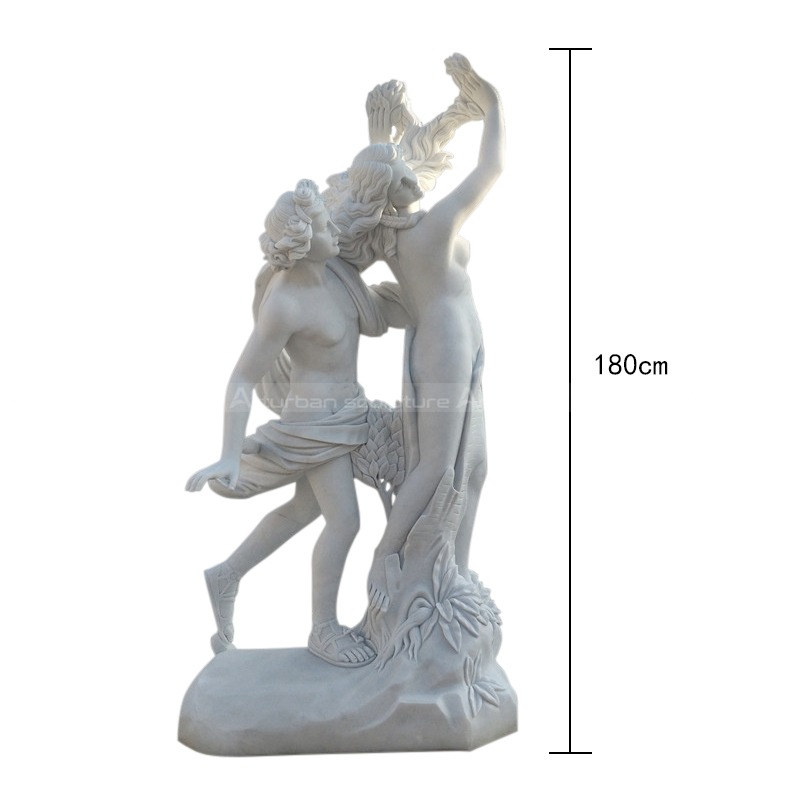 Bernini Daphne And Apollo sculpture is an exquisite mythological sculpture. It is made by our Arturban sculpture factory for customers. It is highly restores the classic sculpture art details. And highly restored the mythical artistic effect of the sculpture.
The expression and shape of this sculptural figure are realistic. Capturing Daphne's intense emotions when she transformed, Daphne's eyes widened and her mouth opened, showing a nervous and surprised expression, this is because the person who pursued her behind her has caught up, and she suddenly turning into laurel tree. She started turning into tree trunks from her feet, her fingers began to grow leaves, etc., the rest of her body will become trees gradually. In fact, Apollo was also excited. His slightly open mouth showed a hint of disappointment, but it still couldn't cover the young man's look of love and longing for the future.
Our sculptors have superb sculpting skills, making the bark on the trunk appear dry and hard, while the leaves are fresh and pliable, the cloth on Apollo appears soft and flowing, Daphne the lips, forehead, and skin are tender and elastic, while Apollo's body is solid. The softness of Daphne's body clearly showing from where Apollo's hand touched.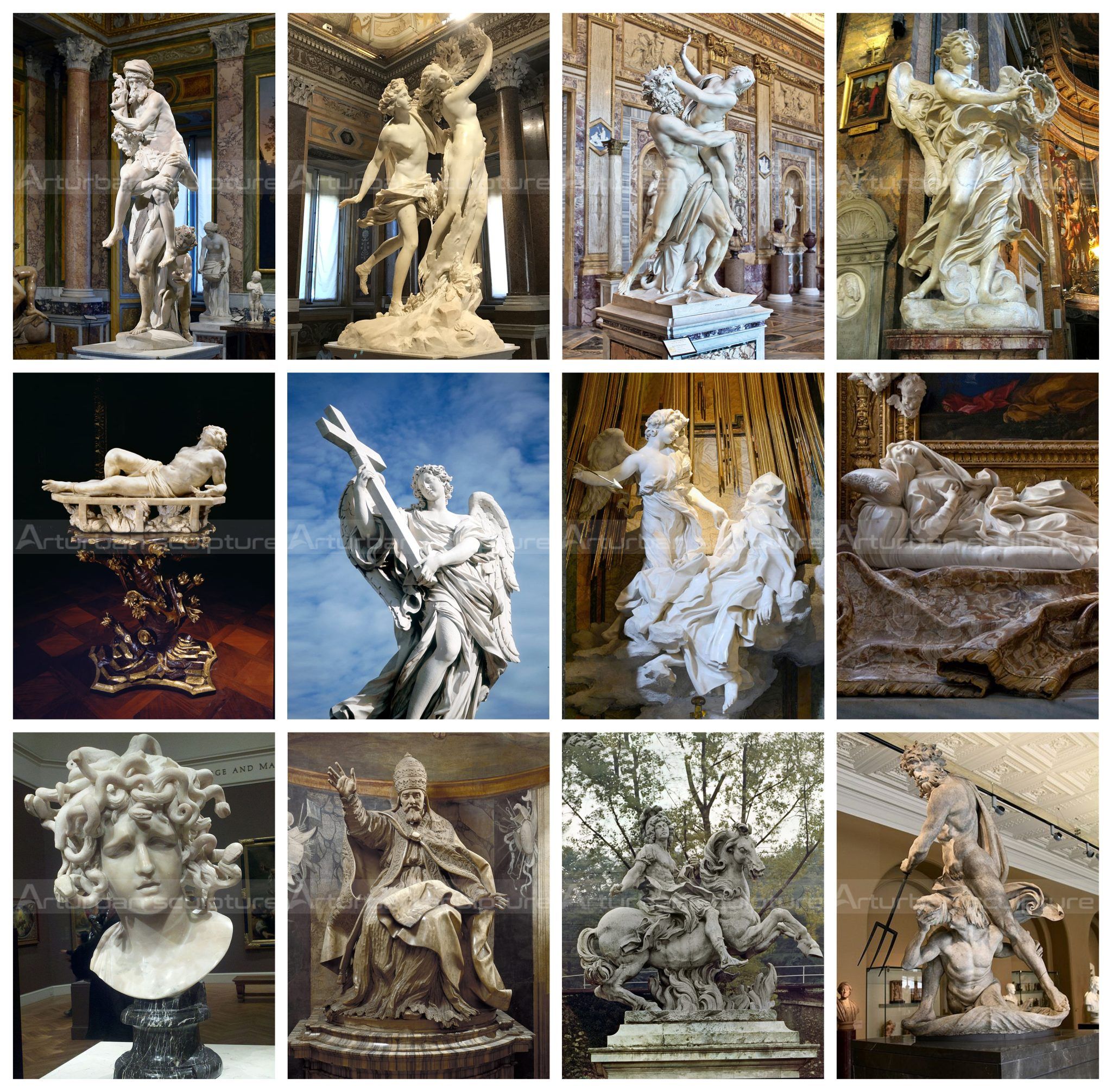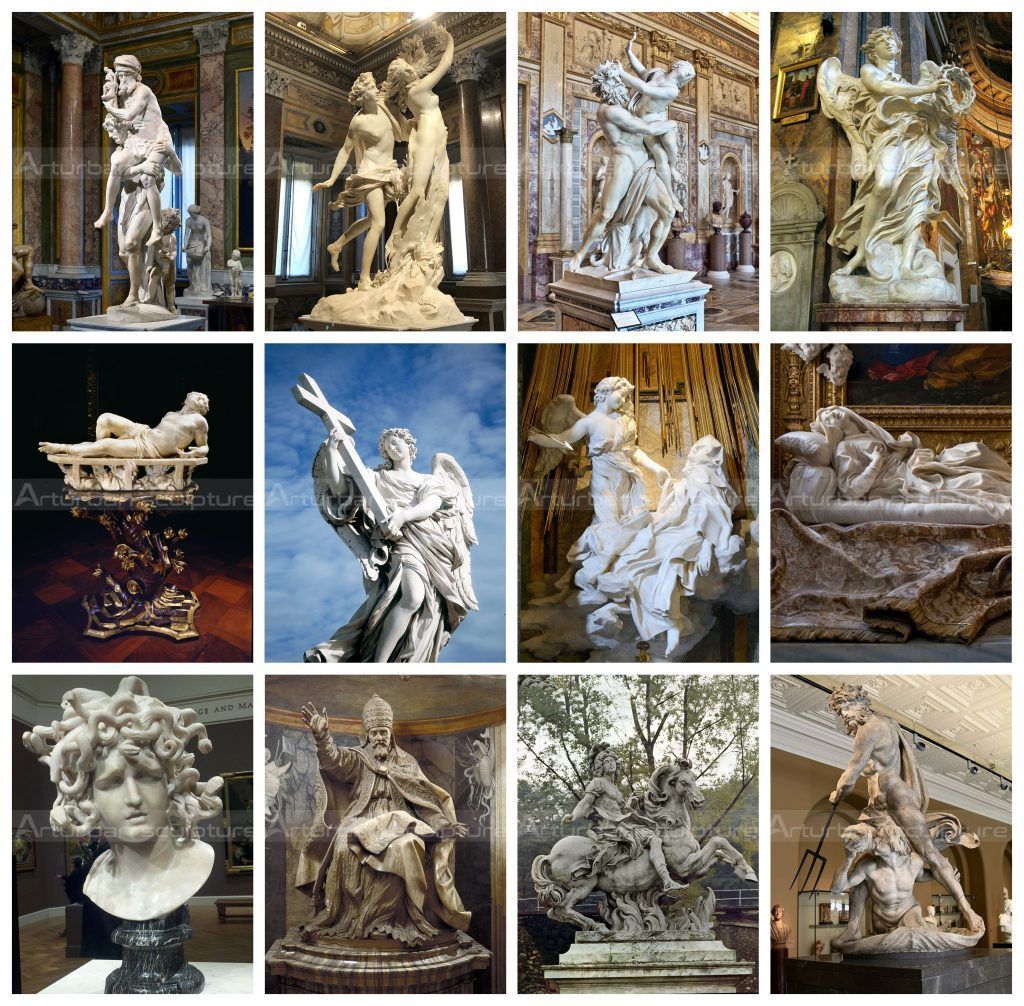 Send us your requirements now, we will reply to your email within 24 hours