The legend of the beautiful unicorn
This is an unicorn head sculpture. In ancient legends, unicorns are pure and beautiful creatures bred by the towering white waves of the sea. It stands for nobility, pride and purity. The long horn on the forehead.
Unicorn is a mysterious creature in legend. The unicorn in current western mythology is shaped like a white horse, with a spiral angle in front of its forehead, representing nobility, arrogance and purity. Some stories describe it as having a pair of wings, and even the unicorn is black.
The beautiful image of Unicorn also appears in various myths, legends and stories. It once had its image in Harry Potter. Unicorn is a beautiful animal, which can be seen in the forests of northern Europe. The adult unicorn is silver white, and when young it is golden. The horns, blood and hair of Unicorns have strong magical effects: the horns have the effect of detoxification, the tail hair can be used to make magic wands, and its blood is silver white, which can prolong life.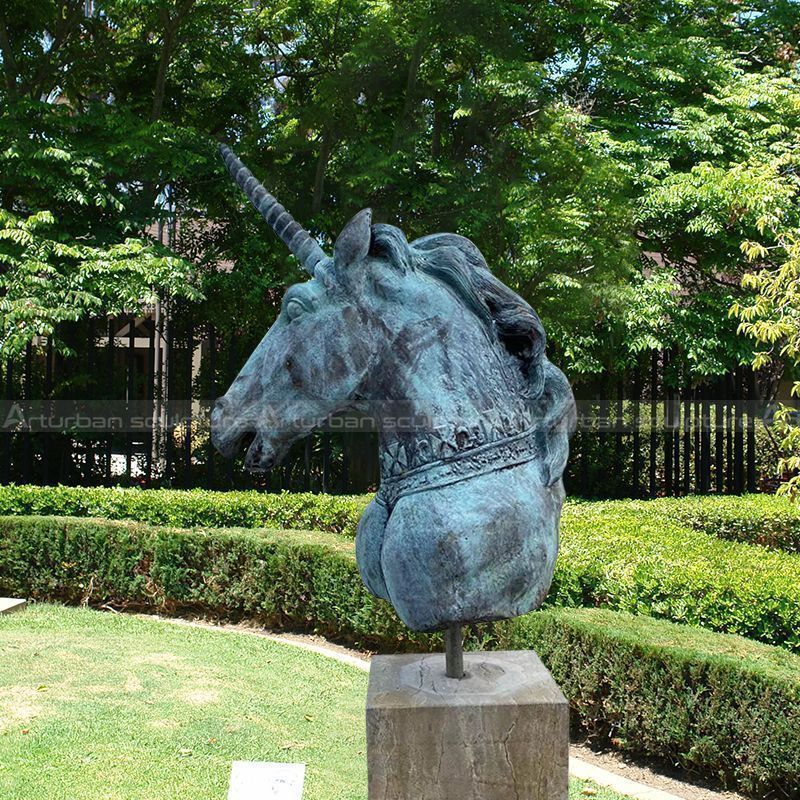 In Narnia legend, unicorn has become a symbol of light and end. The unicorn treasures in the book are gentle, noble, dignified and dare to fight. It's unthinkable to ride a unicorn, because it will give a fatal blow back.
Unicorn head sculpture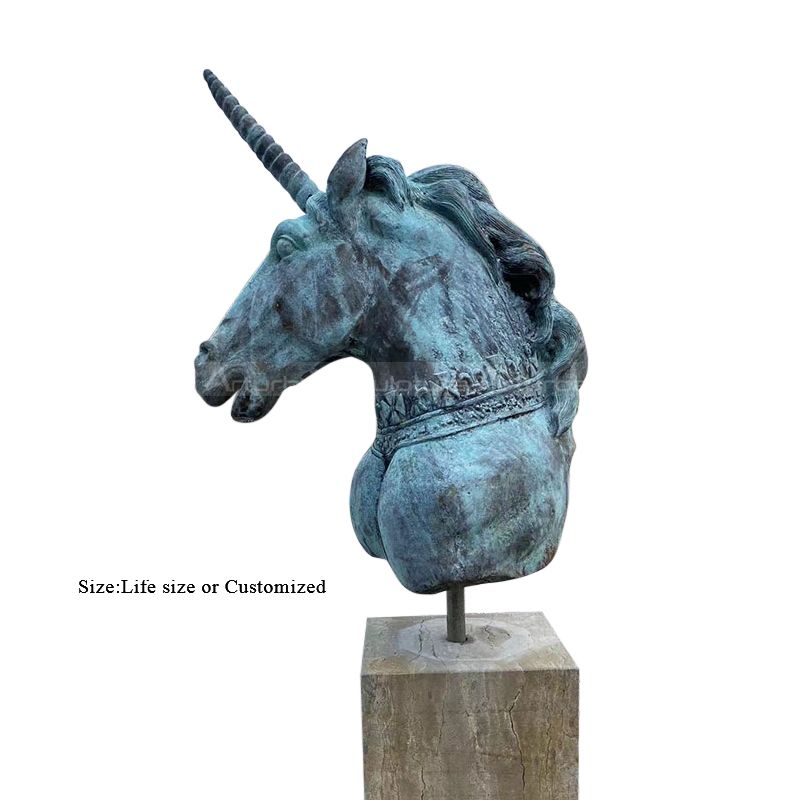 The fantastic and beautiful image of Unicorn enjoys everyone's love. In our life, we often see it appear in our field of vision in the form of different products. However, it is the image of Unicorn sculpture that can truly shape its perfect image so lifelike that it appears in your field of vision like magic.
This bronze unicorn horse head sculpture is highly reprocued by our Arturban sculpture foundry. The spiral horn on its head shows that it has the magical color in fairy tales. Its color and momentum like a horse show its noble posture. There is a square cornerstone under this sculpture, which will be suitable in any indoor or outdoor occasions. We can clearly see the details of the handsome Unicorn. It has a flowing and soft mane on its back, which looks very beautiful. Its copper green decorative color adds classical artistic beauty to it.
This exquisite unicorn head sculpture is a good choice whether it is in your own courtyard or in any outdoor garden, living room, shopping mall and other indoor places. Especially for its fans, it will add fantastic colors, as if an elf lives in your garden and protects your family. It is also a very good statue art.
Send us your requirements now, we will reply to your email within 24 hours