The focus of the stage —dancing hippo statue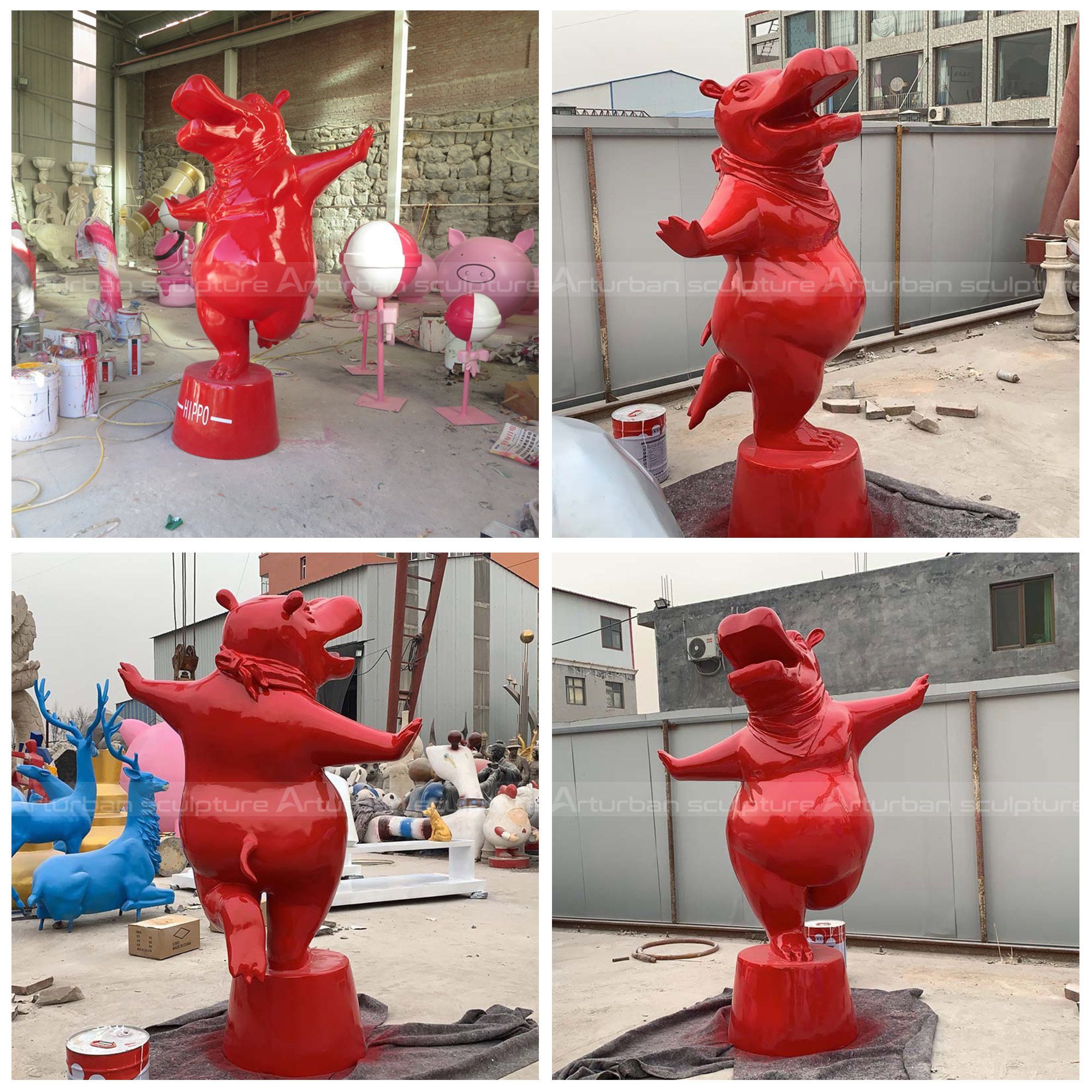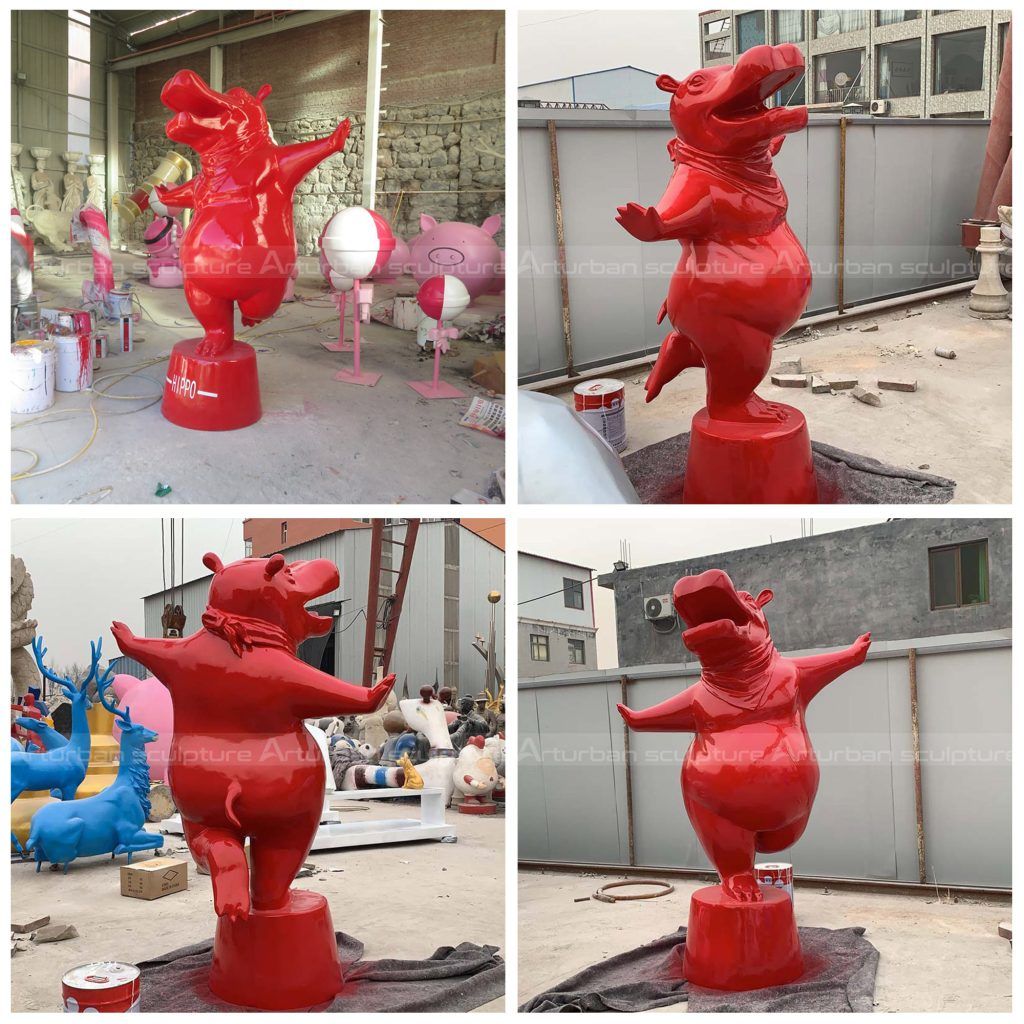 This is a dancing hippo statue. Fiberglass animal sculpture is one of the representative works of sculpture today. Among them, Fiberglass cartoon Hippo sculpture has strong coloring ability, high beauty, bright color, strong weather resistance, long service life and vivid image. It is often used in park grass, large-scale shopping malls, amusement parks, etc., and is deeply loved by people, especially children.
FRP cartoon hippopotamus sculpture is a kind of art handicraft of Avenue, which has the characteristics of light weight, corrosion resistance and relatively low cost. Fiberglass materials are mostly suitable for urban sculpture buildings, but also in urban decoration and beautification. The high-quality FRP cartoon sculpture is pure in color, not easy to fade, elegant and exquisite in color, beautiful and atmospheric, beautiful in shape, smooth in line, and the integration of quality and art.
There is a red cartoon Hippo sculpture in the center of the stage. It is dancing happily. Its fat body is round and lovely. One foot is on the stage and the other foot gently raised. It looks very elegant and generous. The posture of raising the head and opening the arms is full of vigor and vitality. It has a broad mouth with a smile, a scarf around its neck, and a short tail behind it, which makes its image fashionable, lovely and interesting. It seems that the simple and lovely hippopotamus sculpture in front of us dances and makes people laugh.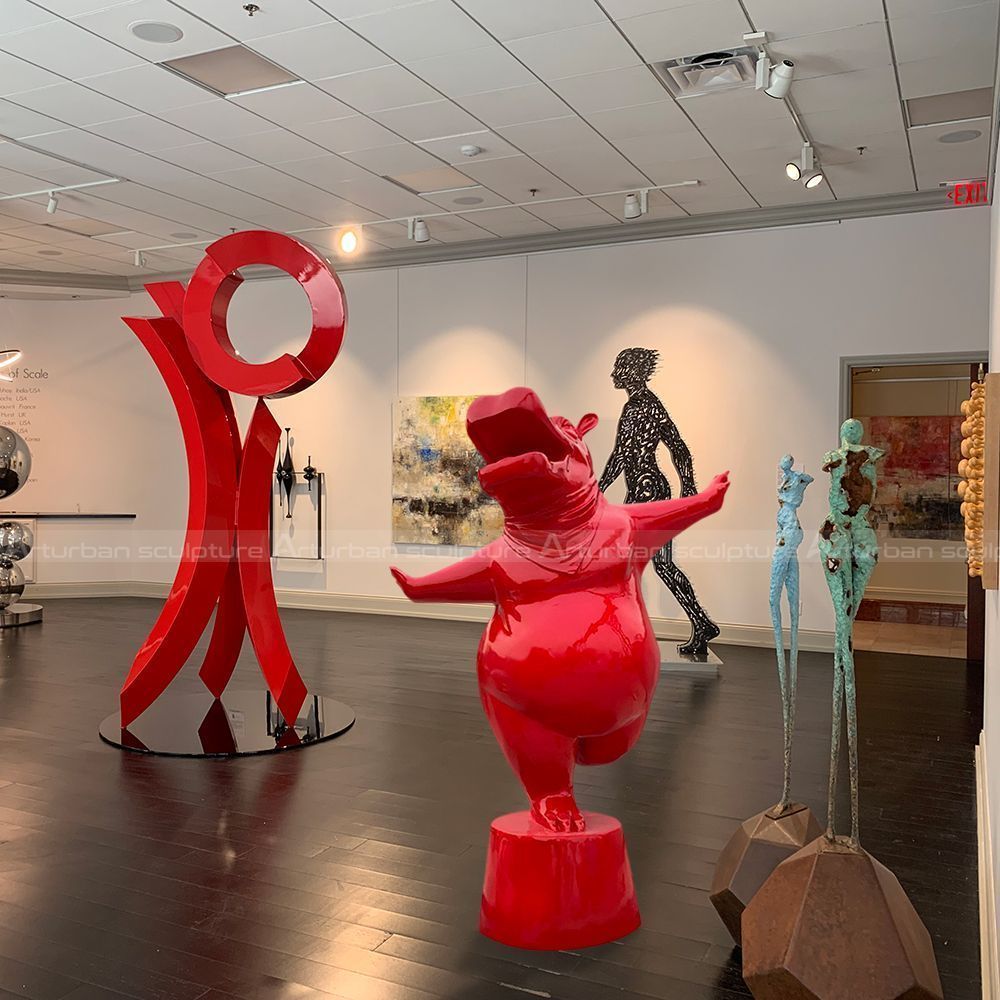 The advantage of cartoon Hippo sculpture — transmitting happiness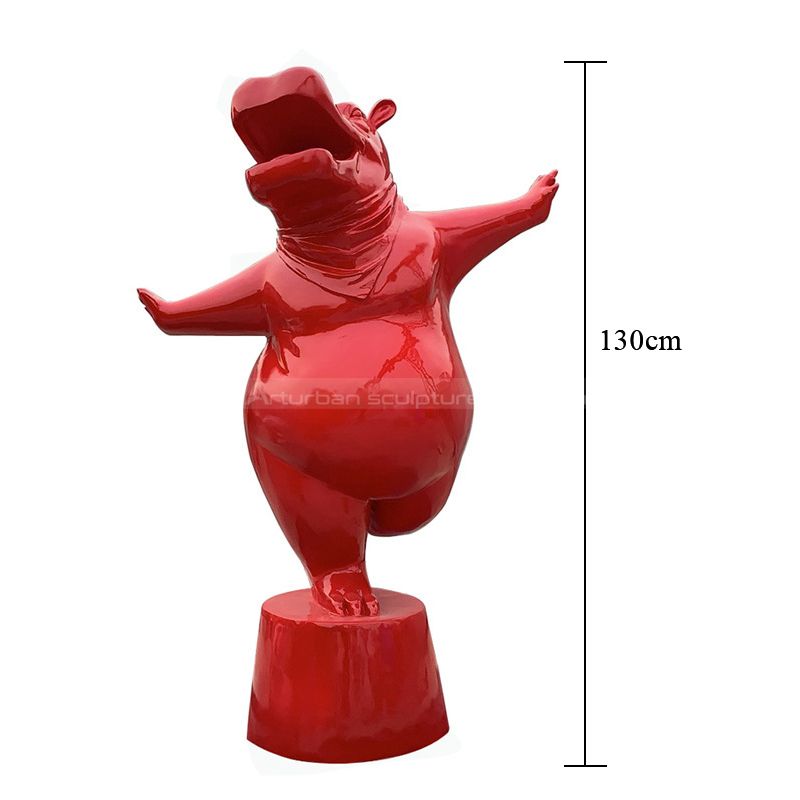 This dancing hippo statue is made by our experienced sculptors in Arturban sculpture foundry. We can also see the fat body, simple and honest character and posture of the cartoon hippo, which makes us feel its clumsy and lovely image and sense of humor. We personify the hippo sculpture and endow the characters with rich emotions, which makes this sculpture more full of images. Our sculpture painted with red automobile paint, which not only shows the smooth surface and smooth lines of the sculpture, but also has bright colors and luster, becoming a perfect outdoor restored art decoration work.
The cheerful image of this cartoon Hippo sculpture is liked by many people. It can be placed in the square, children's Park, amusement park and other outdoor places. No matter where it is, the stage under its feet is its whole, and the interesting actions are its performances. People will relax when they see it, and happy laughter will be the best reward for it. In fact, the meaning of life is very simple. Finding the fun in life and making life colorful and full of fun will be the best happiness of life. Of course, when you touch its lovely body, you can feel the happiness that sculpture gives you.
Send us your requirements now, we will reply to your email within 24 hours