Medusa head sculpture–The Versace sculpture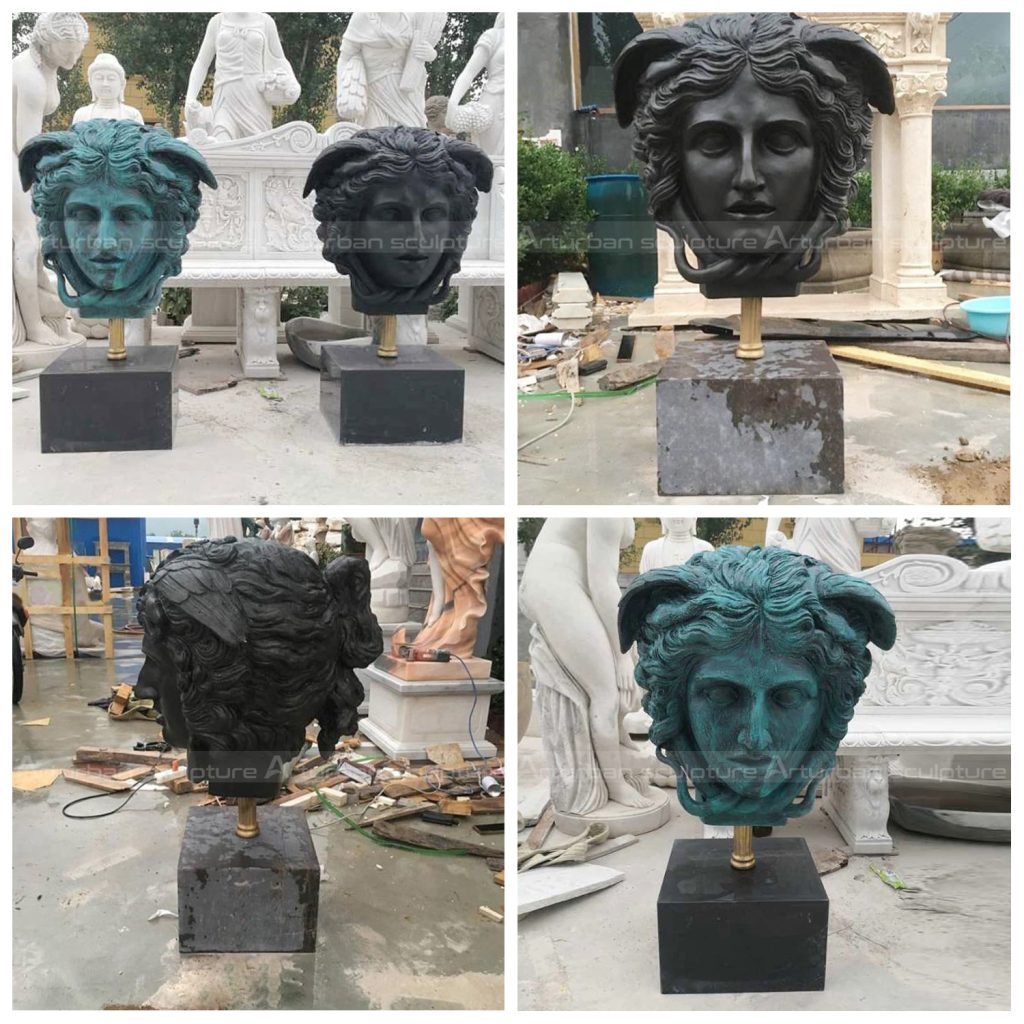 Medusa head sculpture is very famous. Versace was founded in 1978. The brand logo is the mythical Medusa, which represents the fatal attraction.
Medusa is a member of the gogo demons and is also the most beautiful woman in Athens. It is said that Medusa is more beautiful than Athena. After being punished by Athena, Medusa turns into a monster full of snakes, and those who see Medusa will instantly turn into stones. This monster was killed by the hero Perseus with the help of Athena and Hermes. Perseus dedicated her head to Athena, so it embedded in Athena's Divine Shield. Medusa's sculptures represent Medusa's fatal attraction and powerful deterrent.
This is the head of Medusa with a base. This statue depicts the head of the famous Gorgon, who killed by Perseus, and those who stared into her eyes would turn to stone. As the main symbol of the luxury brand Versace, this ancient mythical creature is also unforgettable.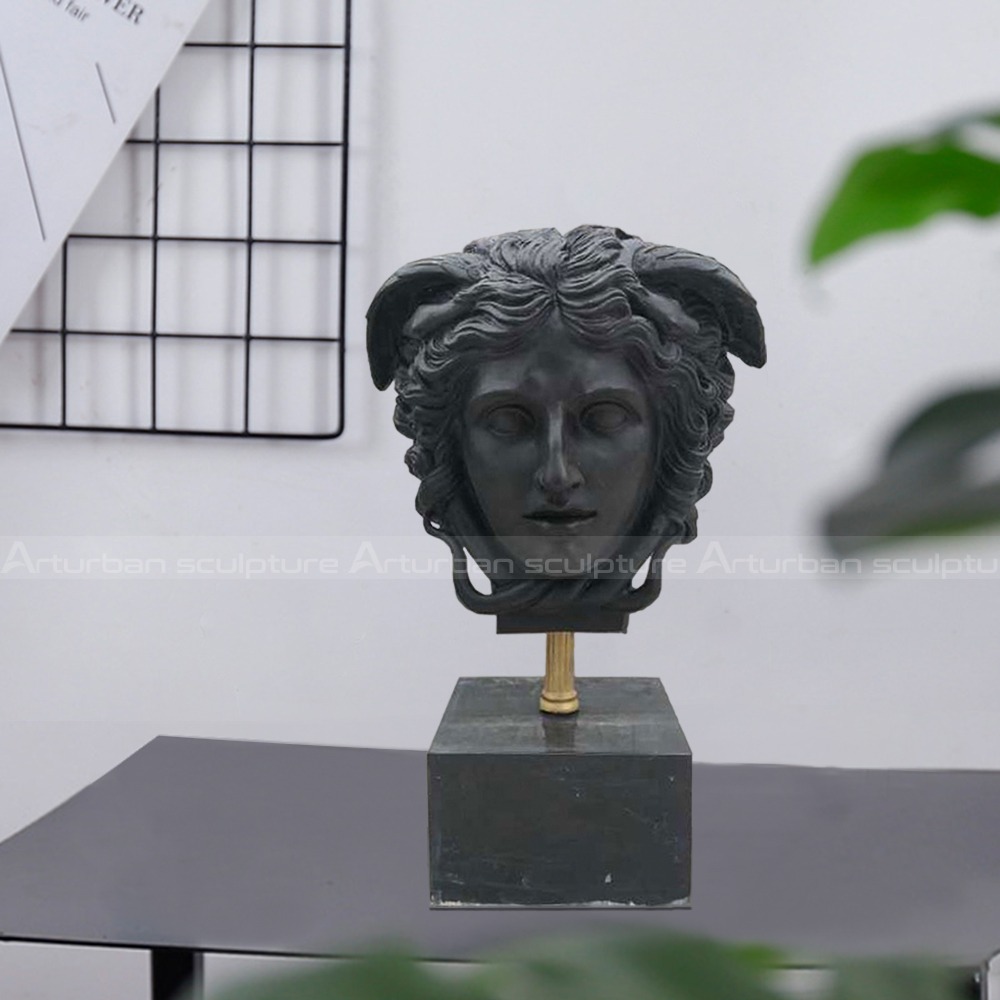 The details of Medusa head sculpture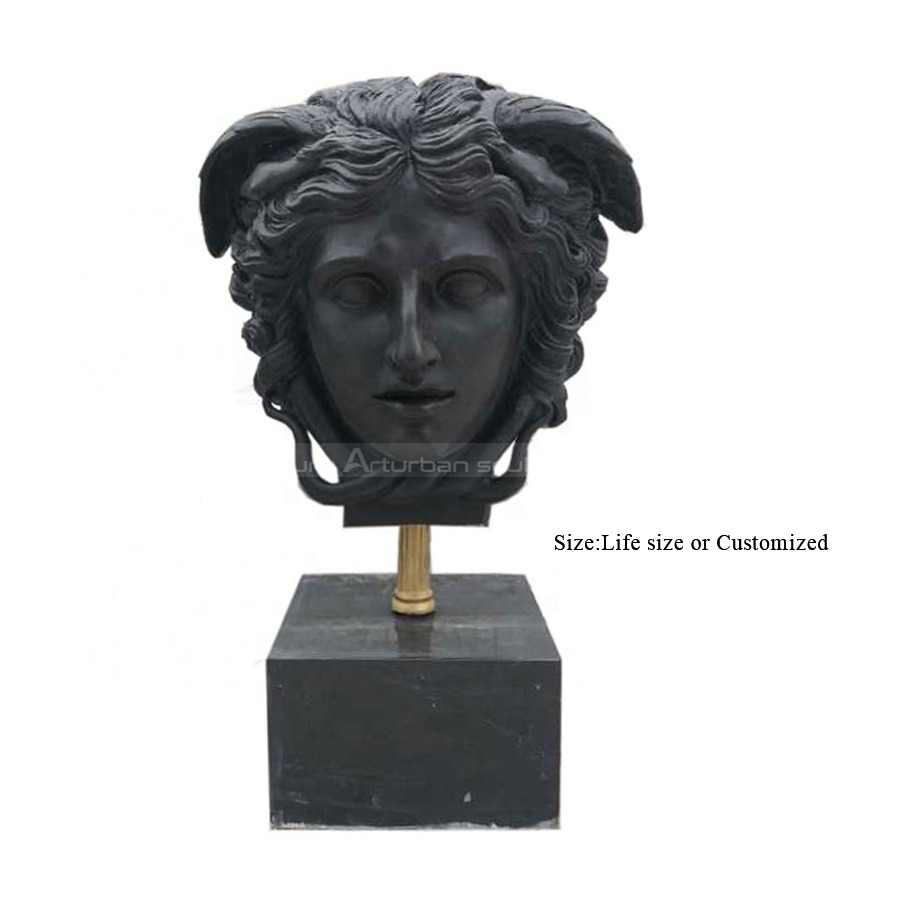 In ancient Greece, Medusa had powerful power, which could kill and redeem. Sculptors and painters use Medusa's head as a symbol of exorcism to drive away evil spirits. However, her tragic beauty is the source of inspiration. On the mosaic floor of Rome displayed in the Getty Museum, Medusa's wild snake hair looks like curly hair blown by the wind, she can turn people's petrified gaze into beautiful eyes. Her eyes looked out through the center of the mosaic, like an amulet protected by concentric circles. In many other cases, Medusa appears as a Muse rather than a monster.
This medusa head sculpture is an 11 inch replica sculpture. It made by our Arturban sculpture foundry, making the details of the sculpture perfectly lifelike. This girlish image has a beautiful face, which looks neither horrible nor fearful, and the sad expression on her face seems to express her pain. It has a pair of wings on its head, which is very magical. There is the image of a crawling snake in her curved hair, and the tail of two snakes intertwined on her chin, which perfectly interprets the image of Medusa.
This sculpture vividly expresses the artistic effect of Versace. At the same time, the unique design style and exaggerated effect of this sculpture is a strong artistic expression. This sculpture adds a gorgeous effect, which makes the sculpture less frightening and adds a trace of softness and beauty. It is not only the love of a better life, the infinite vision of the future, but also the desire for beautiful things.
This sculpture is very suitable for indoor decoration. The details are accurate and in place, and the hand feel is warm and comfortable, which is quite beautiful in classical art. At the same time, it also highlights the extraordinary temperament and taste of the host.
Send us your requirements now, we will reply to your email within 24 hours