1. Mother Teresa' Introduction
Mother Teresa sculpture is very sacred and noble in people's minds. Mother Teresa was born in Albania from 1910 to 1997. She followed Christ all her life and helped the poor. She successively founded more than 50 schools, hospitals, youth centers and orphanages in India and other countries. She devoted her life to the poor, the sick, the lonely and the homeless; He has won the Nehru prize in India, the Joseph Kennedy Foundation Prize in the United States, the peace prize of Pope John XXIII, and the Nobel Peace Prize in 1979.
Mother Teresa said that the "feeling of loneliness and abandonment", which is more terrible than poverty, still constrains a considerable number of people. When she was alive, she was called the angel of the world. When she left, she still became a force: warmth, firmness, peace and continuity.
In people's hearts, Mother Teresa has always been a nun dressed in a classic blue ribbon and white sari. She has always been a "living saint" and exists in the hearts of countless people. She is a rare compassionate angel and a symbol of light and hope. She has wiped away the tears of suffering of millions of people.
2. Our Avantage for Mother Teresa Sculpture
In order to commemorate the Great Mother Teresa and let people always remember mother teresa's achievements, our customer customized this sculpture as an exhibition. Our nun is wearing one of the only three nuns. She has been walking beside the poor. There are deep gullies on her face and hands, like the baptism of years and the gap of time.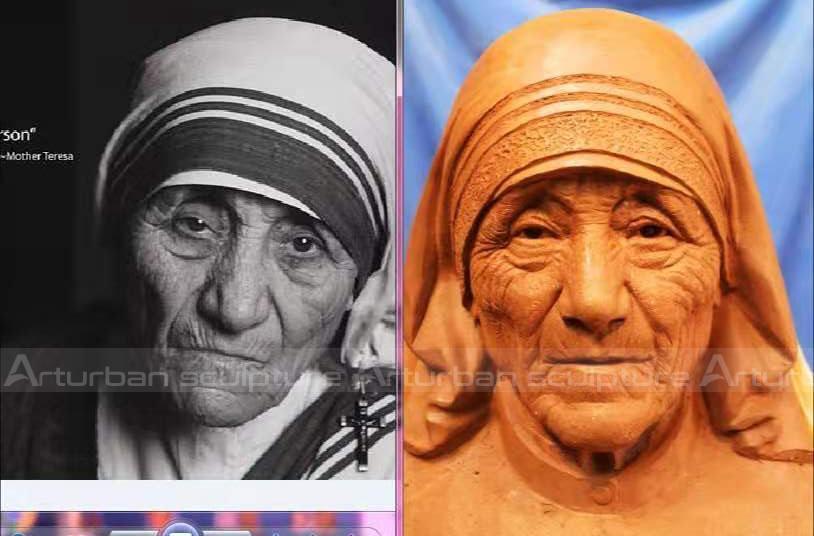 Our sculpture describes the image of Mother Teresa. We have rich sculpture experience in character casting. We not only show the emotion and emotion of the character image through facial muscles, facial features and body movements, but also use high-quality bronze material, so that our beautiful sculpture works can be used as the focus of decoration for a long time, With the passage of time, the traces of growth and precipitation are more beautiful.
We are good at customizing statues. We pay attention to details in the production process, so each of our works has excellent quality. Bring your home or garden decoration to a new artistic level.
Send us your requirements now, we will reply to your email within 24 hours